Bitcoin Ordinals have taken over the world of Web3 – at least, that's how it seems. This sector has been actively discussed since the launch of the Casey Rodarmor protocol on January 21. It has sparked both enthusiasm and skepticism, and at the time of writing this article, more than 10 million Ordinals have been created.
Despite this impressive number, many still don't know how to acquire them, let alone create their own. The high entry barriers might seem restrictive, but they also bring new opportunities. However, it's important to remember the increased risks. If you're ready to take that risk and explore the potential of Ordinals, we're here to tell you how to find, buy, and securely store them. First, it's crucial to understand a few key points about Ordinals that the average NFT enthusiast might not be aware of.
What are Bitcoin Ordinals NFTs?
Each Bitcoin is divided into 100,000,000 units called satoshis (or sats). The new Ordinals protocol allows people operating Bitcoin nodes to engrave each satoshi with data, creating something called an Ordinal. This data, inscribed into Bitcoin, can include smart contracts, which, in turn, enables the creation of NFTs. In simple terms, Ordinals are NFTs that can be created directly on the Bitcoin blockchain.
But that's not entirely accurate. It's a simplified understanding, but there are some important differences between Ordinals and NFTs.
How do Bitcoin Ordinals differ from NFTs?
NFTs on Ethereum (or on an Ethereum Virtual Machine blockchain) often refer to off-chain data stored in the Interplanetary File System (IPFS) – a decentralized file storage system, similar to the blockchain's hard drive – that can be changed using dynamic metadata. For example, some NFT projects update the metadata of individual NFTs to improve image quality. They might even ask their holders to click the "refresh metadata" button on OpenSea to get a new, higher-quality image.
The ability to change an NFT's metadata points to a deficiency that Rodarmor was trying to address when he created this new protocol. In Rodarmor's view, NFTs are "incomplete" because many of them require off-chain data. On the other hand, Ordinals are "complete" because all the data is inscribed directly on the blockchain. That's why Rodarmor calls them digital artifacts, not NFTs. Furthermore, NFTs often come with creator royalties, whereas digital artifacts do not. According to Rodarmor, an Ordinal "is intended to reflect what NFTs should be, sometimes are, and always are by their very nature."
All of this suggests that Ordinals on Bitcoin may not only signify a cultural shift for Bitcoin but also represent a technical improvement over NFTs. With this background, let's explore how to purchase, receive, and securely store your first Ordinals.
The Environmental Aspect of Bitcoin Ordinals NFTs
The energy consumption of large blockchains is enormous, and Bitcoin is the largest blockchain in the world by market capitalization. Moreover, Bitcoin employs a proof-of-work (PoW) consensus mechanism to validate transactions and add them to the blockchain, which is an extremely energy-intensive process. Due to its size and PoW mechanism, Bitcoin's energy consumption surpasses that of other blockchains by a significant margin.
In August 2022, a report from the U.S. government estimated that Bitcoin accounted for 60-77 percent of global crypto-asset electricity usage. But how much energy does this translate to? It's challenging to pinpoint precisely, but data from Digiconomist indicates that the combined energy consumption of Bitcoin and Ethereum (before their merge in September 2022) exceeded 317 TWh of energy annually, placing them somewhere between Italy and the United Kingdom in terms of electrical energy consumed.
Yes, that is indeed a substantial amount of energy. However, context is crucial.
Many companies and industries consume more energy than entire countries. In this regard, blockchain is far from unique. Ultimately, Bitcoin's energy needs fall on the lower end compared to relatively small mining industries like copper and zinc. Bitcoin's total annual energy consumption is also less than what the world's residential air conditioning units require and lower than the energy needs of the world's data centers (hello, Apple, Google, and Amazon).
And before suggesting that artists should return to selling their art on t-shirts to make a living, it's worth noting that, according to Ngan Le at Princeton, "the fashion industry is currently responsible for more annual carbon emissions than all international flights and maritime shipping combined."
Of course, this doesn't mean that blockchain and NFTs don't impact the environment. However, the criticism is often exaggerated and lacks necessary context.
Revival of BRC-20 Tokens
BRC-20 tokens, created by an anonymous developer known as Domo in March 2023, represent an experimental standard similar to Ethereum's ERC-20 tokens, but built on the Bitcoin blockchain.
BRC-20 tokens are implemented using Ordinals, but not all Ordinals are BRC-20 tokens. For instance, an Ordinal created using software that doesn't adhere to the BRC-20 standard is not considered a BRC-20 token. BRC-20 tokens embed JSON data within Ordinal records, allowing users to create, trade, and mint new tokens. Some popular BRC-20 tokens include $OXBT and $ORDI, the first-ever BRC-20 token.
Cursed Inscriptions
The latest update to the Ordinals Protocol, version 0.6.0, introduced a significant development known as "Cursed Inscriptions." This update enables the recognition and indexing of over 70,000 previously invalid inscriptions, providing an opportunity for trading these previously unsupported items. Cursed Inscriptions are assigned negative numbers, serving as a pathway for their transformation into positive inscriptions. However, it's important to note that negative inscription numbers can change as new types of Cursed Inscriptions are discovered and indexed, so holders of Cursed Inscriptions should expect shifts in their negative numbers. The introduction of these Cursed Inscriptions is expected to be embraced by researchers and trading platforms alike.
Bitcoin Ordinals NFTs Wallets
Until a few months ago, there was no dedicated wallet interface for those who wanted to store and transfer their Bitcoin Ordinals Inscriptions. However, this lack of Web3 infrastructure has rapidly begun to change. Several wallets have announced support for Bitcoin Ordinals, including Ordinals Wallet, Xverse, and Hiro Wallet. Even MetaMask has partnered with Generative XYZ to offer users a place to store their Ordinals.
If you're not fond of the options mentioned above, you can also set up a Bitcoin wallet (e.g., Sparrow) that allows enough customization to receive Ordinal inscriptions. Sparrow Wallet is a desktop application that requires a few steps to make it compatible with Ordinals. After downloading Sparrow, follow this detailed guide on Github to make your wallet Ordinal-compatible.
Buying, Selling, and Trading Bitcoin Ordinals NFTs
Now that you have your wallet set up, it's time to explore Ordinals markets for buying, selling, and trading Inscriptions. Initially, the first two markets were Ordx and Ordswap. However, since January, this list has expanded to include ordinals.market and others.
For example, Gamma has launched a decentralized Bitcoin Ordinals marketplace. Its aim is to provide a "remarkable Web3-native experience," combining an open marketplace, creator tools, and integrations with secure third-party wallet extensions. On Gamma, you can not only buy and trade Ordinals but also create inscriptions. Recently, Magic Eden and Binance have also launched their Bitcoin NFT Marketplaces.
Popular NFT Projects on Bitcoin
Several NFT projects have already emerged on Bitcoin, including TwelveFold, Degods, and MegaPunks. The creators of these collections have previously released their products on other blockchains, notably Ethereum. With the advent of the growing Bitcoin NFT trend, developers are faced with decisions about migrating their projects to the BTC network.
TwelveFold
TwelveFold is a project from the well-known NFT creator Yuga Labs. This collection features generative art in the form of interwoven cylindrical lines or spheres. There are a total of 300 NFTs in the collection. Secondary market trading volume on Gamma exceeds 10 BTC or over $250,000.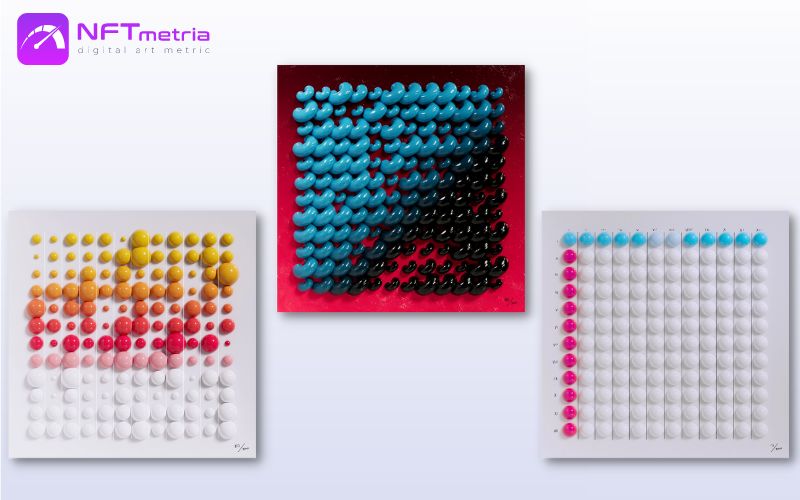 Degods
The previously launched Degods project on Ethereum and Solana has undergone a "migration" due to the increasing interest in the Bitcoin NFT market. The collection currently consists of just over 500 NFTs; nevertheless, secondary market trading volume has already exceeded 2 BTC or over $55,000.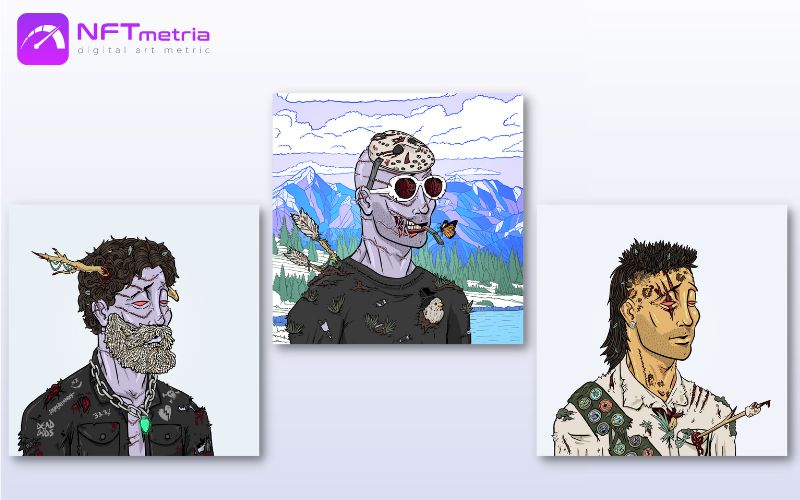 MegaPunks
MegaPunks is one of the first collections on BTC which consists of 10,000 NFTs. Previously, the project was released on the Ethereum network, and also with the growing interest in Bitcoin, NFT made a migration that turned out to be quite successful. The collection trading volume on the secondary market exceeds 5 BTC or over $130,000.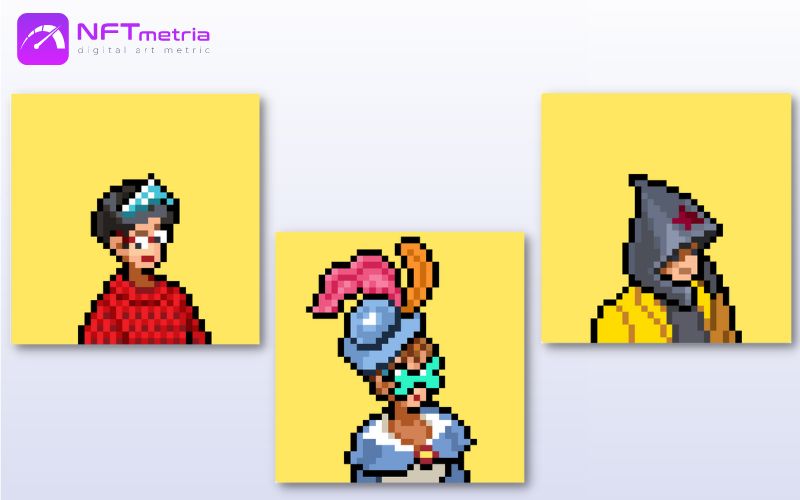 Prospects for Bitcoin Ordinals NFTs
The prospects for the development of Bitcoin Ordinals NFTs look promising and could have a profound impact on the world of NFTs and Web3 as a whole. Here are some key factors shaping their future development:
Technical Advancements: As Bitcoin Ordinals continue to evolve, one can expect protocol improvements and the expansion of its functionality. This may include a wider range of data that can be incorporated into Ordinals, as well as enhancements to the infrastructure for their storage and processing.
Application Ecosystem: With the advent of Bitcoin Ordinals, new application ecosystems related to this technology will also develop. This could involve the creation of decentralized exchanges, platforms for creating and trading Ordinals, as well as tools for data analysis within Ordinals.
Integration with Other Blockchains: In the future, Bitcoin Ordinals may be integrated with other blockchains and Web3 technologies, creating new opportunities for the transfer of data and assets between different blockchains.
Wider Adoption: With the growing interest in Bitcoin Ordinals, an increase in the number of users and holders of Ordinals can be expected. This could lead to broader adoption of this technology and an increase in its value.
Environmental Solutions: With the increasing discussion of environmental issues related to Bitcoin and other cryptocurrencies, it is expected that more eco-friendly methods of mining and managing Ordinals will be developed. This could become a key factor in attracting more users.
In summary, Bitcoin Ordinals NFTs represent an exciting and innovative direction that could reshape the current landscape of NFTs and Web3 technologies. Their future depends on the ability of the developer and user community to adapt to technical and environmental challenges, but the potential for growth and development in this space is enormous, making it an area worth watching with interest.