In addition to the news that Milady Maker transfers NFTs from Ethereum to Bitcoin via Bridge, today's NFT News Digest for the past week of May 27 to June 2 includes:
EA Sports x Nike Virtual Studios collab to launch new NFT collectibles,
Ubisoft joined Reddit Collectible Avatars as Rabbids NFTs,
Formula 1 has launched NFT tickets for the 2023 Monaco Grand Prix.
Milady Maker transfers NFTs from Ethereum to Bitcoin via Bridge
While the Bitcoin NFT trend continues to show steady growth, Milady Maker owners have a unique opportunity.
Yes, this project has broken into trends again. Most recently, it experienced a serious hype due to Elon Musk's post. And now Milady Maker has partnered with Ordinals Market as well as with Xverse Bitcoin wallet to launch a mechanism called Ordinals Bridge. Holders of Milady Maker can now move their tokens into the Bitcoin network from Ethereum. That is, instead of Milady Maker, the holder receives a Bitcoin Miladys token in the new, specially developed standard BRC-721E.
Our #Bitcoin Ordinals bridge is now live🌉

In collaboration with @OrdinalsMarket_ & @xverseApp🧡

Bridge: https://t.co/T9UhTNVp4W

New token standard: https://t.co/YDERWSPPfa

Marketplace: https://t.co/UTzAzBsO9P

Let's take over #Bitcoin! pic.twitter.com/Ki9dGfxuuJ

— Bitcoin Miladys💞🍊💫🌸 (@BitcoinMiladys) May 29, 2023
What is the BRC-721E token standard?
BRC-721E is a new token standard that makes it possible to connect the ERC-721 token with the Bitcoin network. This requires migration between blockchains via Ordinals Bridge.
The migration process of Bitcoin Miladys is quite simple and it starts with "burning" ERC-721 token. This is the first step that must be done to move a token from one network to another. In order for Milady Maker to transfer from ETH to Bitcoin, the holder must validate the details of the newly formed BRC-721E token. The transferred token will then appear on the Ordinals Market page with metadata.
Is everything so smooth with the Ordinals Bridge mechanism?
Strictly speaking, in this context we use the word "burning" for simplicity. After all, the NFT to be migrated is not actually burned or destroyed. It is simply moved to a wallet over which no one has control, and this operation actually removes that token from circulation.
That's why some experts have doubts about the new Ordinals Bridge mechanism. Previously, when transferring an NFT from one network to another, the system kept the original for some time, because the user could change his mind and return the token to the original network. The new solution involves removing the original from circulation and copying it to the new chain. And hence the question arises, is the copy a true representation of the original? Nevertheless, the decision, as always, will be made by the market.
Is the Bitcoin catching up with Ethereum?
With the news of the possibility of NFT transferring from Ethereum to Bitcoin, it's also worth noting the trends currently being seen in the blockchain market. In terms of sales, Bitcoin reaches almost $200 million, and Ethereum $800 million.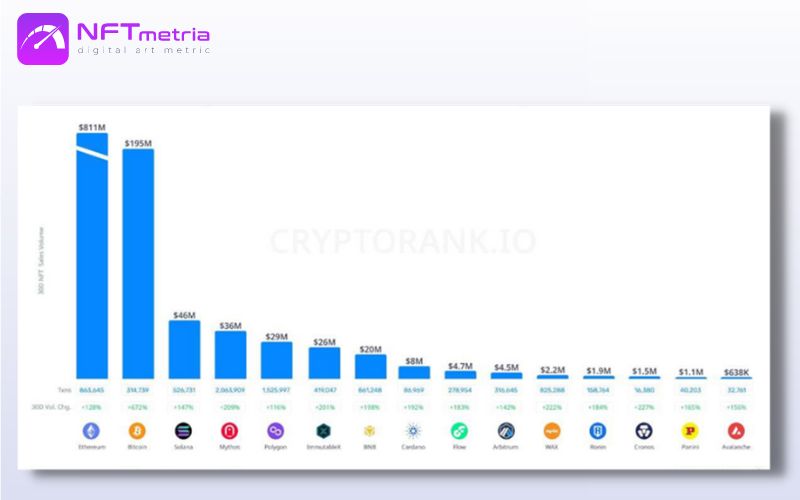 That said, there has been a recent decline in Bitcoin Ordinals sales. However, with the introduction of innovations such as the BRC-721E, more collectors will start to pay attention to Bitcoin NFT, and the market capitalization of the first cryptocurrency could go up sharply.
EA Sports x Nike Virtual Studios collab to launch new NFT collectibles
On June 1, Nike Virtual Studios and EA Sports announced a collaboration. While full details of the deal have not been disclosed, the partnership is expected to popularize the digital tokens of the dotSwoosh platform. The collaboration between Nike and EA Sports will provide community members and game fans with unprecedented experiences and unique opportunities for creative expression. Although both companies are not revealing all the cards regarding the upcoming project, we could see hints of soccer elements in the teaser.
What's In The Game? Only time will tell…@EASPORTS x .SWOOSH 🎮⚽️🏈🏆 pic.twitter.com/AXgidKX7rd

— .SWOOSH (@dotSWOOSH) June 1, 2023
Representatives from Nike Virtual Studios shared their thoughts on the collab.
Joining forces with EA Sports is exciting. Our shared passion for innovation, creativity and excellence is the foundation of this partnership. It paves the way for us to bring to life some really great opportunities for our dotSwoosh community and the huge EA Sports fan base Ron Faris, CEO of Nike Virtual Studios, said in a press release
Nor does Andrea Hopelain, SVP of the EA Sports and Racing brand, hide her enthusiasm:
We at EA are determined to lead the next wave of sports fandom. Our renewed partnership with Nike directly crosses innovation, sports and culture. Andrea Hopeline commented
What is dotSwoosh?
dotSwoosh or .Swoosh is Nike's own NFT platform, where it sells digital sneakers and other collectibles. It's an established tradition that the business giant doesn't refer to its assets on the .Swoosh as non-fungible tokens, but they do have characteristics that suggest they're NFTs.
The dotSwoosh platform is currently in closed beta testing. Its creators are working to make it as fair and safe as possible for the community. Recently, the OF1 Box sale on dotSwoosh ended with more than fifty thousand people participating and revenues exceeding $1.9 million.
Which OF1 Box do you prefer? 🤔

— .SWOOSH (@dotSWOOSH) May 4, 2023
Ubisoft joined Reddit Collectible Avatars as Rabbids NFTs
Rabbids NFTs, a project by leading video game developer Ubisoft, will now add to the social media giant's Reddit ecosystem. The digital funny creatures with long ears, now available as Polygon tokens, will bring a certain amount of liveliness and humor to Reddit users' profiles. The platform announced this on Twitter on May 26.
Who knew a plunger was just what your Avatar needed? 🪠 In partnership with Ubisoft, we're bringing @RabbidsOfficial to Reddit! Get your Rabbids #RedditCollectibles now.https://t.co/e81Zn0Yr6S pic.twitter.com/1lKFUU0rrJ

— Reddit (@Reddit) May 25, 2023
Rabbids NFTs open up new opportunities for Reddit users
Rabbids NFTs have already won over the cryptocommunity with their extraordinary charm, rich gaming experience, and appearance in Nintendo's popular Mario franchise.
Now Reddit users will be able to purchase these digital collectible tokens to transform their profiles. The partnership with Ubisoft offers Reddit users a rare chance to show not only their personality, but also their gaming enthusiasm. Alien rabbits will be available in several styles, from menacing knights to majestic unicorns. The plunger takes center stage in the design of these delightful creatures as an homage to the iconic rabbit weapons from beloved games.
Expanding ecosystem of Reddit NFTs
By partnering with Ubisoft, Reddit has taken another step to engage its multimillion-dollar audience in the NFT world. In July 2022, Reddit introduced NFT to its users as Reddit Collectible Avatars created on Polygon. After successfully launching several series, the platform introduced Avatars Gen 3. The social media platform distributed digital collectibles through free airdrops and early sales at affordable prices of up to $100.
Since its launch, Reddit marketplace Avatar NFT has distributed more than $13.5 million in collectible digital assets. And total secondary sales on the platform exceeded $32.6 million and were the result of 300,000 transactions.
According to Dune, 9.7 million users have joined the NFT Reddit platform in the last nine months alone.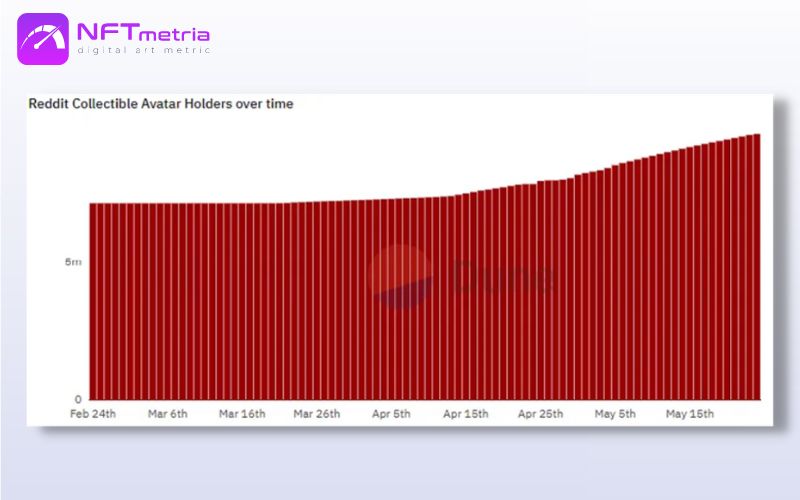 Without a doubt, the launch of Rabbids NFTs will allow Reddit to gain the trust of new crypto enthusiasts and continue to expand its community.
Formula 1 has launched NFT tickets for the 2023 Monaco Grand Prix
Formula 1 has enriched the experience for fans of the 2023 Monaco Grand Prix by providing them with NFT tickets. The innovation paved the way for a convenient method to distribute tickets with traceability, transparency and personalization.
Details on NFT tickets for Formula 1
Formula 1 fans got access to NFT tickets thanks to blockchain infrastructure developer Elemint and Web3 agency Bary. These two IT companies organized passes mining on the Polygon blockchain.
Web3 technologies enable the design of ticketing solutions that are not only more secure but also tailored to the specificities of each event. This enhances personalization and creates a fun-filled experience for fans across all types of sports competitions. Jacques-Henri Eyraud, CEO of Elemint, expressed his attitude
In addition to direct access to the auto races, holders received a number of perks, including preferential accommodations and meals, as well as discounts for the next auto race.
NFT and the future of the ticketing industry
The implementation of NFT technology into the ticketing industry is gaining momentum. One of the pioneers was the American weekly Sports Illustrated, which paved the way for NFT ticketing for sporting events earlier this year. The Monaco Grand Prix picked up the baton and made a significant contribution to this endeavor, given the huge F1 fanbase.
It is becoming clear to a growing number of sports fans that blockchain-based passes facilitate a convenient way to distribute them, which is open, transparent and personalized.
Industry experts have also assessed the potential of NFT passes. They assure that we are on the threshold of a new era and prophesy a bright future for the industry. There is no doubt that a revolution in ticketing is unfolding before our eyes.
The combination of Formula 1 and NFT technology during the Monaco Grand Prix has created an unprecedented experience for fans. Those who bought such passes had an exclusive experience at the event.