Audio Galleries from Rug Radio presents a new drop of Fields by Gavin Meeler featuring the artist's work, released in collaboration with TIMEPieces by TIME. Gavin Meeler's work is multifaceted, and he is a self-taught artist who sold his first art work right out of high school for $800. But on a large scale, he was able to show himself after he was presented from OpenSea and was noticed by various famous NFT collectors, including Gary Vee. All the artist's digital work is a journey to his consciousness, a dialogue with himself and faith in his strength.
What is Fields by Gavin Meeler NFT Collection?
Fields by Gavin Meeler is a collection of 2 NFTs:
Flower Boy is a calm yet mystical figure. It attracts you, but repels you, challenges your consciousness and perception of beauty as a concept.
Strings Attached is a figure that is either a wolf or a person. Looking at it, you will feel devastation, despair, limitation. Think about the difficulties and unfreedoms that we face throughout our lives.
Both NFTs were created to explore your consciousness and subconsciousness, where beauty and mysticism, freedom and the limitations of the world around are fighting.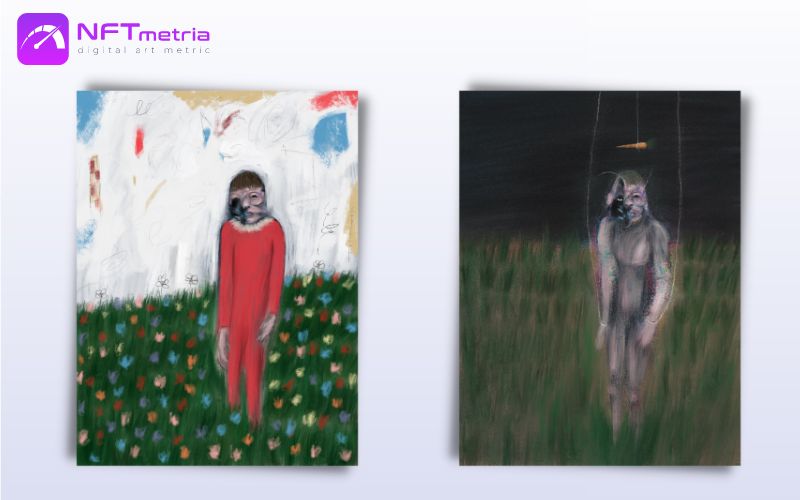 Flower Boy NFT can be minted by anyone, and Strings Attached NFT in an airdrop format will be given to each owner of the Audio Galleries Mint Pass when minting the first token. The picture will be taken on August 7th and the airdrop will be made within 7 days of the picture being taken.
Meet the creator and learn more about his work during Audio Galleries Twitterspace 3th August 19.00 CEST, after which the minting begins.
This weeks drop by @TIMEPieces artist @Gavinmeeler is made of 2 pieces:

"Flower Boy" and "Strings Attached"

Both artworks encourage you to explore your subconscious mind, where beauty and darkness coexist, and to challenge your perceptions of the world around you. pic.twitter.com/X0SzRXLWWL

— @audiogalleries (@audiogalleries) August 1, 2023
Fields by Gavin Meeler Official Links
When and where will Fields by Gavin Meeler NFT drop be?
Drop Fields by Gavin Meeler NFTs takes place on OpenSea in 1 stage on Open Edition:
Starts: August 4 at 12:30 AM GMT+7. Price: 0.012 ETH. Limit: 10 000 per wallet,
Ends: August 7 at 12:30 AM GMT+7.