If you don't have PUNKS Comic NFT in your crypto portfolio, you've lost a lot. In the NFT space, this project is just as popular as the Marvel Universe, and in the investment world, it's just as attractive as the Holy Grail.
The first PUNKS Comic sale was on May 10, 2021. The rather high 0.2 ETH ($720) minting price didn't stop all 10,000 PUNKS Comic #1 from selling out in 5 weeks. Each comic cover token allowed its owner to purchase a full PDF version of the digital original and offered a lot of other unique preferences.
Is it any wonder that the second public sale announced for December did not come to fruition? All 10,000 PUNKS Comic #2 tokens went for a hefty 0.1 ETH during the pre-sale during the one-hour access window.
What was the reason for such a rush? What opportunities does PUNKS Comic offer to collectors? Why is this project of such interest to venture capitalists? It's time to answer all these questions.
PUNKS Comic Official Links
What is PUNKS Comic?
PUNKS Comic is the first collection of art tokens (ERC-721 token standard) that manages to combine poignant stories and vivid graphics with variable rewards and decentralization principles.
In terms of storytelling, PUNKS Comic is the story of Beanie (PUNK #8146), who goes from being a simple waiter to an NFT influencer and leads a team of searchers for missing digital relics. The storyline is based on a real event, the disappearance of legendary works by artist Robbie Barrat that were exhibited at Christie's Tech Summit in London in 2018. According to the community, these unique AI-generated works of art disappeared into inactive wallets.
From a tokenomics perspective, PUNKS Comic is a wide range of opportunities for collectors. Token holders can mint and store their assets, burn or bet on them, exchange them for other tokens or sell them. In each case, they receive a unique reward.
From an organizational standpoint, PUNKS Comic is about involving the most popular crypto/NFT projects in the metaverse. Thanks to the efforts of Pixel Vault, the creator of PUNKS Comic, legendary NFT characters, including 16 CryptoPunks and 8 BAYC, have become heroes of digital comics. The creative people at PUNKS Comic have given them all a second life, giving them each a body, a name, a character, a biography, and an exciting adventure.
The involvement of the Adidas Originals brand which is actively conquering the expanse of the metaverse, is worth mentioning as well. This punk became one of the 3 heroes of the top project Adidas Originals: Into the Metaverse, which expanded his popularity and importance in the market.
PUNKS Comic in numbers
The first NFT sale took place on May 10, 2021.
A rather high minting price of 0.2 ETH ($720) did not prevent the sale of all 10,000 PUNKS Comic #1 in 5 weeks.
After that, the second public sale announced for December did not come to happen. All 10,000 PUNKS Comic #2 NFTs sold out at a hefty price of 0.1 ETH in a one-hour pre-sale.
To date, there are 33.9k NFTs in the collection.
The total volume of secondary sales exceeded 25k ETH (over $39M according to the official website).
Floor price is 0.04 ETH (about $60).
Average sales range from 2.18 ETH to 2.4 ETH.
The most expensive token in the PUNKS series, The Hunt for the Lost Robbies (Special Edition), was sold on February 4, 2022 for 26,828 ETH ($80k at the time of sale).
Total 8,079 unique holders (24%).
Only about 0.6% of the collection (207 items out of 33,909) are for sale, among them the offers range from 0.04 ETH to 4 ETH. This shows that almost all holders see the project as a great investment prospect and are not in a hurry to part with their assets at a lower price.
Data (including exchange rates) are given at the time of publication (March 9, 2023)
Who founded PUNKS Comic?
The founder of the project is Pixel Vault.
Key team members: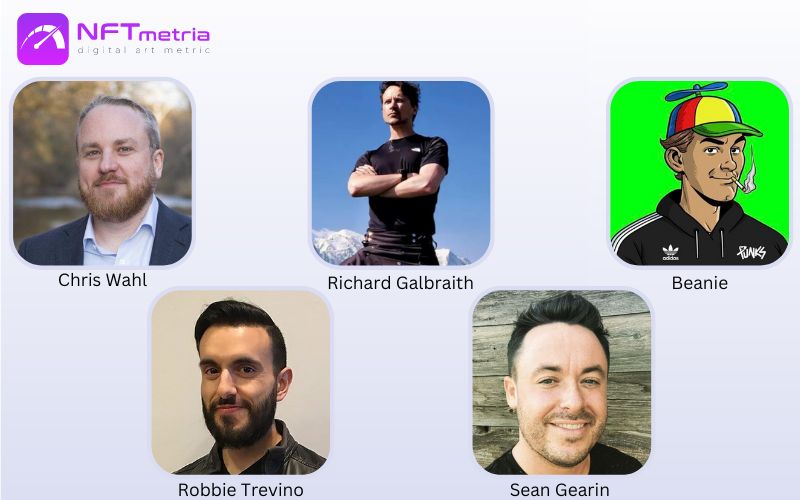 Technical team:
Why is PUNKS Comic popular?
The PUNKS Comic collection, initially a "mint and hold" type of collection, has evolved into one of the most profitable NFT projects with unprecedented gamification and rewards opportunities.
As a PUNKS Comic Collector, you will be able to:
mint and store tokens to become the owner of a physical copy of a 24-page full-color comic book with a unique serial number;
burn your NFT for a unique reward, Founder's Token, which provides a partnership in Founder's Vault DAO owning 25% of the assets of 16 CryptoPunks with access to management, distribution, and private Discord (the window of these opportunities was closed after the second release of PUNKS Comic);
use Genesis NFTs (ERC-721) in staking to exchange for fractional $PUNKS (ERC-20) tokens which make up 50% of the assets of 16 CryptoPunks;
sell your digital asset at a profit, which will allow you to make unprecedented profits during a bull trend (for example, in August 2021, when a PUNKS Comic token cost 8 ETH, you could get 40 times the profit from such a transaction);
get a free MintPass, the price of which during the boom period can exceed 10 ETH;
exchange MintPass for MetaHero, the minimum price of which at the peak of popularity was 6 ETH;
profit from sales of merchandise and digital art items on SuperRare, as well as get 30% of MetaHero's initial income (preferences for $PUNKS holders).
PUNKS Comic Idea
According to co-founder Sean Gearin (GFunk), Pixel Vault had the idea of "creating IP around crypto-native projects" and drawing attention to the early legendary NFT art.
In doing so, PUNKS Comic actively advocates following Web3 principles in the NFT space:
decentralized management;
community empowerment;
real ownership of digital assets and technologies.
That's why there are so many PUNKS Comic creators and IP owners among project fans.
PUNKS Comic Roadmap
In a Medium post on December 22, 2022, the PUNKS Comic team shared their plans for 2023 with readers.
Here are the main planned activities:
Launch of PFP tokens which will be free for NFT holders of PUNKS Comic #1-3.
PUNKS Comic #4-6 should be issued with a simultaneous update to punkscomic.com and integration into The Vault (#4 is scheduled for Q1 2023, #5-6 will be issued later);
Preparing of PUNKS Comic Set 1 with #1-6 included;
The application window for physical issues of PUNKS Comic #2-6, as well as physical versions of Collector and Holo comics, will be open prior to the release of digital issue #6.
Further releases of Origin Stories with The Vault integration along with PUNKS Comic.
Issues #4-6 of PUNKS Comic will not be charged. The opportunity to mint each of them is provided by burning previous issues, subject to the following conditions:
#4 mint is allowed when burning #2+ #3;
#5 mint is allowed when burning #2+ #3 + #4;
#6 mint is allowed when burning #2+ #3 + #4+ #5.
These terms do not apply to holders of digital NFTs linked to PixelPass. They will be able to get issues #4-6 without burning previous issues.
Access to free readings of all comics will be available to everyone, regardless of whether you hold tokens or not (for the purpose of expanding the community). However, physical comics, as well as privileges in the expanding ecosystem, will only be available to collectors.
PUNKS Comic Ecosystem
Pixel Vault has built a robust Web 3.0 focused ecosystem. It includes the following NFT products:
Issue #1: The Hunt for the Lost Robbies
Issue #1: The Hunt for the Lost Robbies is the only asset (10,000 NFT) in the Pixel Vault ecosystem, entitling you to a share in 16 CryptoPunks and a partnership in the Founder's DAO. In addition, first-issue NFT holders with a numbering of less than 5,000 (#1 – 4,999) received a free second-issue NFT. Currently, the minimum price is 0.032 ETH, and the total trading volume reaches 20.42 ETH.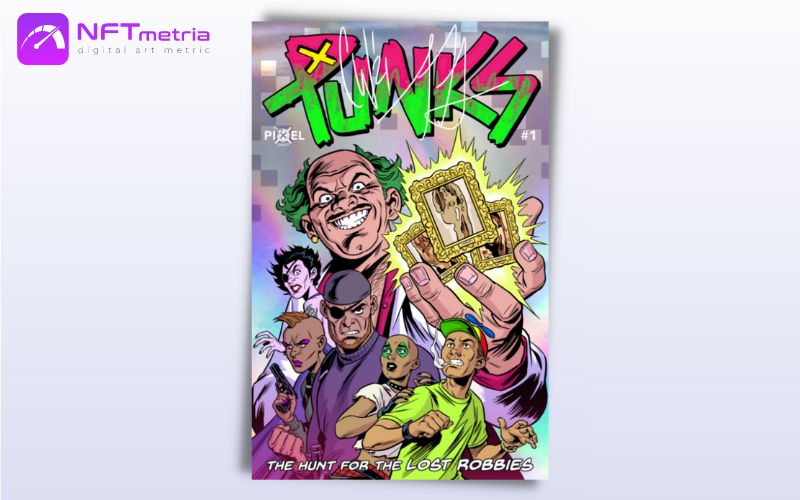 Issue #2: X MARKS THE DROP
Issue #2: X MARKS THE DROP consists of 10,000 NFTs that helped project team, together with Bored Ape Yacht Club and Gmoney, to take Adidas Originals into the metaverse. Currently, the minimum price is 0.062 ETH and the total trading volume is up to 112.1 ETH.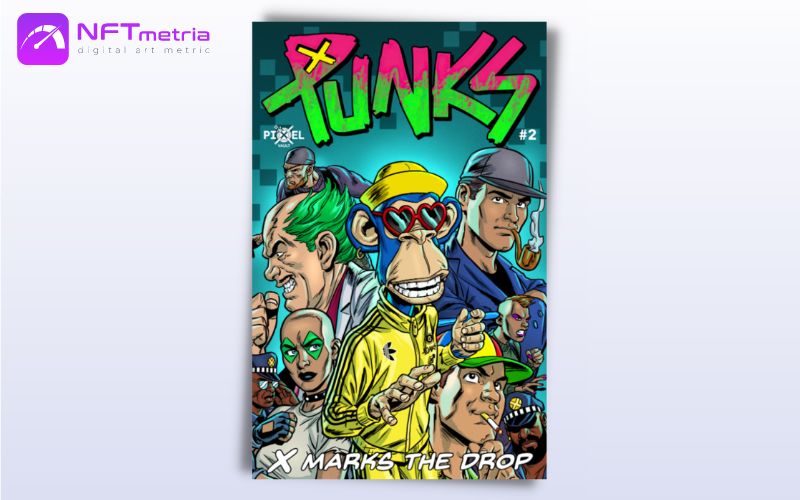 Issue #3: A Glitch in Time
Issue #3: A Glitch in Time is a collection celebrating the first appearance of MetaHero Identities in the PUNKS Comic universe. This is the third issue needed to complete the Genesis PUNKS set. Whoever has all three issues can receive a free PUNKS PFP token that will grant access to the content in the future. The collection has a minimum price of 0.0201 ETH, and 24-hour sales have reached $46.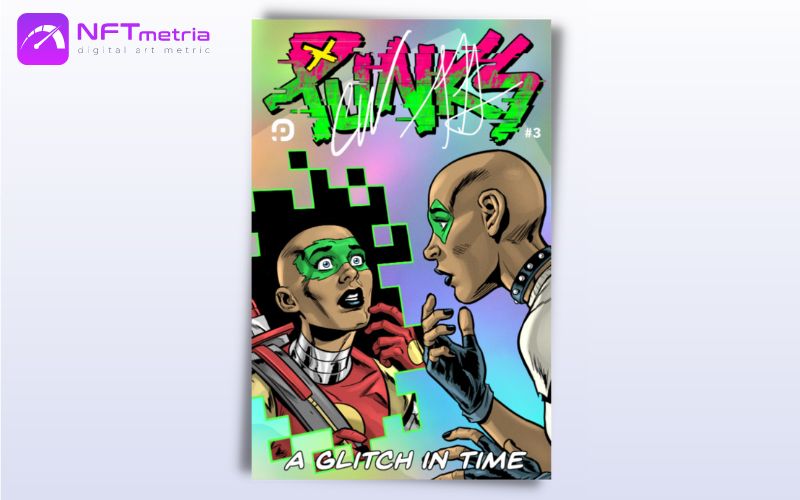 Elite Ape Entry Coins
Elite Ape Entry Coins were NFTs that had to be burned to mint special editions featuring BAYC characters. They could be obtained by PV NFT, BAYC and/or MAYC holders. Currently, the minimum price of this coin is 0.004 ETH.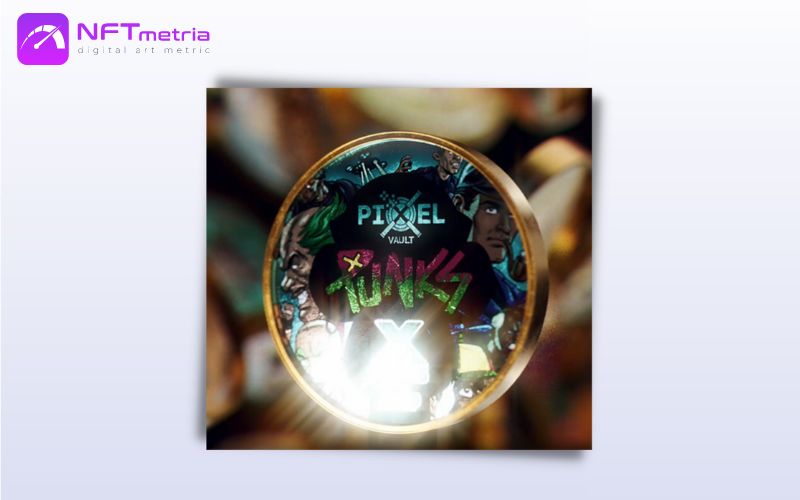 Pixel Vault Founder DAO
Pixel Vault Founder's DAO are tradable ERC-721 NFT tokens designed by renowned NFT artist Fvckrender, partner of Pixel Vault. They were only available to those who burned PUNKS Comic #1 tokens during the specified period (this burning window is now closed). A total of 5,902 Founder's DAO tokens were minted. These NFTs give you the right to manage and partially own DAO assets, as well as the ability to join the private Discord channel.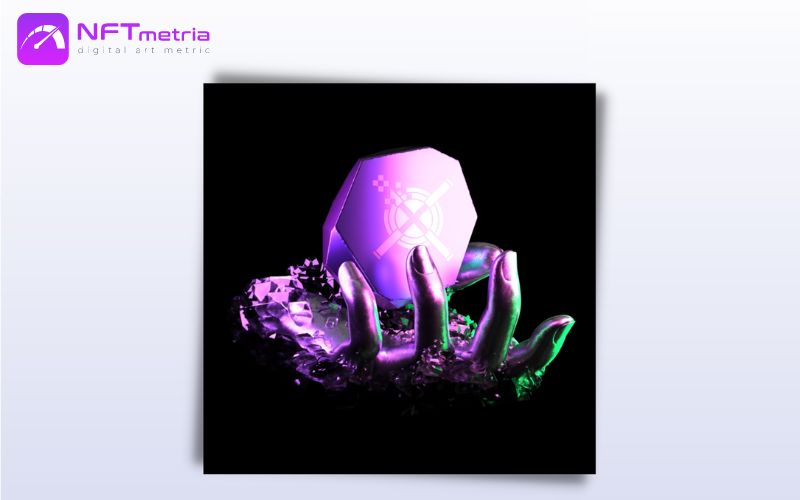 In addition, holders of Founder's DAO tokens receive a 10 percent stake in UPDAO (United Planets DAO) tokens, which provide access to the social and gaming platform MetaHero Universe. At the moment, the minimum price of Founder's DAO NFT is 0.2888 ETH, and the total trading volume reaches 6,219 ETH.
MintPass #1
MintPass #1 are tokens from MetaHero Identities, the second Pixel Vault project. These tokens could be exchanged for @MetaHero coins (1 MintPass token / 1 @MetaHero coin) by PUNKS Comic #1 holders in July 2021. When burned, it creates not only a generative MetaHero Identities NFT, but also an associated Planet DAO token. Its storage gives holders a chance to get basic MetaHero Identities NFTs which are much rarer than others and have the added benefit of Pixel Vault (there are only 146 of them in total).
Origin Stories
Origin Stories is a collection that tells the story of adventurer Courtney, one of the leading characters on the PUNKS team. The first issue of Origin Stories was dedicated to Founder's DAO and was initially available only to PVFD token holders. Each holder was given the opportunity to mint as many Origin Stories as they had PVFD tokens at the time of the snapshot. After that, all unminted Origin Stories NFTs of the first issue were randomly distributed to members of a select group of 5,000 PUNKS Comic holders. Origin Stories now have a minimum price of 0.082 ETH, and trading volume has reached 432 ETH.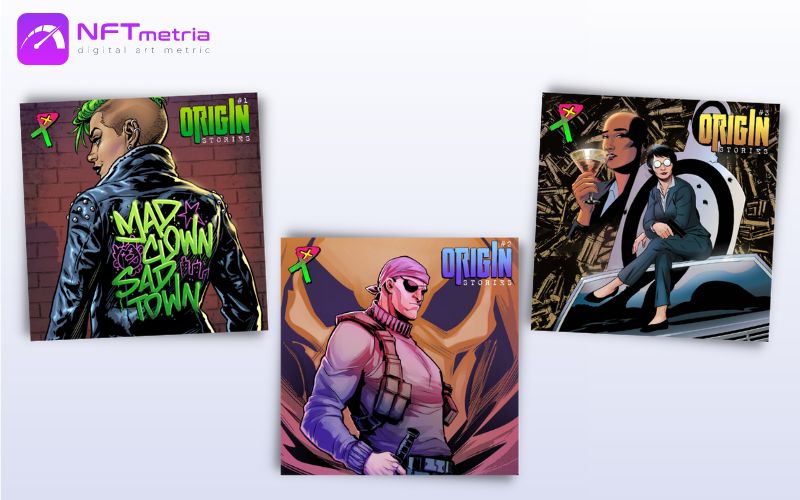 How much do PUNKS Comic NFTs cost?
The first PUNKS Comic sale was held on May 10, 2021. The rather high minting price of 0.2 ETH ($720) didn't stop all 10,000 PUNKS Comic #1 from selling in 5 weeks. After that, a second public sale announced for December did not come to fruition. All 10,000 PUNKS Comic #2 tokens sold for a hefty 0.1 ETH at the pre-sale during the one-hour access window. And how has the project evolved since then in terms of pricing?
To visualize the price dynamics, we made a slice of the average price for 1 NFT:
in August 2021: 6.1 ETH,
in December 2021: 0.6 ETH,
in April 2022: 0.3 ETH,
in September 2022: 0.2 ETH,
in December 2022: 0.1 ETH.
Now (March 9, 2023) the minimum price is 0.04 ETH. On average, the latest sales range from 0.04 to 1 ETH. And the total volume of secondary sales amounted to more than 25k ETH (about $39 million at the current exchange rate).
The Most Expensive Sales of PUNKS Comic
The most expensive sales are led by PUNKS: The Hunt for the Lost Robbies (Special Edition):
The NFT was sold on February 4, 2022 for 26,828 ETH ($80k at the time of sale),
The NFT was sold on November 30, 2021 for 24 ETH ($107k at the time of sale),
The NFT was sold on November 18, 2021 for 24 ETH ($103k at the time of sale),
The NFT was sold on December 18, 2021 for 21.69 ETH ($86k at the time of sale).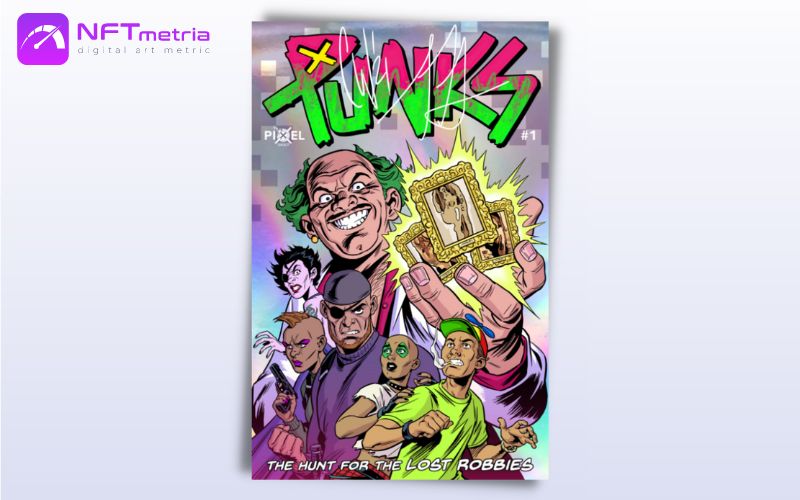 Where to buy PUNKS Comic?
Currently, PUNKS Comic is only available on the secondary market, on marketplaces such as OpenSea, X2Y2 and LooksRare.
How to buy PUNKS Comic?
Remember that initially you need to connect your crypto wallet with self-storage to the marketplace of your choice.
Next, find the official collection using the search bar on the marketplace.
Analyze and choose the NFT you want to buy; click on it and then on the "Buy" button.
Or you can bet on the token you like. Make sure you leave enough ETH for gas or transaction fees. If the seller approves your bid, the deal goes through.
Should you invest in PUNKS Comic?
Pixel Vault generates unflagging interest and trust from investors. They are attracted by the many "blue chips" of this project:
technologically strong team;
credibility of a young but steadily growing brand;
a variety of offers that allow you to make good money in the long run (token burning mechanism, staking, gamification with a generous reward system);
strict adherence to regularly reviewed smart contracts;
such serious partners as Adidas Originals, WAGMI United, Elite Apes;
following the Web3 principles with the empowerment of each collector.
The NFT team's efforts at Pixel Vault to create long-term value for collectors were quickly appreciated by members of the investment community. Just two months after the launch of PUNKS Comic, on August 13, 2021, Beanie tweeted:
The biggest VCs in the world are reaching out to @pixelvault_. They want in on @punkscomic and especially @MetaHero_ (gaming a strong trend). We tell them all the same thing. Happy to talk and collaborate but there will be no advantages over the community. Equality of opportunity

— Beanie (@beaniemaxi) August 13, 2021
One of the first people to invest in PUNKS Comic was Michael Lazerow, a serial entrepreneur who has founded several successful media companies. He told his Twitter followers that he had purchased 6 PUNKS Comic, 5 Founder tokens and 10 MetaHero Mintpasses.
I found it too hard to burn more of my @punkscomic early editions. So I ended up just buying another and burning it for another @pixelvault_ Founder's DAO token.

Total: 5 founder tokens and still holding 6 Punks Comics. Also have 10 MetaHero Mintpasses. What a project!

— Michael Lazerow ⌐◨-◨ ⚡️⚡️⚡️ (@lazerow) August 14, 2021
Michael Lazerow later joined the board of directors of Pixel Vault.
Among the companies that believed that PUNKS Comic was the Holy Grail for venture capital were a16z (venture capital firm Andreessen Horowitz), 01A, and Velvet Sea Ventures.
On February 2, 2022 Pixel Vault announced a $100 million investment by 01A and Velvet Sea Ventures to create the first multi-franchise platform for NFT development. Adam Bain, managing partner of 01A, accepted an offer to become an observer on Pixel Vault's board of directors.
Apparently, investors see PUNKS Comic not as a bubble, but as an opportunity to actually own digital assets that generate real income.
In any case, do your own in-depth analysis and research when investing in NFTs, and then make your own decision.
Opinion of NFTmetria
Owning tokens from the PUNKS Comic NFT collection allows you to immerse yourself in the universe of digital comics and gain access to an actively developing community. Asset holders can discover the limitless possibilities of this project.
A lucrative rewards system, advanced token-staking technology, and an exciting gamification experience await crypto enthusiasts who enter the Pixel Vault metaverse.
The Pixel Vault ecosystem is constantly expanding, actively raising venture capital to support the growth of cryptocommunities in a variety of fields such as NFT, television, films, and video games.