A KID called BEAST is an NFT collection that managed to declare itself loudly on the first day on OpenSea with a floor price of more than 0.4 ETH. Sensational popularity fell on this NFT project thanks to an innovative token distribution system.
For only 0.0777 ETH (such was the cost of minting), each user could choose not only the features of his BEAST NFT, but also his place of residence (Beasthood) on the blockchain. By giving people a unique opportunity to express themselves, A KID called BEAST has ensured that collectors have a strong personal attachment to their NFTs, as well as a high level of community engagement.
Let's see, what is the true value of these NFTs? Is this collection worth the hype that has risen around it? We are ready to share with you everything that we have found out so far.
Official Links A KID called BEAST
What is A KID called Beast?
A KID called BEAST (AKCB) is the only project in the NFT industry to add augmented reality to its collectibles. All of its 10,000 digital 3D objects are classified as PFPs and are built on the Ethereum blockchain.
AKCB NFTs are divided into 20 factions ("Beast Modes"). Each faction includes 500 avatar characters with their own set of Strengths and Personal traits.
The test offered on the project website allows each visitor to first determine "their" Beast Mode, and then choose an avatar based on the data (similarity percentage) generated by the algorithm. This approach allows any user, no matter who he is – a businessman, athlete, musician, hacker, gourmet or single dreamer – to find his niche in the Beast community.
The outfit of each animal (especially the mask – the signature attribute of the collection) reflects its personality. Many characters are named after heroes of cult series or icons of style, music, art. There are Mickey Mouse and Bart Simpson, Tom Ford and Looney Tunes, Virgil Abloh and KAWS, Demna Gvasalia and Jerry Lorenzo.
A KID called Beast in numbers
AKCB in the form of 10,000 NFT was issued in December 2022,
The minting price was 0.0777 ETH.
The total volume of secondary sales exceeded 18k ETH (over $34M at the current exchange rate).
Floor price is 0.69 ETH, which is 9 times more than the minting price.
Sales on average are in the range from 0.6 ETH to 1.3 ETH.
#8195 sold on February 14, 2023 for 50 ETH (over $78k at the time of sale).
A total of 3,740 unique holders (39%).
Only about 5% of the collection (527 items out of 10,000) are for sale, among them the range of offers is from 0.69 ETH to 175 ETH. This shows that almost all holders see the project as a great investment prospect and are not in a hurry to part with their assets at a lower price.
Data (including exchange rates) are at the time of publication of the article (April 29, 2023)
A KID called Beast types and attributes
The characters of A KID called Beast are endowed with versatile attributes. A richer collection in terms of features is hard to find on the market. The fact is that the collection contains more than 1000 features, so that everyone can find the perfect identity for themselves. But among all the features, it is worth highlighting Rare, which includes 73 species, each of which is valuable in its own way.
Yes, you can meet:
Ninja (14),
Angel (5),
Boxer (5),
Delivery Women (3),
Dragon (3),
King (3),
Princess (3),
Superstar (3),
Vampire (3),
Banana (2),
Alien (1),
Genie (1),
Fairy (1),
Medusa (1),
No signal (1).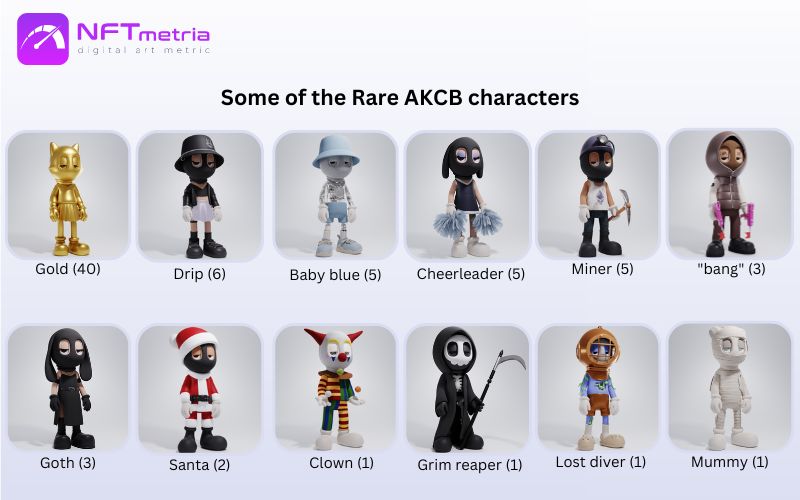 And this is just a part of Rare trait. Each character, presented in one copy, is especially valuable and is included in the top of the most expensive sales in the collection.
Who founded A KID called Beast?
AKCB was launched in December 2022 by four co-founders who prefer to hide their true names: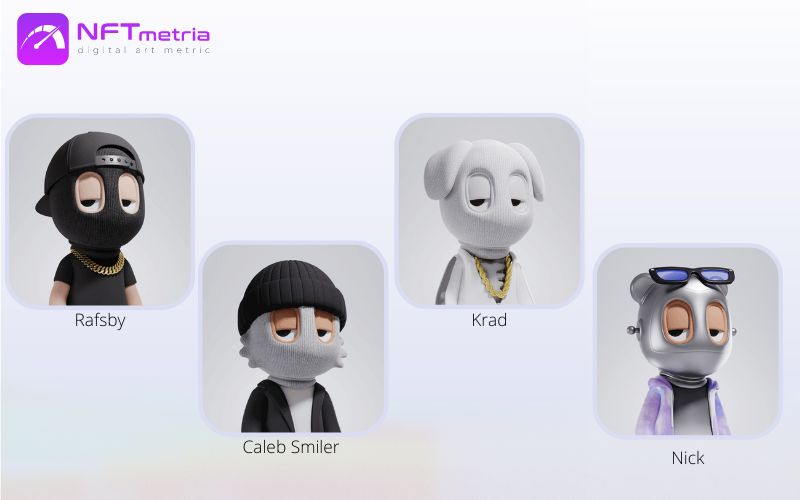 Today, the AKCB team consists of 20 people, including Jaime Alvarez (known as Mr Kat @MeowMrkat) – the lead artist of the project.
The rest of the team is:
Heads of product and legal departments,
3D artists,
Copywriters,
Graphic designers,
Developers,
Community managers.
Why is A KID called Beast popular?
Despite its young age, A KID called Beast has gathered a huge audience on Twitter – more than 100,000 people, and incredibly passionate and involved in the project. Already by the beginning of January 2023, AKCB's allowlist attracted more than 24,000 people – a record number for an NFT startup.
True, by January 17, the white list was sharply reduced to 9813 participants, which caused considerable embarrassment in the ranks of collectors. According to co-founder Rafsby, the wallet verifier simply removed the bots from WL. The project assured that it would compensate investors for losses.
a KID called BEAST Beastlist

We are aware of all the hype surrounding our mint taking place tomorrow, we want to ensure that all WL spots are filled up!

Giving away the rest of the supply ( gasless )https://t.co/yMsxEMbhaZ#aKIDcalledBEAST #NFT #NFTs #web3 #akcb

— Rafsby | a KID called BEAST (@Rafzby) February 3, 2023
However, besides the misunderstanding with WL, there are other reasons why AKCB is in the spotlight and is in the top 15 NFT projects of the Ethereum ecosystem. Let's name the main triggers for the success of the collection:
Users of the project have the ability to quickly and easily exchange NFTs using an internal DeFi crypto swap.
The augmented reality function allows you to expand the visualization of the NFT profile with stunning graphics, 3D animation, sound effects.
Motivating reward system: competitions, giveaways, raffles (part of the collection NFTs, by the decision of the community, remains in reserve for future raffles and partnerships).
Each BEASTHOOD, like the project as a whole, has a DAO structure where all decisions are made together.
Holders are given priority real-world access to branded products: apparel, toys, accessories, music, creative supplies, advertising media.
When creating their own goods using intellectual property, NFT AKCB owners are supported.
It remains to add that more and more whales of the crypto industry consider it necessary to acquire AKCB PFPs.
A KID called Beast Idea
Globally, the project aims to blur the lines between digital and physical culture through everything that unites people – advanced technologies, art, music, fashion.
In a narrower, psychological aspect, AKCB is a response to the desire of each person for self-identification. The characters of the collection are the identifiers of the personalities of the collectors, their representatives on the digital gaming platforms. Under the mask that each character wears are the essence of the wearer, with their true manifestations and childish fantasies.
Our goal is to create unique limited physical pieces that can be adorned in real life or their digital form on their characters. Being able to rock a physical version out while a digital version online is cool but having the digital version not only act as an avatar but also as a proof of authentication, legitimacy, origin, or history of that limited item makes it that much cooler. Rafsby explains his vision for the project like this
A KID called Beast Roadmap
The project team has many plans for the future in both the digital and physical worlds. They include:
Creation of a unique information center DASHBOARD, which will establish a direct link between collectors and the team. Here, in one place, community members will be able to get information about the project's new utilities, access to their assets, and the ability to communicate with other collectors.
Expanding the augmented reality feature for NFT holders and developing new features and formats available through DASHBOARD that will allow collectors to launch their own AKCB augmented reality app.
Holding various competitions between 20 BEASTHOODS for additional benefits.
Creation of a private BEASTHOODS chat to coordinate activities, as well as an internal DAO to manage the treasury, charities, treasury and other aspects of the activity.
Development of a high-end brand of streetwear, toys, accessories and other merchandise with exclusive releases and priority access to them by AKCB NFTs owners (as part of this initiative, the team is already considering prototypes of BEASTS models from potential partners).
Opening of physical representations of the AKCB brand – boutiques like High Street Store – in New York, Paris, London, Tokyo and Dubai.
Organization of trade shows at music, fashion and cryptocurrency events taking place in the real world
Creation of a launching pad for talents starting their creative journey and ready to demonstrate their achievements in the field of NFT, sculpture, photography, fine arts, fashion.
Each A KID called BEAST initiative is carefully discussed and calculated to ensure it fits both the global aspiring brand and the ever-growing community in the long term.
A KID called Beast Ecosystem
Despite its modest size, the collection ecosystem offers an interesting experience for the community members.
It includes:
BeastSwap is a proprietary DeFi cryptocurrency swap that provides 7 chain support and many optimizations for a fast and easy token swap.
BeastStudio is a repository of 3D augmented reality models and profile pictures, which are copyrighted by their respective owners.
How much does A KID called Beast cost?
The public mint of a collection of 10,000 NFTs took place in December 2022. Minting cost 0.0777 ETH. At the same time, the collection began to be traded on secondary markets, from the very first days showing a confident positive trend. Thus, the average selling price was:
In January 2023 – 1.4 ETH;
In February 2023 – 1.4 ETH;
In March 2023 – 1.3 ETH;
At the moment, on April 29, 2023, the floor price is 0.69 ETH, which is 9 times more than the minting price. On average, the latest sales are in the range of 0.6-1.3 ETH. And the total volume of secondary sales amounted to more than 18k ETH (more than 34 million dollars at the moment).
Most expensive sales of A KID called Beast
The most expensive sales are led by the following NFTs from the A KID called Beast collection:
#8195 sold on February 14, 2023 for 50 ETH (over $78k at the time of sale);
#3244 sold on February 13, 2023 for 15 ETH (over $23k at the time of sale);
#1187 sold on February 18, 2023 for 15 ETH (over $25k at the time of sale);
#8796 sold on February 27, 2023 for 13 ETH (over $21k at the time of sale).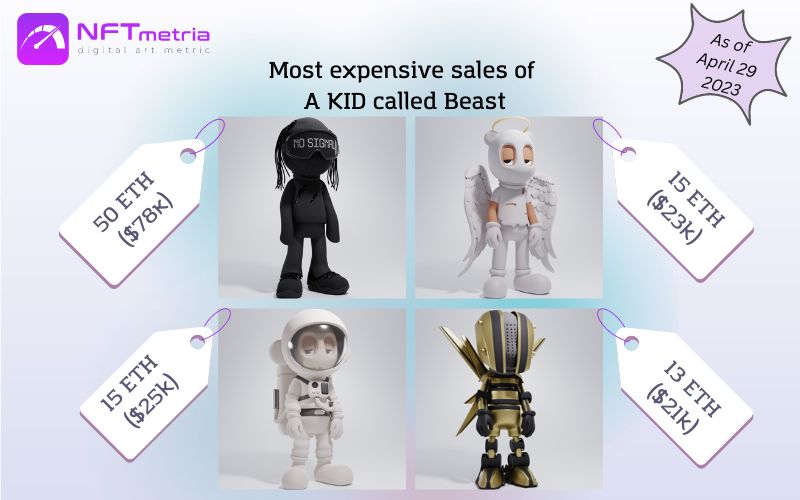 Where to buy A KID called Beast?
Currently, A KID called Beast can only be purchased on the secondary market, on marketplaces such as OpenSea and Blur.
How to buy A KID called Beast?
Remember that initially you need to connect your crypto wallet with self-storage to the marketplace of your choice.
Next, find the official collection using the search bar on the marketplace.
Analyze and choose the NFT you want to buy; click on it and then on the "Buy" button.
Or you can bet on the token you like. Make sure you leave enough ETH for gas or transaction fees. If the seller approves your bid, the deal goes through.
Should you invest in A KID called Beast?
While global brands rely on NFT to develop their business and marketing strategies, investors should take a closer look at the innovative project A KID called Beast. Our experts have identified the following arguments in favor of its reliability and prospects:
The professional background of the founders of the project inspires complete confidence (judge for yourself: Rafsby and Krad are co-founders of the loudchain agency that develops blockchain technology, cryptocurrencies, DeFI, NFTs, VR, AR, Metaverse; Caleb Smiler is the developer of the Anjieco protocol, which combines financial centralized solutions with decentralized mechanisms; Jaime Alvarez – a former employee of Apple, Facebook, Instagram, Sony, Nike);
AKCB is looking for future partners among advanced technology start-ups and leading brands.
According to OpenSea analytics, the bottom price of the NFT collection, having reached in January 2023 from 0.49 ETH and jumped the next month to its all-time high of 2.669 ETH, remains stable at the level of 0.5-0.4 ETH, (at the time of writing floor price is 0.69 ETH, and the total volume of secondary sales is more than 18k ETH);
In the AKCB PFP community, there are more and more holders known and significant in the NFT industry, for example, Travladd Crypto @OfficialTravlad.
Copped my first ETH NFT last night… damn that network really is horrible to use but worth it to pick up a @akidcalledbeast great community and team, vibes are immaculate🤩

These bad boys even come with their own 3D file you can download… you know what that means @SleekGeekNFT pic.twitter.com/cjOnq8obZE

— 𝐈𝐕𝐀𝐑 𝐓𝐇𝐄 𝐒◎𝐋_𝐋𝐄𝐒𝐒 (33.3%) (@IvarTheSol_less) February 1, 2023
I am currently in NYC and it's bedtime here but my bags are ready!#AKCB FP rising ready for huge partnership news April!@akidcalledbeast $GGG ready for a big move and Metabank airdrops coming! @goodgamesguild $BGS just getting started with multiples to come!@BOG_Official_… pic.twitter.com/Wp2KghtuZg

— Einstein 👑 (@Einstein_BTC__) March 30, 2023
In any case, do your own in-depth analysis and research when investing in NFTs, and then make your own decisions.
Opinion of NFTmetria
The A KID called BEAST project is a prime example of integrating the most advanced technologies into the NFT space. It can rightfully be called the "Disney of the Web3 era".
Providing users with a demonstration of collectible items in augmented reality, the project received an overwhelming response, and the phenomenal augmented reality function has become synonymous with the AKCB brand.
The A KID called BEAST collection is not only digital assets, but also a means of self-expression. By joining her followers, you will feel more comfortable and freer both in the digital space and in the physical world.