Psychedelic art has always held a special place in the world. Works of this genre, although they seem, at first glance, simple, there is much more behind them. Creators create amazing projects and art based on their feelings, personal experience and best practices.
Modern artists are trying to convey not only hallucinations and surreal, abstract scenes. They fill their paintings with meaning, experiences, emotions. And today we will talk about one of the most famous NFT artists, Victor Mosquera, who in his portfolio has works with various well-known publications and personalities.
Who is Victor Mosquera?
Victor Mosquera is a well-known personality in the art world, a digital artist with a huge track record. He was born in 1990, has Colombian roots, and eventually moved to Vancouver, Canada.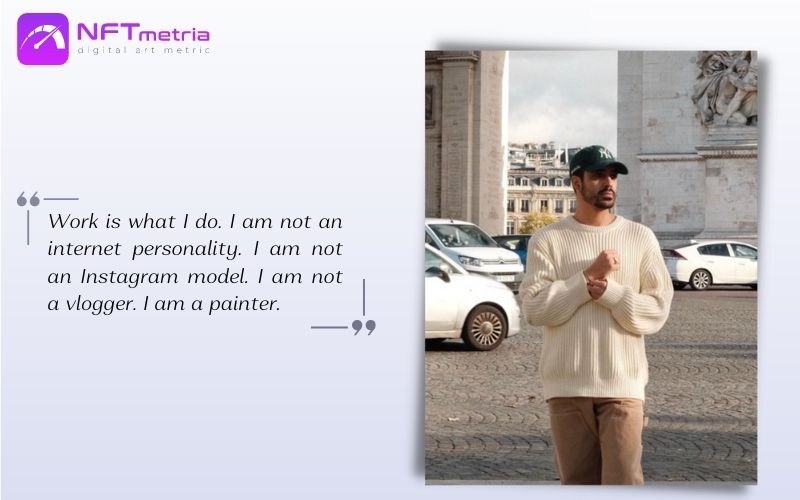 The creator, who went from a category of full-time artists to a world celebrity, worked with eminent brands and personalities, turned the idea of ​​psychedelic upside down. And today he is one of the most famous artists in the NFT space.
A couple of high-profile facts:
One of his brightest experiences was with Ubisoft on visuals for Watchdogs Legion, FarCry 5 and Starlink,
Worked with Willo Perron on visual effects for Kid Cudi's performance at Coachella in 2019,
Worked with The New York Times on the cover of their Rabbit Hole podcast, Universal Music Group, Interscope Records, Scientific American, Passion Pictures, Tor Books, Heavy Metal Magazine, G. Jones and Dirty Heads among others.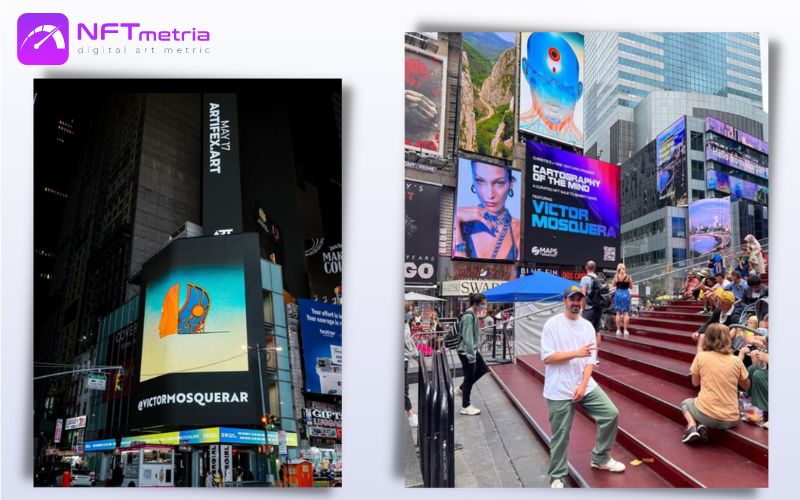 His works were presented and successfully sold at the world's most famous auctions Christie's and Sotheby's.
Victor Mosquera Official Links
The creative path of Victor Mosquera: from work at Ubisoft to NFT
Victor Mosquera began his creative career with a profile education in the field of arts, albeit an unfinished one. From 2007 to 2010 Victor Mosquera studied at Pontificia Universidad Javeriana (Colombia, Bogota). He studied for 5 years 3 years and dropped out. The choice of him was meaningful. He knew what he wanted to devote his life to.
He has always loved and preferred the traditional means of fine art: oil paints, watercolors, gouache, canvases. And I started working with digital 2D art the very moment I started working in studios and game development companies.
Victor Mosquera started his creative path with different game and video development studios: One Pixel Brush, Director Films and small companies. And in 2013 he was invited to Ubisoft Toronto. It was this company that became the place where Victor Mosquera began to actively develop in the field of digital drawing and animation. At that time, the company was already one of the world leaders in game development. There he held the position of a concept artist and was engaged not only in illustrations of locations, but also in various characters.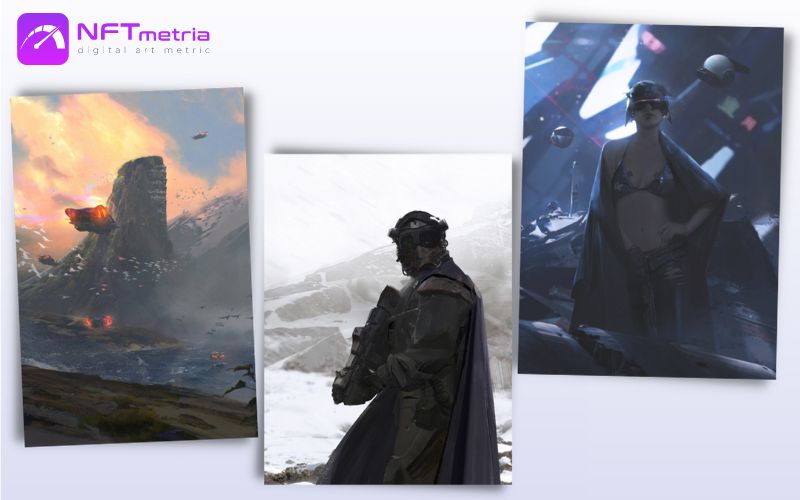 At the same time, He became interested in digital art, mastered animation, and developed his own signature, recognizable style.
The artist has a great track record, he has worked with many major projects and stars:
Work at the festival in 2019 on the visual effects of Coachella;
Worked with The New York Times for their podcast covers: Rabbit Hole Podcast, as well as with Universal Music Group, Interscope Records, Scientific American, Passion Pictures, Tor Books;
Worked on the covers of Heavy Metal magazine, G. Jones and Dirty Heads;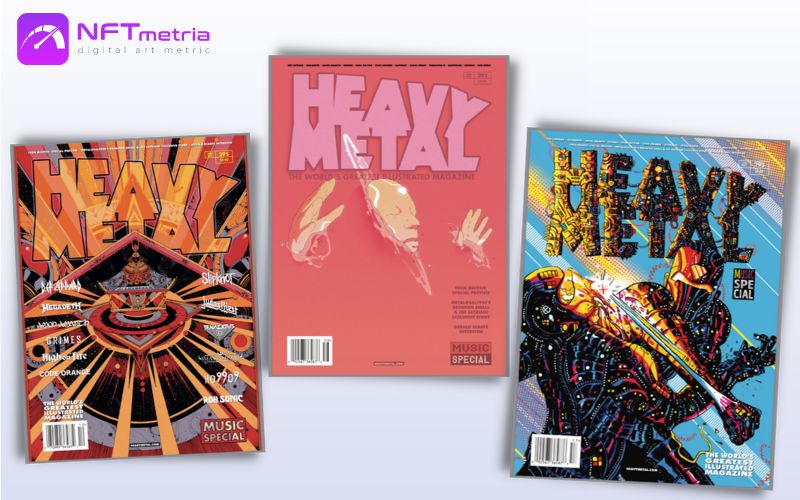 In 2019, his debut exhibition "New Earths" took place in Los Angeles;
In 2019, he worked with Odezsa on the special effects and stage for their performances at the Sundara International Festival in Mexico.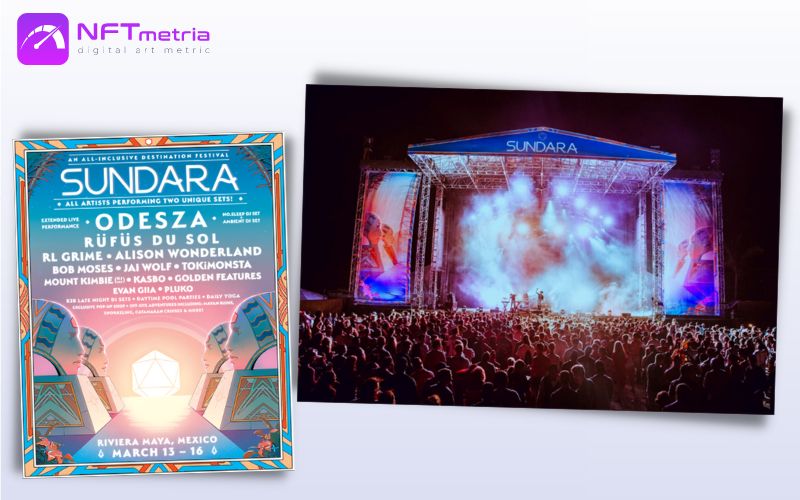 Victor Mosquera in the NFT world
Victor Mosquera entered the NFT space quite organically, thanks to communication on the Clubhouse platform in 2020. But the very concept of the industry shocked him.
Once I understood the concept of blockchain, I just couldn't help but see how it resonates with life in general. Remembering Victor Mosquera
Since then, the platform has become an important meeting point for building an organic community as well as friendship with fellow artists. He developed and became close friends with other representatives of the digital artist community – Frederic Duquette (FVCKRENDER) and his wife Baeige.
The first NFT drop took place in November 2020 from the Everything Connected project. Since then, the artist has released 6 complete collections, including a collaboration with his friend Fvckrender.
The artist released the first NFT called Patterns Unfolding in November 2020. Since then, he has released 7 full collections and dozens of 1/1 NFTs on various marketplaces.
In October 2021, Victor Mosquera was invited to participate in the Sotheby's auction, where he presented his NFT Tranquility in Chaos. As a result, she went under the hammer for 49,803 US dollars.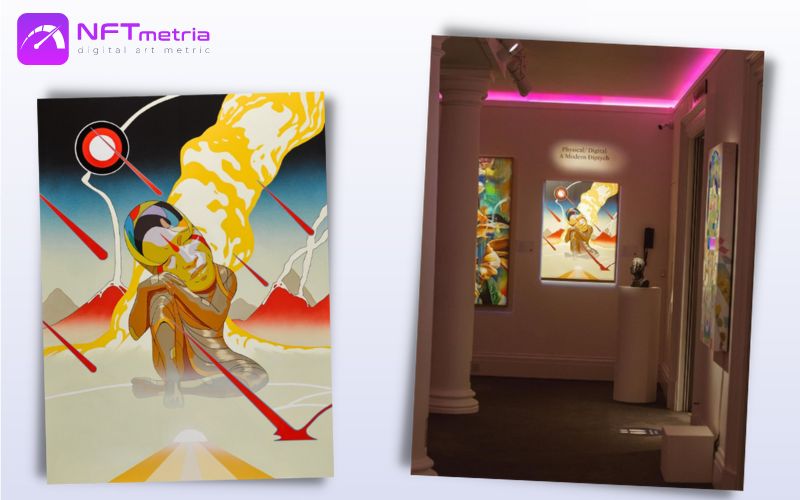 In November 2022, Victor Mosquera realized one of his childhood and fan dreams when FIFA invited him as a digital artist to the FIFA World Cup. As a result of this collaboration, he created digital art with Lionel Messi.
And on January 5th, 2023, he released a collaboration with renowned NFT artist Reuben WU.
This piece was so much fun to make with the homie @Reuben_Wu ✨ https://t.co/63BGUft0gp

— Victor Mosquera (@victormosquerar) January 5, 2023
At the time of writing, Victor's total income from sales of his NFT work is over $2 million.
Features of NFTs by Victor Mosquera
The author's style is recognizable and stands out well against the background of many other artists. Each of his paintings in any case begins with an idea.
His digital art, which made Victor Mosquera a celebrity, are distinguished by their unique style and vibe. He himself was inspired by many things: from spirituality, to hallucinogenic paintings and the human psyche. All this is closely intertwined in his creations. A prominent facial motif is constantly present in his art – "healers" – representative of his exploration of spirituality.
I add some 3D animation to my work and also make sound for my work. I think my work is very inspired by spirituality, the human psyche and the relationships that we have. The artist speaks
The art of Victor Mosquera are full of mystery, psychedelics and something extraterrestrial. The color palette of his NFTs ranges from pastel-sand colors to bright colors. Often, against the background and landscapes of pastel colors, characters or the central characters of his plots act as bright spots.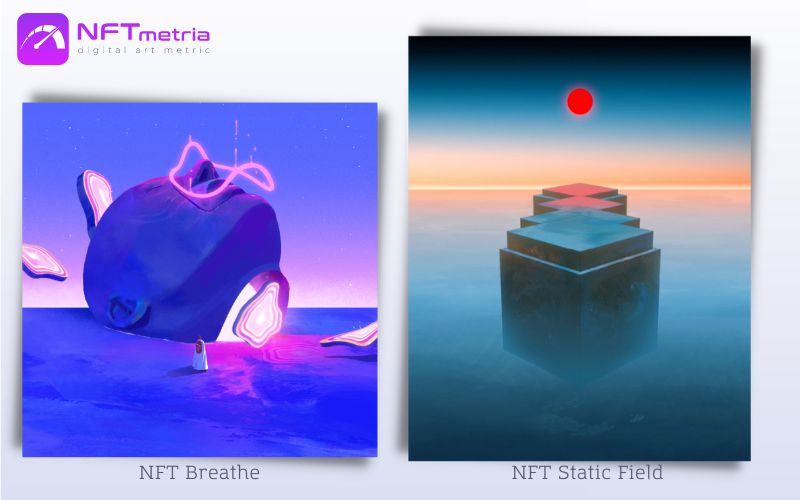 His stories are surreal and dream-like. The most successful description will be something from the category: the dreams of nomads or intergalactic wanderers who wander around other planets and wastelands in search of the meanings of being or the secrets of the universe.
Victor Mosquera is not afraid of experiments. He can boldly combine ethnicity and symbols of different cultures in his paintings, skillfully handles symbolism, shape and geometry of objects. Such a combination of elements allows you to rid your characters of ethnic aspects, making them universal figures. Each viewer will be much easier to associate himself with the works, to find something close, related to himself and his inner world.
The most famous NFTs by Victor Mosquera
Victor Mosquera for several years in the NFT space has created 7 collections:
Everything Connected, released February 2021 on Nifty Gateway. The collection consists of 4 tokens, the total circulation is 45 editions.
Everything Connected Open Edition released February 2021 on Nifty Gateway. The collection consists of 2 tokens, the total circulation is 77 editions.
LOTUS, released February 2021 on Nifty Gateway. The collection consists of 5 tokens, the total circulation is 76 editions. And among them is the only edition of Detached, created in collaboration with a friend and well-known crypto artist Fvckrender.
LOTUS Open Edition released in April 2021 on Nifty Gateway. The collection consists of only 1 token in the amount of 197 titles.
Light Divide, released in August 2021 on Nifty Gateway. The collection consists of 3 tokens, the total circulation is 50 editions.
Artifex, released in June 2022 on OpenSea. The collection consists of 2 tokens, the total circulation is 101 editions.
Fvckrender x Victor Mosquera released January 2023 on OpenSea. The collection consists of 5 tokens, the total circulation is 107 editions.
But the artist makes the main emphasis on individuality and exclusive NFTs 1/1. And here are the most famous of them.
Patterns Unfolding NFT
Patterns Unfolding is the artist's very first debut NFT. The picture symbolizes the beginning of the inevitable process. The picture contained the meaning of the infinite development of human consciousness and the infinity of the boundaries of the mind.
Patterns Unfolding was minted on November 24, 2020 at SuperRare and sold on December 8, 2020 for 11 ETH (approximately $6.4k at the time).
✨Patterns Unfolding✨ 1/1 edition open for bid now only on @SuperRare_co 💎 Enter the astral plane for 651 frames. #nft #cryptoartist pic.twitter.com/WjMf5i4oX2

— Victor Mosquera (@victormosquerar) November 23, 2020
Surfacing NFT
Surfacing is by far the most expensive NFT in an artist's portfolio. It was minted on April 29, 2021 at Foundation and sold for a record 66 ETH (about $182k at the time of sale).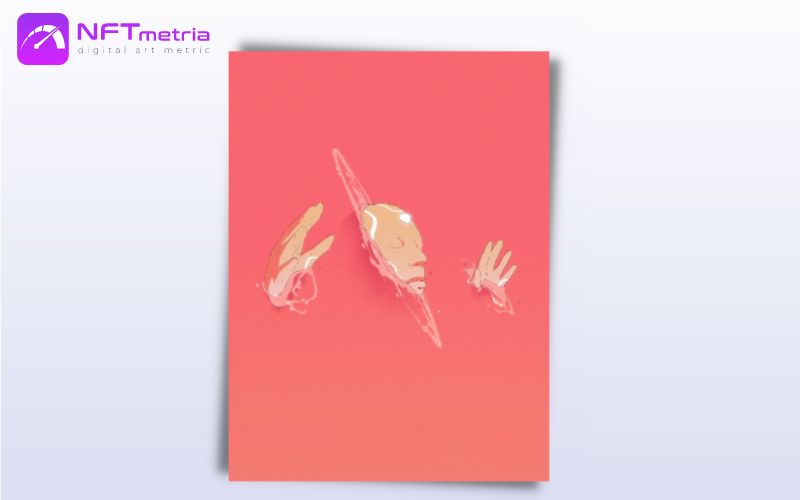 In the painting, Victor Mosquera shows the idea of transition from one state to another. Moreover, over the years, this work takes on different meanings for each beholder.
Leave bad habits behind, learn more about yourself and aging. In the end, we all slowly move into another state. This is how the artist describes the work
The Oracle NFT
The Oracle is part of the LOTUS collection, which was released in April 2021. Unlike other editions in the collection, The Oracle was created in a single copy and sold for 44.1561 ETH (about 97k dollars).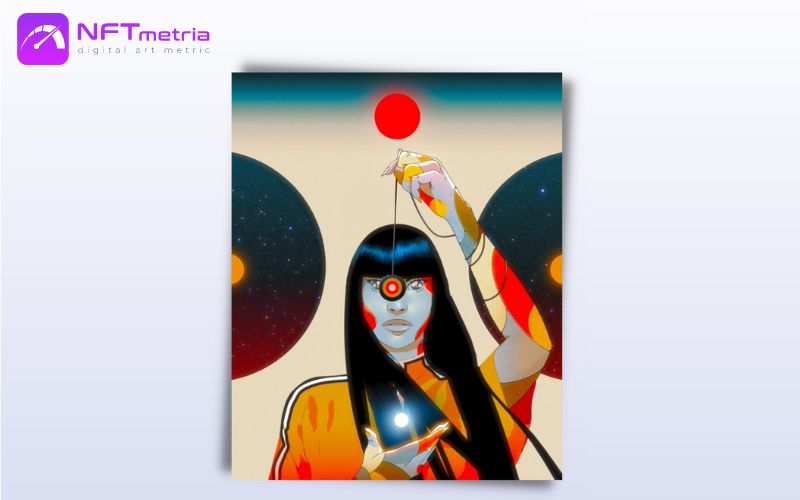 In the picture is the same image of a healer, which shrouded all the artist's work.
Where can you buy NFTs by Victor Mosquera?
Now the NFTs of Victor Mosquera are available only on the secondary market, namely on such marketplaces as SuperRare, Foundation, OpenSea, Nifty Gateway. In addition, you can follow the artist's Twitter and Instagram for future updates.
Opinion of NFTMetria
The digital art of Victor Mosquera are popular, in demand not only among NFT collectors, but also among major publications, labels, auction houses. We can safely say that Victor Mosquera turned the idea of ​​psychedelic, combining a bewitching visual with animation and sound that seems to plunge you into a trance. The author showed that psychedelic art can be not only defiant and provocative, but also quiet, atmospheric, evoke a sense of harmony and tranquility.
The author continues to grow and develop, creating new collections and collaborating with other digital artists, experimenting. His popularity as a brand and influencer is only growing, which means that investments in his NFT will be justified, and the value of his creations should only grow over time.