YouTube is the most popular video hosting site and the second most visited site in the world. Video content has long been one of the most effective ways to deliver information to the target audience. According to the results of surveys, out of 600 respondents, 76% of respondents announced an increase in sales, which was driven by video content, 97% – an improvement in the understanding of a product/service, 80% – an increase in traffic on the site.
Tell you how to effectively organize the promotion of NFT on YouTube and not waste your marketing budget at the same time.
Youtube and NFTs
The NFT community is gradually taking its niche in the YouTube space. To date, a few manage to monetize their channel without complex promotion on other sites. We have provided current examples of popular YouTube channels about NFT in a separate article.
The NFTMetria team suggests considering your channel as an additional way to promoting the NFT. We cannot deny the obvious – for many, videos are easier to perceive, and the information from your videos is easier to digest. Therefore, it is also impossible to refuse it completely.
Why is YouTube not the main way to promoting NFT?
First, YouTube is a rather expensive method of promoting the NFT from scratch. The platform belongs to Google, and the methods of promotion and SEO optimization are similar to those of a search engine. Accordingly, if you are a professional SEO specialist, then this issue from the technical side will not be a problem for you. If you are familiar with platform only as an amateur user, then it will be difficult to immediately achieve cool results without outside help.
Secondly, the NFT community is not yet as large as other YouTube traffic topics. Why should you narrow down your target audience? As in other articles on NFT marketing, we strongly recommend that you use only an integrated approach in promoting NFT, develop a clear strategy and prescribe a RoadMap. You can read about these tools and more in articles about promotion methods and promotion ways.
Which NFT promotion format to choose on YouTube?
Remember that in promotion NFT on YouTube, it is important for you to create your own community, interested participants and observers of your collection and your development. And users love different content, and you have a personal attitude to this or that format of  blogging:
Video with sound. In this case, you remain incognito and give the public a symbiosis of unique content from musical accompaniment, voice and video selection. In this case, you need to be as careful as possible with each element.
Screencast recording your work screen. This method clearly demonstrates all the features of your collection, an overview with your personal comments. Here you can add yourself to the video. In this case, your personal presence will be an additional plus. Unfortunately, it often happens that subscribers can simply get bored from watching a monotonous video. Be sure to consider this fact. Find the best recipe for the length, your personal feed.
NFT artist's vlog. If you have the proper charisma, you have a well-delivered speech, you are not afraid of the camera, then this option is for you. Become a real blogger, where all the attention will be on you. Film yourself, tell about the NFT world , about yourself, about your collection.
And now we will analyze in detail our recommendations on promotion tools. Go!
Start with internal optimization of your YouTube channel
Video hosting has a simple algorithm, promotion requires less effort than search engine optimization of website pages. Based on the given parameters, the algorithm determines which videos to show and to whom. There are several options:
Tags
Select keywords related to your topic, use them in titles and descriptions. We recommend creating a branded tag to select videos for the "Related" section. To speed up the promotion of a content on platform, look for high-rated content and watch its tags.
Titles
The average title length is 40-50 characters including spaces. Effectively combine the keyword and brand: we use the first one at the beginning of the heading, the second one at the end. Use a call to action, and 1-2 words can be written through CapsLock.
Description
It is rarely read, but it makes an impact when promoted on YouTube. For optimizers, the description is a real paradise. You can write text with keys up to 2,000 characters in it, in contrast to the title with its 50 characters.
Miniature
For the main picture, create bright images that reflect the essence of the content. Use proven YouTube promotion techniques with thumbnails: before and after, pros and cons, 12 ways… and various short calls to action.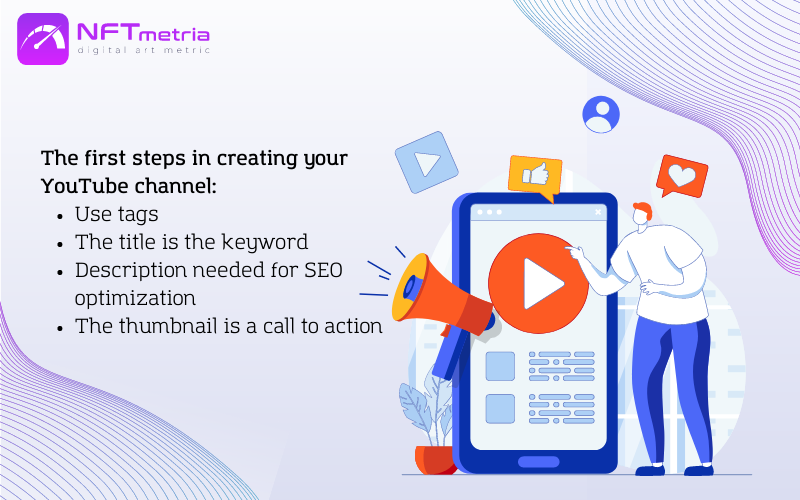 Before creating a video, it is important to collect keywords for it. Free tools include Google stands out keyword planner. Use hints to promotion NFT on YouTube: enter the main key and relevant queries will appear in front of you. It is due to the keys that some videos are displayed in the Google search engine when you enter a query.
Pay Attention
To increase views in the title, use words and phrases that attract people. Common tricks to be aware of include:
question;
numbers;
personal experience of the author or a third party;
secret;
fear;
guarantees.
The description is mainly created for SEO optimization in YouTube. Some users carefully study it, trying to find answers to questions that remain after studying the material. You need to use it to motivate the person to take action.
Tell a personal story about the topic of the video and ask the user to share their experience. This way you will increase the number of comments, which will increase the chances of your video being trending.
The thumbnail is the first thing the user sees. When promotion NFT on YouTube, use this free way to attract users. You can create a single theme or use one style to make your video stand out from the rest.
Work with a warm audience
Starting from scratch is always difficult. Imagine if all famous brands, entrepreneurs and bloggers promoted a page in each social network separately. Even at the stage of developing a strategy, choose one social network and actively recruit subscribers there. Start promotion NFT on YouTube after working with another social network.
For example, in the NFT topic, it is better to start with:
Of course, all subscribers from one social network will not switch to another. But this is just the beginning: the first users are already there, and moving on will be much easier. If you already have a reader base on one of the social networks, start using it to promote your channel.
Targeting search traffic from search engines
Before promotion NFT on YouTube, it is important to consider the maximum number of external traffic sources. Google gives preference to videos, which is why they show them on the first page in the results for thematic queries.
Proper SEO optimization on platform for a specific video, playlist, and entire channel will help you get ahead of sites in the SERP, creating a stable source of traffic. If you decide to drive traffic from Yahoo and Google, then focus on these ways:
We have already considered this method for promoting content within the system. You need to decide on a topic, select keywords using Google keyword planner. Then use them in the title and description of the video, insert it into the appropriate field when adding it. For videos, we recommend choosing mid- and low-frequency keys, for playlists – high-frequency ones.
For websites, this method has been used for a long time, and for promoting videos on YouTube, it is only gaining momentum. Crowd -links are effective to use, because they are less moderated and deleted on thematic forums and in comments.
Ahrefs tools to analyze the resource. Choose only trusted video-related sites with high traffic.
If you look at the main ways to drive traffic to your content from search engines, they are included in most website promotion strategies. You can use some ready-made strategies for your own channels.
Just take into account the features of the site itself, first of all directing forces to attract people inside platform, and only then – from Yahoo search engines and Google.
Use contextual advertising
Search promotion and crowd marketing work in the long run. You create a lot of content, optimize it correctly, users gradually begin to visit your channel, but you will only be able to get a stream of subscribers after a few months.
Before promoting a channel, create at least 10-20 interesting and useful videos. Invest money only after analyzing the content.
One of the most effective paid promotion methods is contextual advertising. Google Ads is a contextual advertising service from the Google search engine. You create and set up a campaign, invest a certain amount of money and run ads. They are shown in the SERPs, on partner sites, YouTube itself.
Conclusion
YouTube's user base is huge, which means it's a great field to work on promotion NFT on YouTube, and some businesses are making great sales for themselves through the video hosting platform alone. But from the point of view of the NFT industry, we cannot recommend this promotion method as the primary and main one. YouTube will help you increase coverage, increase audience loyalty, and introduce your subscribers to you live. But maintaining and promotion NFT on YouTube is a costly and difficult task from a financial and marketing point of view, requiring a very serious approach to content.