Reddit is a modern resource that combines the features of a social network and a forum where users can post links to information they like on the Internet and discuss it. The platform allows you to set up active receipt of backlinks, increase the issuance of the site by promoting commercial requests. Therefore, Reddit is in the TOP NFT promotion channels.
In addition to it, there are such channels for promoting the NFT as:
Reddit audience
Included in the TOP 20 sites in the world in terms of traffic – in May-June 2022, over 1.5 billion people monthly;
About 50% of Reddit users are Americans;
About 70% of users speak English;
About 29% of users aged 18 to 24;
About 31% of users aged 25 to 34;
About 70% of users are men, 30% are women.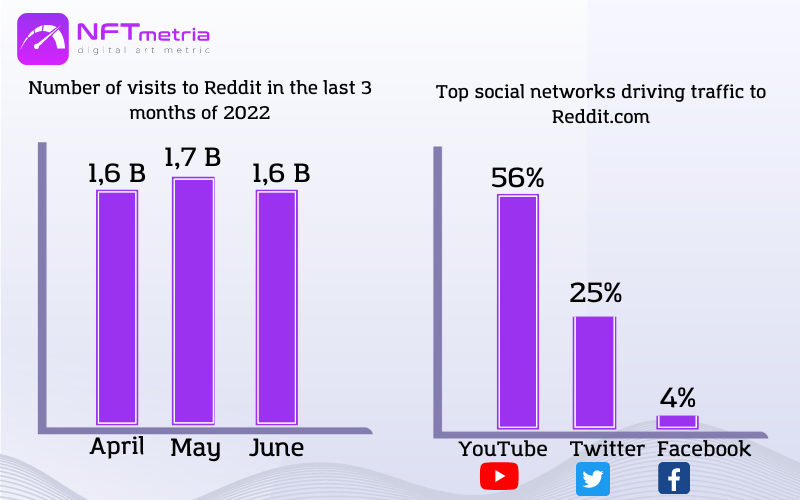 Based on the information above, compare the data and profile of your target audience. Converging? Great, let's move on!
How to promote NFT on Reddit through personal karma?
The main purpose of the platform is to create subreddits. These are certain categories with their own topics, where users can share files, links and discuss. That is, in our case, all NFT communities are subreddits.
The peculiarity of the social network is that each user has a karma – your personal rating. It is formed from likes (upvote), dislikes (downvote), the number of posts and comments. That is, here you will be evaluated by your personal activity. Moreover, if you have thousands of subscribers, but there are few comments and posts, then this can be regarded as cheating and in the future such an account can be blocked. Therefore, as when NFT promotion on Reddit, it is important to be sincerely interested in other people's content, actively participate in the life of the community and your own interesting content so that other users like you.
Start NFT promotion on Reddit from an account
You can divide all accounts into 2 types:
Beginners whose karma (rating) is low.
Authorities with a total karma above 1000 and a comment karma above 100. Such accounts can organically generate traffic to their resources and engage in effective promotion.
To promote one NFT project, we recommend having at least 5 accounts and at the same time evenly pumping karma in all accounts in order to create additional discussions around your post. In addition, registration does not require verification and entering a phone number or email.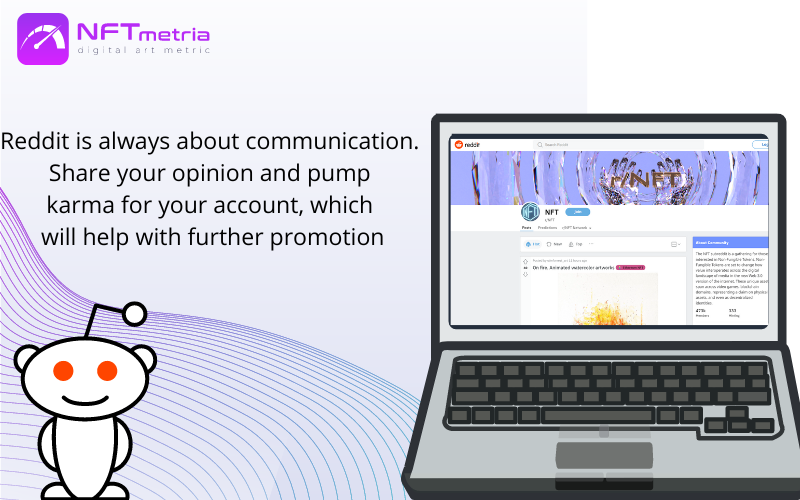 Use crowd marketing
Before launching an advertising campaign, we use a free way to promotion NFT on Reddit. This is crowd marketing. This method is as organic as possible, positively perceived by ranking algorithms, platform moderators and causes great loyalty from the public.
Write actively comments with the most natural interest, mention your work in discussions, unobtrusively invite users to your subreddit, as well as to your other social networks and website. All this is worth doing in NFT-themed communities, thereby gaining likes and increasing your karma.
Pump content marketing – publish posts
Before leading redditors to your page, you need to prepare it, namely, publish at least a few posts. Post only unique, really interesting information from the NFT world, your observations and thoughts on specific crypto events. Create the image of an NFT expert, so you will be the opinion leader in a particular subreddit.
Do not openly sell your NFT collection – redditors come to this site for communication and do not tolerate aggressive advertising! This format of promotion will best warm up your audience and inspire loyalty.
Don't beg for likes, spam comments, or endlessly repost other posts. For such behavior, they can ban or at least reduce your karma.
Paid promotion NFT on Reddit
For paid promotion, you need an already authoritative account with high karma from 1000 points that you received on posts, comments and likes.
There are 2 paid promotion channels on Reddit: banner ads and post sharing.
Banner advertising as a way to promote the NFT on Reddit
The method is expensive, but working. Issued only through the sales department of Reddit. The minimum cost of an advertising campaign is $10,000 quarterly.
With this method of promotion, you are preparing an advertising post, the meaning of which is to take the redditor to a third-party site. For example, to your personal website, or to the NFT marketplace where your collection is hosted.
Benefits of banner ads:
Leads the user directly to your site without intermediaries;
The ability to segment your target audience by location, interests, subscriptions and devices.
Minuses banner ads:
High entry threshold
Distrust of users to transitions to third-party sites
Types of advertising campaigns:
Traffic – converting traffic to your site with pay per click banner
Brand Awareness and Reach is more of an image story when it is necessary to increase awareness, audience coverage and brand status. Does not use direct sales tools.
Conversions – campaigns to increase the number of conversions with the involvement of third-party partner sites.
Targeting options:
Specify the location where your banner will be promoted.
Device targeting. We choose either mobile devices or stationary computers.
Subreddit targeting. Your ad will be seen by subscribers, for example, of a particular popular NFT community.
Audience targeting. Reddit algorithms analyze user preferences based on their interests. Accordingly, people interested in NFT- related posts and subreddits will see your ad.
Sharing your posts as a way to promote the NFT on Reddit
This method differs from banner advertising in that in this case, traffic is not directed to a third-party site, but to a redditor 's post. Targeting settings are similar to the previous promotion method. You need to launch such an advertising campaign when your post has already received at least minimal attention in order to create organic traffic.
Pros:
Internal posts are easier to promote than banner ads;
The public trusts internal resources more than links to third-party sites;
Minuses:
The result of an advertising campaign depends entirely on your marketing strategy, the quality of the content and the unique interest of the public in the chosen topic.
Our opinion
Reddit has an active inner life, which is a big plus for you as an NFT artist. If you decide to promotion NFT on Reddit, then stock up on time. First you need to create high karma, and for this, use such free promotion methods as crowd marketing and content marketing. This way you will get coverage and a small share of targeted traffic. Note that Reddit does not tolerate direct, aggressive free advertising, so don't directly advertise yourself as an NFT artist and your NFT collection right away. Otherwise, you can just get banned.
And for a large increase in the audience, paid advertising campaigns are needed, which are available in your Reddit account. It is worth noting that paid promotion without high karma and direct work with the audience will be ineffective.