OpenSea is the world's largest NFT marketplace, made up of millions of NFTs from various artists and creators around the world. As the popularity of NFT grows over time, OpenSea is becoming an even more popular platform with millions of daily visitors. You can read a detailed review about the marketplace in our article.
Most NFT artists start their careers with OpenSea, and many new projects find their success thanks to OpenSea. With so much potential on the platform, creators from all over the world are minting their NFTs here in the hope of finding their buyers and selling well. But just creating an NFT is not enough, the key to success is the promotion of the NFT on OpenSea. We will talk about this in this article.
About OpenSea
OpenSea is powered by blockchain technology Ethereum. The user can buy or exchange NFTs using their ETH, WETH, USDC and other crypto wallets. You cannot trade NFTs using traditional currencies because blockchain technology does not support this option.
OpenSea was founded in 2017 by Devin Finzer and Alex Atallah. Since its launch, the platform has sold over a million NFTs and continues to do so.
How to start promotion of the NFT on OpenSea?
Specify the basic settings for your account on the marketplace:
Fill out your profile like it's the sign of a new store. Interest a potential buyer, tell us about your collection, about yourself as an NFT author, indicate all the features and advantages of the acquisition.
Indicate all your social networks so that users have the opportunity to get acquainted with your real audience, your activity and the involvement of the target audience in your project.
Put a link to your site. Since the placement of information on OpenSea is limited by the volume of characters, the site should be like your business card, where you have collected absolutely all the significant information about yourself, about your NFT collection, about the history of creation.
Post a link to the RoadMap of the project. This is important, because NFTs are bought not just as a pretty picture. They buy it in order to resell it later. Therefore, investment attractiveness and prospects for the development of the project are important.
Ways to promotion of the NFT on OpenSea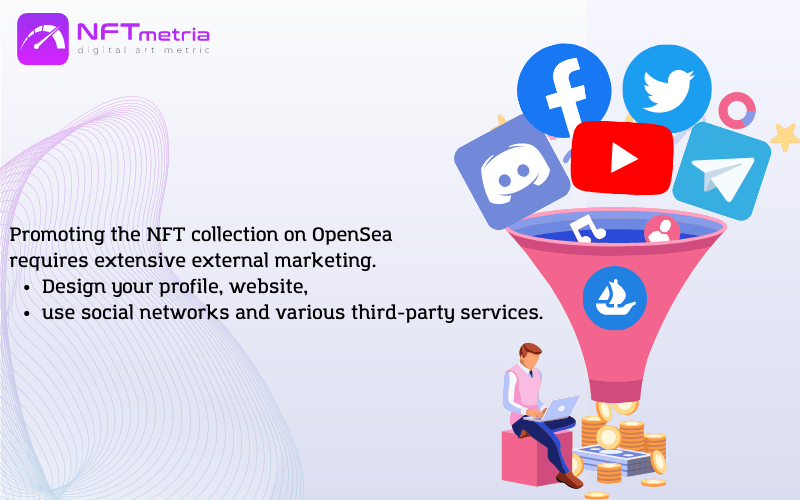 Lead your audience from social networks
We already talk a lot about promotion in such social networks as Twitter, Telegram, Discord, YouTube, Facebook. Let's give a global answer to the question, why do we spend so much time developing the community on these platforms? Of course, for sales on the marketplace. So to reiterate, use a comprehensive NFT promotion strategy.
Increase the number of views of your collection on OpenSea
This tip is a continuation of the previous one. But there is one difference – now we are talking about users from social networks who already have an account (crypto wallet) on the marketplace. The subtlety of the platform is that you are credited with views of the collection of only authorized users. For example, 500 people clicked on your tweet, of which only 50 people are authorized users. And these 50 people will be credited to you. According to this principle, OpenSea ranks the popularity of the collection and understands the interest of the public. Keep this recommendation in mind when promotion of the NFT on OpenSea.
Submit your NFTs to third-party directories
If you do not yet have your own audience, then you can use third-party services – crypto catalogs to get to know the public with you. These platforms host authors from different marketplaces and different blockchains. Their essence is the maximum coverage of the market, the attraction of both the authors of the collections and potential buyers. Catalogs have an already formed audience that follows new mints and airdrops. And, perhaps, it is among them that you will find your people and the first buyers.
Add your drop to the NFT calendar
drops are placed in calendar services. As an NFT-author, you indicate the date and time of the release of the collection, its attractiveness, enter all the necessary information, and go through moderation. After that, your collection is displayed on the site with a timer, like dozens, if not hundreds of other collections. Such a tool helps collectors not to wander through different NFT marketplaces. But to see all the most relevant information in one place and quickly buy the NFT they like among the first.
Get verified on OpenSea if you are already a recognized NFT artist
OpenSea assigns the coveted blue check mark to authors, which is a certain step of success. But, unfortunately, it is impossible to get it just by an honest author who issues his own exclusive tokens. The administration accepts for verification only profiles whose trading volume exceeded 100 Ethers. We understand that for most NFT artists this advice will be irrelevant. But we sincerely believe that thanks to our NFT marketing guides, promoting NFT on OpenSea will get you a blue tick!
Conclusion
Promotion of the NFT collection on OpenSea cannot be done without comprehensive external marketing. But it is this platform that dictates the trends and conditions of the NFT market. And it is no coincidence that in 2021, 97% of all NFTs are sold on OpenSea. Although the site organizes NFTs based on interest, you will only get more traffic to your NFT collection if you promote it on other platforms. Therefore, we advise you to carefully study our articles on how to promote the NFT, as well as a detailed guide about best ways to promote your NFT collection. And then get down to business and act!