In a resounding testament to the booming Web3 gaming sphere, October 2023 saw the number of daily unique active wallets (dUAW) in the blockchain gaming industry cross the remarkable threshold of 1 million. This achievement, as reported by DappRadar and the Blockchain Gaming Alliance, signifies a robust 16% surge from the preceding month. Undoubtedly, gaming is becoming the heavyweight contender in the burgeoning Web3 landscape.
Diverse Blockchain and Game Activity Trends
WAX took the lead in gaming activity, boasting 406,030 daily UAW, an 8% rise powered by hits like Alien Worlds. Meanwhile, BNB Chain experienced a 13% uptick in dUAW. However, platforms like Klaytn, Solana, and Arbitrum faced a slight dip in gaming activity. On a brighter note, zkSync Era enjoyed a 6% boost. Polygon also demonstrated sustained growth with a 5% increase, reaching 93,018 daily unique active wallets.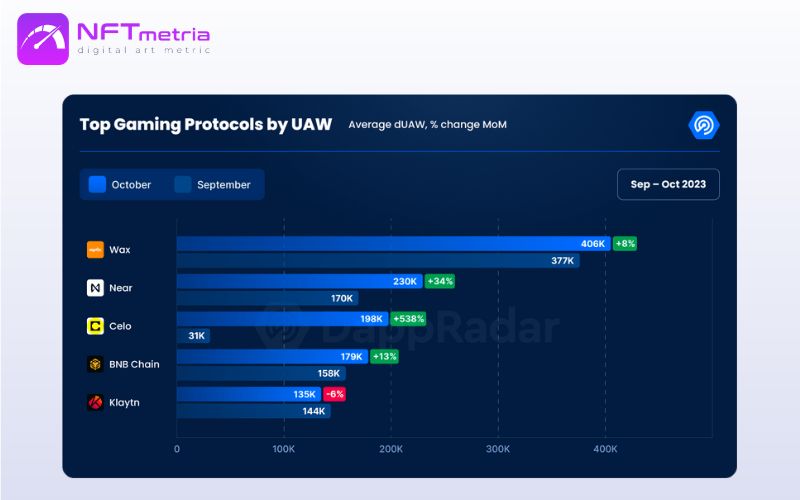 The gaming community continued to expand, with Alien Worlds maintaining its top position, amassing 133,000 daily UAW. Additionally, the debut of Sweat Economy in the United States added strength to the move-to-earn sector.
Games like Splinterlands and Nine Chronicles innovated to maintain or widen their user base. Splinterlands introduced the "Immolation" card and Rebellion pre-sale, anticipating land gameplay to reinvigorate its community. Nine Chronicles revamped with Ecosystem 2.0, enhancing accessibility and economic systems.
Virtual Worlds Showcase Promising Trends
Virtual worlds exhibited encouraging trends, with trading volumes surging by 19% to $3.8 million, and land sales showing a 17% uptrend with 10,822 transactions in October. Nicola Sebastiani's appointment as The Sandbox's Chief Content Officer highlighted the growing importance of user-generated content in the gaming and metaverse industries. The Sandbox continues its progress with initiatives like self-publishing for landowners and an upcoming mobile app in 2024.
Insights into Web3 Gaming Investments
Despite a minor 4% downturn from the previous month, Web3 gaming investments in October tallied an impressive $154 million. Noteworthy investments included Animoca Brands' collaboration with the NEOM Investment Fund, injecting $50 million into Web3 enterprise services. WEMIX, a Wemade subsidiary, committed $30 million to five Chinese game developers, aiming to diversify its blockchain gaming portfolio and integrate games into the WEMIX PLAY platform.
In essence, DappRadar's October 2023 report illuminates the robust growth of Web3 gaming, challenging any notion of decline. The surge in daily active wallets and sustained investments underscore the sector's potential, solidifying its significant role in the digital entertainment realm. The intersection of gaming, blockchain, and the metaverse promises a future marked by continuous evolution and innovation.
Subscribe to our Twitter and YouTube to stay up to date with the latest events and trends in the NFT market.