OpenSea has partnered with ZTX. Have you heard of anything like this? It is a blockchain initiative founded in 2022 with the support of Jump Crypto and ZEPETO, the largest metaverse in Asia with over 400 million lifetime users. In the world, it ranks as the fourth largest platform in the metaverse, behind such well-known games as Roblox, Fortnite and Minecraft.
And now, with so much experience, the team is building an exciting 3D open world. This drop will mark the beginning of the development of the ZTX NFT ecosystem. Become an early supporter of the project and you will see everything in the best traditions of the metaverse: customizable avatars, interactive homes, multifunctional lands, a diverse collection of resources, DAO, your own currency and much more.
What can be done there?
What is ZTX Genesis Homes NFT Collection?
ZTX Genesis Homes is the first collection of 4000 NFTs (Arbitrum blockchain) created by ZTX. Each NFT is a custom-built 3D rendered house with different game assets. In the image below you can see an example of unique features.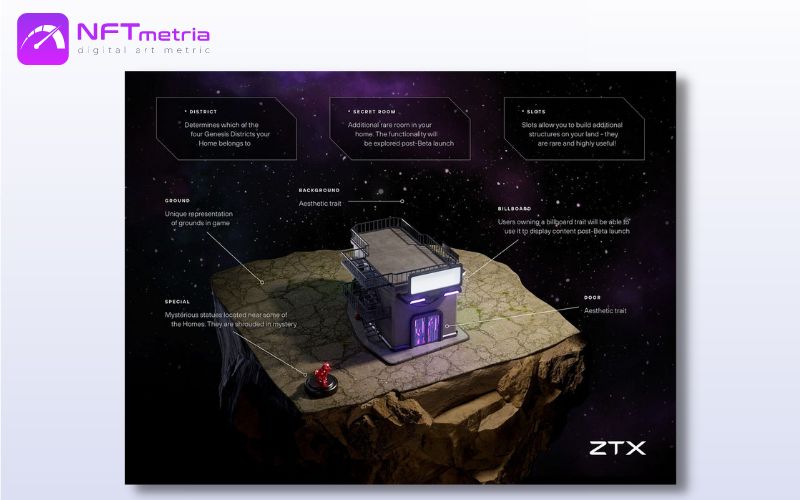 But the most important feature of each house is the district.
Initially, the world consists of 4 districts:
Financial,
Fashion,
Arts,
Games.
Accordingly, in each of the districts, 1,000 houses have now been allocated, which will provide owners with access to the management of the respective district. With a mint, there is no option to select a district, but you can do this later in the secondary market.
Ask what utility from owning this NFT? And we will tell you:
In-game features: companions, billboards, additional slots for lands and so on,
Place to socialize: you can invite your mates and friends to your home for socializing, playing sports together or having a pool party.
By owning a district house, you have an economic engine that will provide unique additional gaming opportunities.
Your district is a full-fledged DAO with its own governing body and treasury. You can propose ideas, vote for them, and then implement them.
You become a member of a very promising community.
A unique, bespoke 3D home design that is a work of digital art in itself.
ZTX Genesis Homes NFT Collection: Roadmap
To date, avatars-builders have been created and developed, which can be equipped with wearable devices and play in the world of ZTX.
In Q3 2023, a closed beta testing will be held, which is aimed at expanding the gameplay: decorating, crafting and harvesting. And after closed testing, a public beta version will be launched.
Native token and currency $ZTX will be launched in Q4 2023.
ZTX Genesis Homes Official Links
When and where will ZTX Genesis Homes NFT drop be?
NFT drop ZTX Genesis Homes takes place on OpenSea:
Presale 2000 NFTs: August 8-25. This stage was carried out during the entire indicated period. True fans, fans and active partners of the project could participate in the preliminary sale. At the same time, payment was made in ETH, and the owners themselves will receive the tokens only after the main sale on August 31.
Allowlist: August 31 at 03:00 AM GMT+7. Price: 0.06 ETH. Payment in Arbi ETH.
Public stage: August 31 at 06:00 AM GMT+7. Price: 0.06 ETH. Limit: 5 per wallet. Payment in Arbi ETH.
The remaining 2,000 NFTs are available in stages 2 and 3.