Have you ever stood in awe in front of a painting by a famous master and admired its palette of colors for hours? Did you know that now you can see graphic art not only in art galleries? Discover the project of Canadian artist Matt Deslauriers, who uses a simple program, only 15 kilobytes in size, to create his digital works. Despite the apparent simplicity, these NFT masterpieces are now trading at a floor price of 8.39 ETH!
What exactly are the digital paintings by Matt Deslauriers, why do they cost so much and what ideas did the artist put into his work? Our experts tried to understand these and other questions concerning the Meridian NFT collection.
Meridian by Matt Deslauriers Official Links
What is Meridian by Matt Deslauriers?
Meridian is a long-term NFT project based on the algorithm of the same name by Canadian developer Matt Deslauriers. The collection includes 1,000 unique NFTs located on the Ethereum blockchain.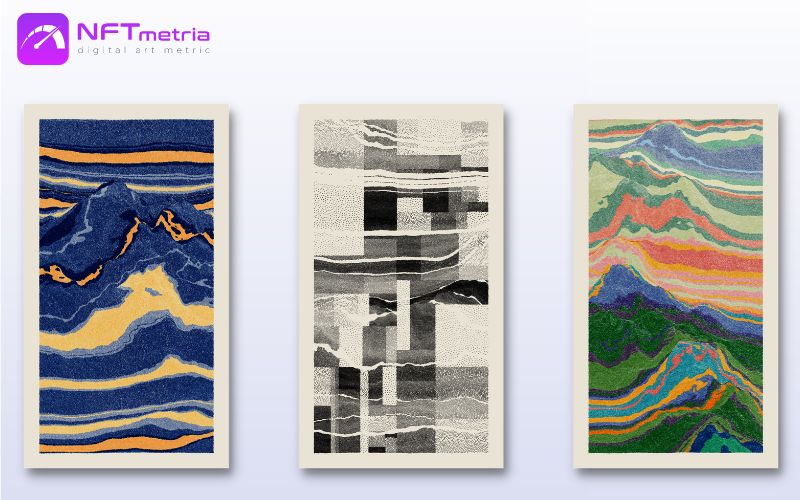 With a 15-kilobyte program written in JavaScript, layered landscape shapes are created, and the building blocks are hundreds of thousands of small color strokes. The peculiarity of this process is that the hash of each token describes a coordinate in multidimensional generative space, determining the location of the unique composition.
Applying different styles of strokes leads to the most stunning visual effects. The images on the NFTs are made using analog techniques like charcoal, gouache, linocut. The highlight of the collection is that each time a collector mints a work on the platform, the code randomly generates a new work, of which the artist himself cannot know in advance.
The project tokens were distributed through the Art Blocks platform in the Playground category.
Meridian by Matt Deslauriers in numbers
A mint collection of 1,000 NFTs was conducted in the form of a Dutch auction on September 28, 2021.
The auction started with a fairly high price (about 15 ETH), which decreased every 5 minutes until it dropped to 0.25 ETH.
A quarter of all profits raised during the Meridian initial token sale were donated to the Processing Foundation (an organization dedicated to supporting professionals in the field of art and programming) through smart contract splitting.
The total volume of secondary sales exceeded 20k ETH (more than $36 million at the current exchange rate).
Floor price is 8 ETH (about $15k).
Average sales range from 7.5 ETH to 20 ETH.
The most expensive #287 was sold on October 2, 2021 for 200 ETH (about $678k at the time of sale).
A total of 638 unique holders (64%). This shows the low chances of whales interconnection within the project. Thus, the risk of artificial project management from the inside is minimal.
Only about 4% of the collection (41 pieces out of 1,000) are for sale, among them the offers range from 8 ETH to 75 ETH. This shows that almost all holders see the project as a great investment prospect and are not in a hurry to part with their assets at a lower price.
Data (including exchange rates) are given at the time of publication (March 31, 2023)
Meridian by Matt Deslauriers types and attributes
To date, Meridian NFTs have the following attributes:
Chromaticity (4 pieces),
Frequency (4 pieces),
Palette (22 pieces),
Structure (2 pieces),
Style (14 pieces),
Zoom (3 pieces).
Who created Meridian?
The author and ideological inspirer of the Meridian collection is programmer and generative artist Matt Deslauriers from Canada, who currently resides in the UK. His work in the field of digital art is highly appreciated in the NFT investment market.
Matt Deslauriers is actively involved in the development of open source software, creating tools and libraries to help in the creative coding process and development of generative art processes.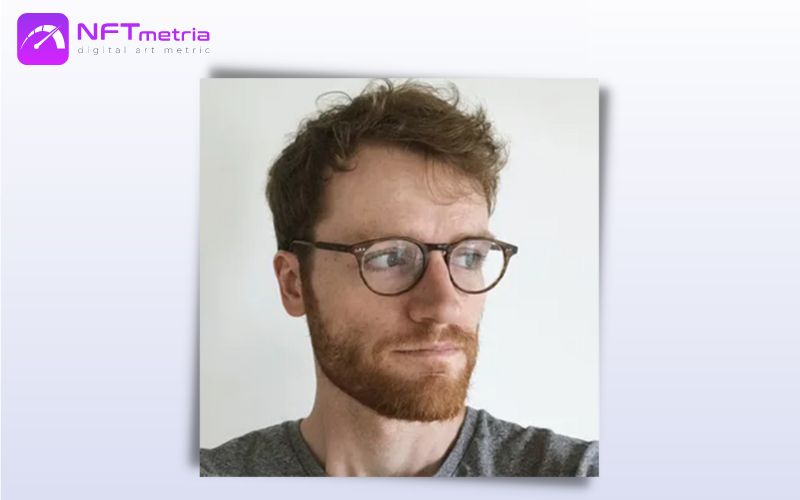 Matt Deslauriers began his career with interactive installations, which were exhibited at various events in North America and Europe. The future master of digital art samples used such techniques as pen drawing, engraving, and laser cutting to create physical works. Among other things, Deslauriers is also famous for launching Wayfinder, a game in which he surprisingly combined computational poetry with the art of illustration.
Why is Meridian by Matt Deslauriers popular?
It's not hard to explain the demand for the Meridian project. Meridian NFT holders have attractive prospects in front of them:
Token-Limited Prints (Signed)
If the holder confirms ownership of the token, they will be able to purchase a large format print with the artist's signature. These prints are not one-of-a-kind (i.e., are not made on a 1/1 basis). When selling or donating a token, the new owner will also be entitled to order a print depicting that token.
Open Edition Prints (Unsigned)
As Matt Deslauriers states, one of the downsides of generative "long form" art is that some of the works may be lost to limited edition or randomized minting. Therefore, the artist has decided to select copies to form a separate set of Open Edition Prints.
The selected NFTs will not be part of the total edition of 1,000 pieces. This separate collection will represent the project as a whole, being something like a director's version of the film. Open Edition Prints will be distributed unsigned by the artist at a lower price.
Deslauriers believes that Open Edition Prints will make the Meridian project more accessible to a wider range of non-crypto people, allowing them to own and enjoy an item of digital art even if they cannot purchase an NFT or are not interested in such a purchase.
Open edition, unsigned, 'out-of-band' Meridian prints now available on my shop.

100% of net proceeds will be directed to a charity focusing on protecting and championing UK's green spaces and parks, @FieldsInTrust.

→ https://t.co/Sh50DjZDQc#generative #javascript pic.twitter.com/PKJq6YRxr2

— Matt DesLauriers (@mattdesl) November 30, 2021
Community Curated Art Book
One of the centerpieces of the Meridian project is the Meridian Book, a beautiful board book with artwork and large format spreads that take your breath away. It includes:
The artist's musings on the concept of the project and an account of its history;
Early Meridian images showing the iterative process of the project's journey;
Several out-of-series editions curated by the artist (e.g., from the Open Editions selection);
Pages with sketches of all 1,000 minted NFTs;
A limited sampling of community-curated editions of the 1,000 minted NFTs (they will be shown close-up and in high detail, and Meridian token-holding community will vote for curation rights).
The "Meridian" book is now available for pre-order. 🎉

The book will feature the full collection of 1000 editions, including essays, technical breakdowns, curated spreads, and more.

Publisher: @VetroEditions
Design: @monopo_en pic.twitter.com/TgMHVb7zyd

— Matt DesLauriers (@mattdesl) August 1, 2022
This book, like Open Edition Prints, aims to ensure that Meridian can be enjoyed by a wider audience, even those very distant from the NFT and blockchain mechanisms. At the same time, Matt Deslauriers expresses enthusiasm for the idea of a physical book curated by a community of Meridian NFT holders, allowing them to select the best works of digital art using blockchain voting mechanisms.
The Meridian Book was a resounding success. It was completely sold out:
Meridian is now sold out of online stock. 🤖 Thank you to all who purchased!

This first edition consists of 1,000 books spanning 4 cover design styles. Each includes a signed and numbered limited-edition A5 RISO print.

Created with @monopo_en @VetroEditions pic.twitter.com/DGv8Owy58q

— Matt DesLauriers (@mattdesl) February 16, 2023
Meridian by Matt Deslauriers Idea
The Meridian project has no clearly defined idea. Obviously, the artist wanted to show how limitless and interesting the possibilities of creative programming can be. It may also be assumed that one of Deslauriers' far-reaching goals was to publish a special book based on this NFT collection. The intention was to create an artifact, a physical relic that could be admired through touch and sight.
Meridian by Matt Deslauriers Roadmap
There is no official roadmap for the project. Apparently, Deslauriers believes he has fulfilled the major milestones of the project by launching Token-Limited Prints, Open Edition Prints, and Community-Curated Meridian Book.
Meridian by Matt Deslauriers Ecosystem
The Meridian project has no ecosystem because it is a solo art collection that doesn't need to expand and build infrastructure.
How much do Meridian by Matt Deslauriers cost?
The collection minting of 1,000 NFT was conducted in the form of a Dutch auction on September 28, 2021. The auction started with a rather high price (about 15 ETH), which decreased every 5 minutes until it fell to 0.25 ETH. Since then, the collection has not lost its demand and special status on the secondary markets.
To visualize the price dynamics, we made a slice of the average price for 1 NFT:
In October 2021: 15.8 ETH;
In March 2022: 6 ETH;
In November 2022: 10.8 ETH;
In February 2023: 10.1 ETH.
As of March 31, 2023, the floor price is 8 ETH. On average, the latest sales range from 7.5 to 20 ETH. And the total volume of secondary sales amounted to more than 20k ETH (more than $36 million).
The Most Expensive Sales of Meridian by Matt Deslauriers
The most expensive sales are led by the following NFTs from the Meridian by Matt Deslauriers collection:
#287 was sold on October 2, 2021 for 200 ETH (about $678k at the time of sale).
#738 was sold on October 1, 2021 for 200 ETH (about $600k at the time of sale);
#70 was sold on September 30, 2021 for 175 ETH (about $525k at the time of sale);
#624 was sold on October 2, 2021 for 145 ETH (about $491k at the time of sale).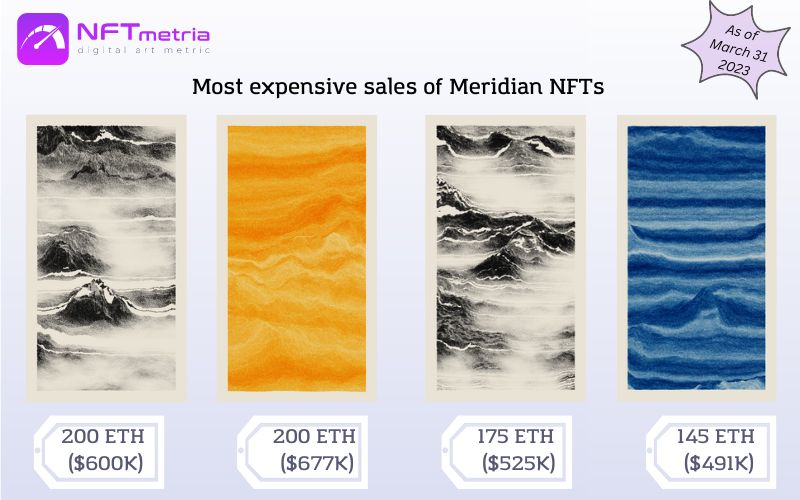 Where to buy Meridian by Matt Deslauriers?
Meridian by Matt Deslauriers is currently only available on the secondary market, on marketplaces such as OpenSea, X2Y2 and LooksRare.
How to buy Meridian by Matt Deslauriers?
Remember that initially you need to connect your crypto wallet with self-storage to the marketplace of your choice.
Next, find the official collection using the search bar on the marketplace.
Analyze and choose the NFT you want to buy; click on it and then on the "Buy" button.
Or you can bet on the token you like. Make sure you leave enough ETH for gas or transaction fees. If the seller approves your bid, the deal goes through.
Should you invest in Meridian?
The collection is definitely worth the attention of crypto investors. And here's why:
Owning Meridian NFTs opens up the opportunity to join the project's products – Token-Limited Prints, Open Edition Prints and Community-Curated Book, which are very likely to have high value in the NFT market in the future.
The author of the collection, Matt Deslauriers, is one of the most famous NFT artists in the entire space and definitely one of the leaders in the expanse of generative art.
The floor price is a staggering 8 ETH. While this is a high entry threshold, it works as a filter for many speculators looking for cheaper options.
Generative art is at its peak right now. And even in the future it's not a hype story, it's already an art form in its own right with many fans and connoisseurs.
The collection was released by the most famous platform for generative art Art Blocks, and this fact gives a special status to the project.
Currently, all 1,000 tokens of the collection are sold out and can only be purchased on secondary markets. At the same time, investors should be careful and heed the following recommendations:
One should only buy a token through a verified ArtBlocks Playground contract (there should be a blue tick next to its name). Also check the Details field, which will indicate that the token comes from contract 0xa7d8d9ef8d8ce8992df33d8b8cf4aebabd5bd270. Since the original ArtBlocks releases, there have been many scam collections, whose creators are trying to fool naive collectors.
Don't forget to compare Token ID with the live representation on ArtBlocks Generator: both images should match.
In any case, do your own in-depth analysis and research when investing in NFTs, and then make your own decision.
Opinion of NFTmetria
The Meridian project is unique in its own way. Using a lightweight JavaScript program, artist Matt Deslauriers has managed to create stunning landscape paintings that amaze with their fresh color schemes and bold creative solutions. The value of the NFTs is beyond doubt, and that's why they are now trading at a floor price of over 8 ETH, and their price will only grow in the future. And the Meridian Book, obviously, will become a digital art handbook for many generations of crypto fans.