Have you heard of another NFT project that could get over 500,000 Twitter followers in a few months? Meet Invisible Friends, a collection of wandering digital people who look like the heroes of the novel by HG Wells. The minting of these tokens began on February 23, 2022 on the Ethereum blockchain, and at first each of them cost 0.25 ETH. Within an hour, the floor price was over 11 ETH apiece!
Undoubtedly, invisible NFT-men were a hit. But do they have any future? What are their competitive advantages? What is the team doing to keep their project afloat? Read on to learn all about the Invisible Friends collection.
Invisible Friends Official Links
What is the Invisible Friends project?
Invisible Friends (IF) is an NFT collection of 5,000 animated gif characters in constant motion. These little men do not have visible body parts, but flaunt a variety of stylish outfits and fancy accessories. Their author is the famous Swedish animator Markus Magnusson.
In the Invisible Friends collection, you can find people of various professions and interests: a scientist, a fisherman, a surfer, a thief, a basketball player, a sorcerer, etc.
As it often happens, the release of the collection was preceded by a great stir. As soon as the musicians from Fall Out Boy posted a tweet mentioning the name of the upcoming NFT project, the whole community went into a frenzy:
We're feeling invisible @InvsbleFriends pic.twitter.com/iw5RC2nl3Z

— Fall Out Boy (@falloutboy) January 6, 2022
Unlike most NFT projects, the concept of the Invisible Friends collection was to provide tokens on a pre-sale basis. In other words, only users from the whitelist could become owners of original NFTs:
active social media members of the community who made every effort to popularize the project;
creative authors of fan art who successfully promoted their projects;
holders of partner NFT collections (SlimHoods and Mood Rollers) included in Random Characters Collective.
Invisible Friends in numbers
The collection of 5,000 tokens was officially launched on February 23, 2022,
At the time of launch, the cost of a mint was 0.25 ETH per piece; all minting was finished almost instantly, everything was sold out,
An hour after the launch, the floor price was over 11 ETH apiece,
The project is ranked 37th among the best collections in terms of sales of all time on the largest NFT marketplace OpenSea.
Total secondary sales exceeded 47k ETH (over $78 million at current exchange rates),
Floor price is 2.23 ETH (about $3.7k),
Average sales range from 2 ETH to 2.8 ETH,
The most expensive #1125 was sold on March 3, 2022 for 200 ETH ($566k at the time of sale),
Total 3,870 unique holders (77%). This shows the low chances of whales being interconnected within the project. Thus, the risk of unnecessary project management from the inside is minimal.
Only about 7% of the collection (339 pieces out of 5,000) are for sale, among them the range of offers is from 2.23 ETH to 8 ETH. This shows that almost all holders see the project as a great investment prospect and are not in a hurry to part with their assets at a lower price.
Data (including exchange rates) are given at the time of publication of the article
Who created Invisible Friends?
The author of the Invisible Friends collection is Markus Magnusson, who is widely known among fans of digital art. His style is distinguished by subtlety, grace and meticulous attention to details. However, he is not the only person behind the Invisible Friends NFT project.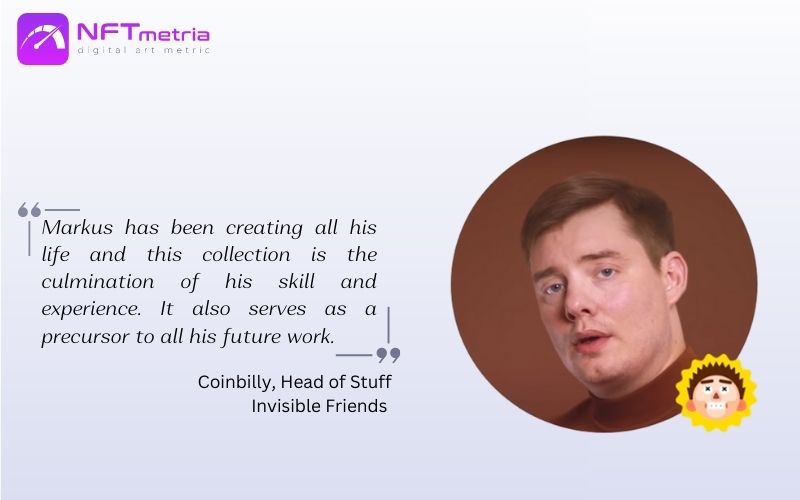 The origins of the collection of digital moving people date back to November 2021. Back then, animator James Curran aka SlimJim @slimjimstudios founded Random Characters Collective. The goal of the startup was to unite talented artists into one team to create a series of generative collections. Markus Magnusson and Lucas Zanott @lucas_zanotto were the first two artists hired by James Curran.
The Random Character Collective is one community of many animated characters. The amazing @lucas_zanotto and @MotionMarkus are the first two artists to join.@MoodRollers and @InvsbleFriends meet @SlimHoods to form @RNDMCHARACTERS

Join us all at https://t.co/dfuaGZ5YLR

— James Curran (@slimjimstudios) November 19, 2021
The Random Characters Collective ecosystem currently consists of three main projects:
Mood Rollers (@MoodRollers) is a collection of hilarious roller characters inspired by Lucas Zanott;
Invisible Friends (@InvsbleFriends) is a collection of invisible stylish men born from design genius of Markus Magnusson;
SlimHoods (@SlimHoods) is a joint NFT project of James Curran and SlimJim Studios; a collection of running NFT characters wearing hoodies.
Idea of Invisible Friends
What is the purpose of the Invisible Friends NFT collection? These tokens don't just look cool from a design point of view. They are also incredibly inclusive. One could even say that in some way Markus Magnusson's project serves as a symbol of diversity in the digital space.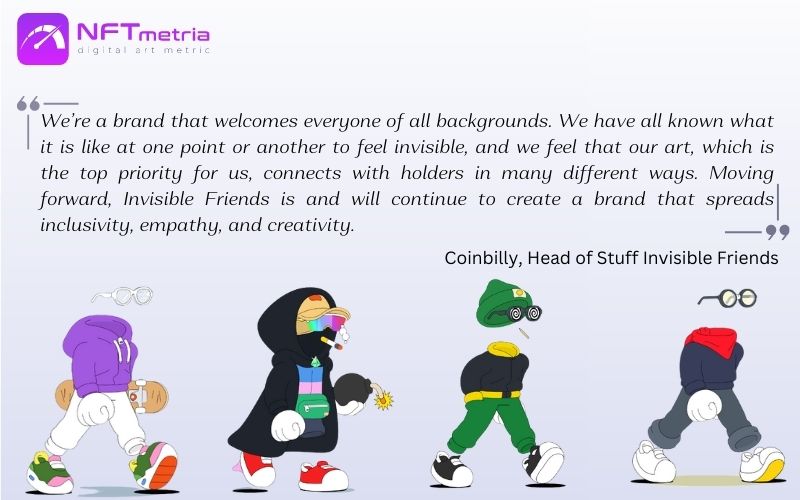 How is this possible? After all, Invisible Friends tokens do not give us any visual representation of a person at all. Race, gender, common features of the appearance – all this is hidden from our eyes.
It turns out that the lack of visible information is a great way to implement inclusiveness. Any person, regardless of origin, can imagine himself in the place of one or another token from the Invisible Friends collection, that is, project his personality onto it.
Why are Invisible Friends popular?
The Invisible Friends collection continues to attract the attention of NFT novices and professionals alike. The project has a number of interesting features:
high-quality artistic design of tokens. Well-drawn and funny gif-characters from the Invisible Friends collection filled the Twitter feeds of fans of digital art in the blink of an eye;
friendly and close-knit community, which is regularly joined by new grateful members; they see striking potential and great prospects of this project;
As promised, I said I would explain today why I bought 1 of 1 #1125 and why I believe Invisible Friends will eclipse Bored Ape Yacht Club and Cryptopunks. Here goes, please retweet, this is a lengthy thread but I believe worth your time. Thanks in advance! 🧵

— Jason (@Bitcoin4Freedom) March 8, 2022
Invisible Friends' promising collaborations with other brands such as Kith (see more on that below);
partnership with famous people: you may see the famous rapper Snoop Dogg among the holders of Invisible Friends tokens:
🤩🤩🤩
Welcome to the family @SnoopDogg https://t.co/QtqCzeWYh7

— Invisible Friends (@InvsbleFriends) March 3, 2022
and an NBA star Kyrie Irving:
Welcome to the family! @KyrieIrving
🏀🏀🏀 https://t.co/d4p1eIpiuW

— Invisible Friends (@InvsbleFriends) March 5, 2022
The owners of Invisible Friends are not going to rest on their laurels and are doing everything possible for the further development of the project. This helps to retain former NFT holders and attract the attention of potential community members.
Invisible Friends Roadmap
The roadmap of Invisible Friends is presented on the official website of the project and is codenamed INVISIBLELAND. It includes several key steps.
Creation of Invisible Kith Friends (Q2 2022)
A partnership has been established between Ronnie Fieg, CEO and creative director of fashion brand Kith, and Markus Magnusson. They worked together on the Kith Friends NFT Collection, which was launched on May 18, 2022 as a special auction with Kith Friends tokens. According to its results, the winners received physical versions of the clothes worn by the token from the Kith Friends collection.
Going forward, the holders of Invisible Friends NFTs could also have access to the following:
minting of Kith Friends tokens from the Special Edition series;
the Evolving Friends collection, in which the Kith Friends changed their appearance every two steps;
tokens from the Kith for BMW collection; these are stylish men with branded BMW accessories, walking with a BMW car driving nearby.
Kith & Invisible Friends for BMW

Always approached as a long-term partnership, Kith & Invisible Friends will evolve the Kith Friends for the first time in celebration of Kith's upcoming partnership with BMW.
🧵👇 pic.twitter.com/OCVys2oQkt

— Invisible Friends (@InvsbleFriends) September 30, 2022
hoodie with the Kith for Invisible Friends logo.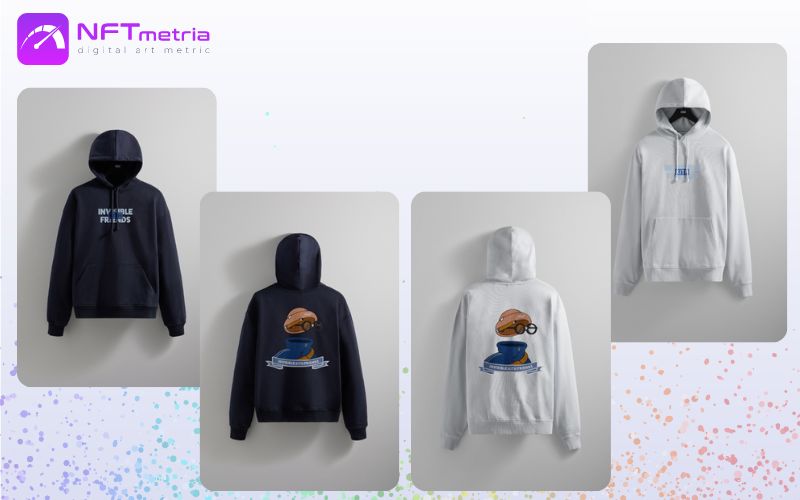 NFT NYC
Participation of the Invisible Friends project team in the NFT NYC 2022 event, which took place in the summer of 2022.
Invisible Friends Athletic Club🏃🗽

NFT NYC 2022

Presented by @RNDMCHARACTERS
Powered by @Shopify

🍸 @BlockBar
📸 @Snapchat
👕 @TopDrawerMerch
🎵 @hooknsling pic.twitter.com/DUNk2O3HUt

— Invisible Friends (@InvsbleFriends) July 1, 2022
The meeting was quite successful. IF project presented their Invisible Friends Athletic Club collection, which aroused interest among potential buyers. At the same time, the team announced new partnerships with famous brands:
BlockBar, high-end alcohol distributor with blockchain authentication @BlockBar,
Snapchat, the popular mobile messaging app @Snapchat
Hook n Sling, renowned Australian producer, songwriter, DJ @hooknsling.
3D Invisible Friends NFT Collection (Q4 2022)
At the end of 2022, all Invisible Friends NFT holders got a unique opportunity to mint new 3D Invisible Friend tokens designed by animator Nguyen Nhut (@nguyenhut_art). He provided the NFT with randomized new and old features. As a surprise, holders also received a 3D version of their original Invisible Friend token.
OG Toys (2023)
The Invisible Friends team has prepared a nice goodie for all the loyal followers of the community. Each 3D IF holder can get a real copy of the token at their disposal. However, representatives of the project have not yet disclosed all the details of this.
Garbage Friends NFT Collection
Immediately after the release of NFT Invisible Friends, Markus Magnusson announced another collection known as Garbage Friends (@garbagefriends). These slightly repulsive characters are nothing like the usual Invisible Friends. On the project's official website, they are described as smelly and dirty nihilists. Markus Magnusson has made it clear that he and his team will not be making any decisions on the Garbage Friends project. The collection has not been launched yet, and the community is waiting for it.
44 frames pic.twitter.com/Tg7pOD6g4f

— Garbage Friends 🗑🟢 (@garbagefriends) January 14, 2023
Invisible Friends Ecosystem
The ecosystem of the project currently exists in the form of branded merchandise of clothing and goods. On January 28, 2023, fans of the IF community were able to purchase official project merchandise.
Invisible Friends merchandise bundle live *Friday, January 28th*
50 random orders will get put onto the early access list
Made by @TopDrawerMerch, the same company that made the official BAYC merchandise
Sneak peaks coming throughout the week 👀https://t.co/uEPUAbuNiH

— Invisible Friends (@InvsbleFriends) January 22, 2022
In the announcement, the team shared what exactly will be available for purchase:
Still Hiding in the Hoodie: A tight-fitting hoodie featuring the Invisible Friends logo on the front and a large, colorful label on the back. It will be presented in two colors, blue and black.
Still Hiding in the Dad Hat: A hat that features a 3D-style Invisible Friends logo on the front.
Still Hiding in the Beanie: A fisherman-like beanie with a round embroidered official logo patch.
Each person could purchase no more than 2 items per order, for example, one hoodie + hat or beanie. The price of one item was only $150.
As planned by the authors, 50 random buyers of merch goods were automatically included in the early access list for minting the Invisible Friends NFT drop. What's more, one of these lucky ones could have received a golden ticket, which, according to the project team, could be exchanged for one Invisible Friends airdrop.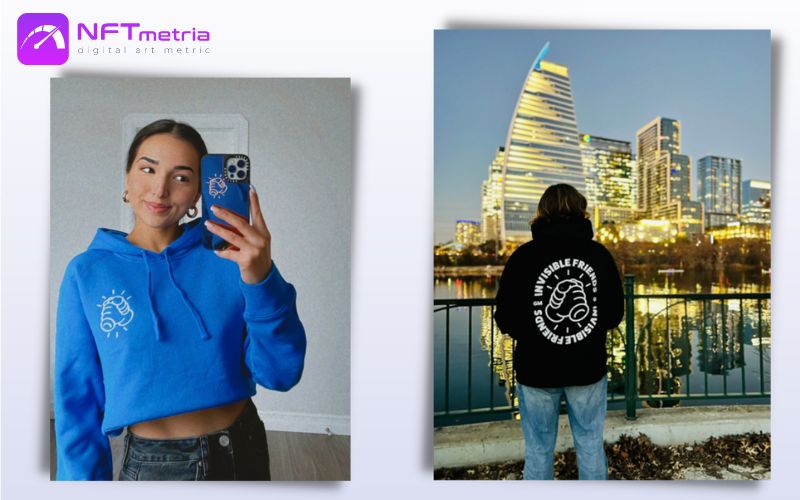 How much do Invisible Friends cost?
At the time of launch in February 2022, a mint cost 0.25 ETH (about $700 at that time). Back then, the hype was high. What happened to sales next?
To visualize the price dynamics, we made a cut at the average price for 1 NFT:
in March 2022 – 7.6 ETH,
in June 2022 – 3.7 ETH,
in December 2022 – 2.1 ETH,
Now (February 2023) the minimum price is 2.23 ETH ($3.7k). On average, the latest sales are in the range of 2-2.8 ETH. And the total volume of secondary sales amounted to more than 47k ETH (about $78 million).
Most Expensive Invisible Friends Sales
The most expensive sales are led by the following NFTs from the Invisible Friends collection:
#1125: sold on March 3, 2022, for 200 ETH ($566k at the time of sale). This token is an invisible character outlined in chalk. He walks through the rain in the crime scene with the body parts where his neck and stomach should be covered with yellow warning tape that reads "Crime scene. Do not cross."
Its owner explains:
As promised, I said I would explain today why I bought 1 of 1 #1125 and why I believe Invisible Friends will eclipse Bored Ape Yacht Club and Cryptopunks. Here goes, please retweet, this is a lengthy thread but I believe worth your time. Thanks in advance! 🧵

— Jason (@Bitcoin4Freedom) March 8, 2022
#4672: sold on February 27, 2022, for 110 ETH ($288k at the time of sale).
#1001: sold on March 1, 2022, for 110 ETH ($321k at the time of sale).
#2165: sold on February 28, 2022, for 110 ETH ($287k at the time of sale).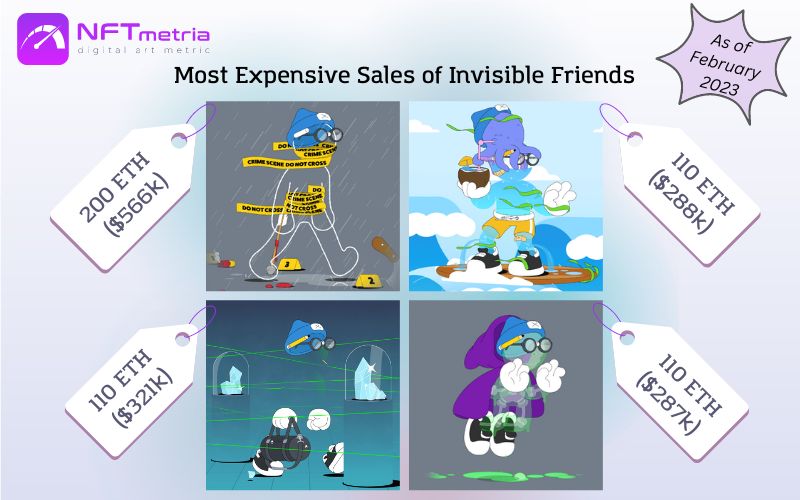 Where to buy Invisible Friends?
Invisible Friends is currently only available on the secondary market, on marketplaces such as OpenSea and LooksRare.
How to buy Invisible Friends?
Remember that initially you need to connect your crypto wallet with self-storage to the marketplace of your choice.
Next, find the official collection using the search bar on the marketplace.
Analyze and choose the NFT you want to buy; click on it and then on the "Buy" button.
Or you can bet on the token you like. Make sure you have enough ETH for gas or transaction fees. If the seller approves your bid, the deal goes through.
Should you invest in Invisible Friends?
Investors should take a closer look at the Invisible Friends NFT collection, and here's why:
there's a creative team behind the project (RCC and Markus Magnusson) with commercially successful NFT collections under its belt;
distribution of tokens among owners is beneficial for future investors (more than 85% of owners have only one token, which is a good sign of stability and independence of the project);
the Invisible Friends project team is trying to keep its promises and not disappoint loyal community members.
However, entering such a project is rather expensive. Today, the entry threshold for Invisible Friends is 2.23 ETH. It's not quite common among other NFT projects.
In any case, do your own in-depth analysis and research when investing in NFTs, and then make your own decision.
Opinion of NFTMetria
Recently, the words "NFT" and "hype" have become almost synonymous. This is not surprising, for the authors of the project are trying to draw the attention of the community to the new offspring. The onle thing that matters is whether a useless dummy is hiding behind the hype or not.
This is definitely not about the Invisible Friends NFT collection. The project team consists of talented artists and designers who do their job well, fulfill their promises and regularly inform the community about plans and news. Such behavior is worthy of respect and attracts an increasing number of fans and investors to the project.