Can you imagine a few thousand NFTs based on nothing other than a screenshot from a Twitter account? Here is a collection of 888 Inner Circle, consisting of 8,888 such tokens. Despite the fact that these NFTs are not highly artistic works of art, at the initial stage they were sold out in a few seconds. In addition, the project gained a community of thousands in record time. Such a fast start aroused suspicion in many users, but the opinion of the haters could not affect the reputation of the project.
What is the secret of the 888 Inner Circle project? How does it plan to develop? What does it offer to its members? Read our review to find out the answers to these and other questions.
888 Inner Circle Official Links
What is 888 Inner Circle?
888 Inner Circle project appeared thanks to the efforts of an anonymous cryptocreator under the nickname 888 @crypto888crypto @crypto888crypto. He decided to create a tokenized community where users could have access to their favorite works of digital art and support their development. In doing so, they could become members of a global elite NFT club that would allow them to enjoy all sorts of privileges in both the digital and IRL worlds.
To provide access to such a community, 888 Inner Circle Genesis tokens were issued. The owners of these NFTs automatically became the founding members of the new club, 888 Inner Circle. At the same time, the initiators of the project claim that there are only 888 Original Genesis tokens in the collection, and they are not going to issue any more.
The tokens represent 8,888 releases of the same image. This is a screenshot of 888's Twitter account, which reached 88.8k followers (in fact, the collection was released in honor of this event). At first, the floor price of tokens was 0.0888 ETH, and then it jumped to a record 1.2 ETH. Many people immediately expressed their indignation at such high price, but among the celebrities there were those who expressed faith in the project, such as the famous socialite Paris Hilton:
Congratulations @Crypto888crypto! 🥳 So exciting! This is revolutionary! 🙌 Future here we come! 🚀 https://t.co/zRd8jrauhe

— ParisHilton (@ParisHilton) May 8, 2021
888 Inner Circle in numbers
The public sale of 8,888 tokens took place in September 2021. Then the entire collection was sold out in just a few seconds.
The entire collection is presented as a single image screenshot of 888's Twitter account which has reached 88.8k followers.
The total volume of secondary sales exceeded 20k ETH (more than $37 million at the current exchange rate).
Floor price is 0.04 ETH (about $70).
Average sales range from 0.03 ETH to 0.1 ETH.
A total of 2,108 unique holders (35%).
Data (including exchange rates) are given at the time of publication (March 22, 2023)
Who founded 888 Inner Circle?
The founder of 888 Inner Circle project is considered to be an enigmatic crypto maker and collector who is known in the NFT space under the nickname 888 @crypto888crypto. In early 2021, he began building his own collection of digital art. He purchased art from creators all over the world. 888's goal was to make an exhibition of the masterpieces sometime in the future to showcase the renaissance of digital art.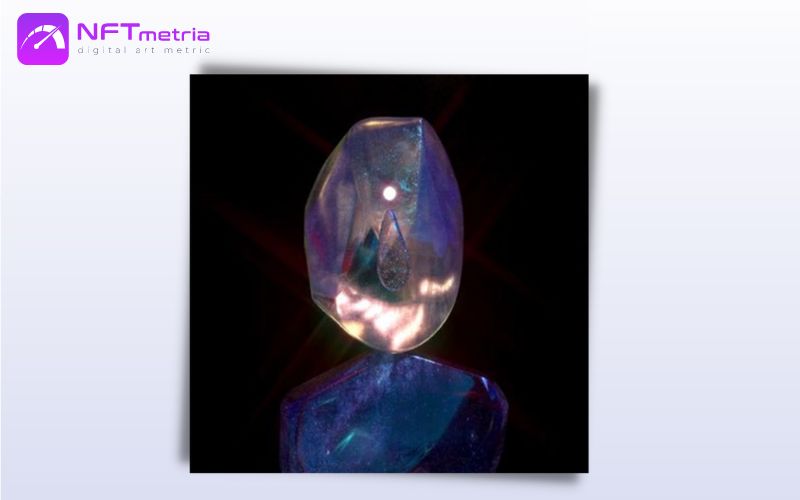 Gradually, the anonymous crypto maker created a huge community of like-minded enthusiasts who firmly believed in the possibility of a fusion of art and advanced technology. Seeing this, 888 wondered more and more how he could help digital artists. He was keenly aware that innovative tools were needed to make financial support for such people more accessible. As a result, 888 created The New World Marketplace The New World. What made it unique was that it was the only marketplace created and managed by artists and crypto art pioneers.
The first round of investment for the new project involved iconic individuals and teams:
Eventually, 888 realized that he needed to create even more communication opportunities for community members, and launched the 888 Inner Circle project in honor of reaching 88,888 followers on Twitter.
Why is 888 Inner Circle popular?
The popularity of the 888 Inner Circle project is easily explained by the number of benefits community members receive. From the very beginning, they have had access to airdrops, whitelists for future PFP projects, and goodies from upcoming 888 Inner Circle brand partnerships. For example, token holders have been honored with NFT drops from:
SVS x #888innercircle
Coming Halloween🎃🧛‍♂️✨

— Sneaky Vampire Syndicate (@SVSNFT) October 29, 2021
The project is also known for its collaboration with Gala Games. In late 2021, Gala Games announced an NFT drop of The Orbs, which was the product of a collaboration with famed Grammy Award-winning musician BT @BT. It was supposed to be a collection of 3,333 generative NFTs launched in collaboration with 888. The launch was scheduled for Feb. 13, 2022. To get their hands on The Orbs tokens, collectors had to burn three 888 Inner Circle NFTs or buy the tokens at a Dutch auction.
The main value of The Orbs tokens was the ability to create adaptable and unique soundtracks for all occasions, plus they could be used in games in the Gala Games ecosystem.
The Orbs will be designed to generate adaptable and unique soundtracks for any aspect of your life, but will interact with and adapt uniquely to titles throughout the Gala Games ecosystem. Future games on the Gala platform will offer various forms of utility to Orb holders —

— 888 Inner Circle (@888InnerCircle) February 13, 2022
In addition to The Orbs tokens, for every three 888 Inner Circles burned, holders could get free mystery Vials, which would have some utility in Gala Games projects.
SURPRISE 🔮✨ Only for 888 Inner Circle Burn – for each 3 of the 888 Inner Circle Genesis tokens that you burn, you will ALSO receive a FREE mystery Vial 🧪 that will have future utility in Gala Games titles.

— 888 Inner Circle (@888InnerCircle) February 13, 2022
However, it's worth noting that this initiative was subjected to a wave of criticism due to the high price demanded in the Dutch auction for 888 Inner Circle tokens.
888 Inner Circle Idea
The initial goal of the 888 Inner Circle was to provide exclusive benefits to the creators of the crypto space. However, at the same time, the project creator also wanted to make his club as inclusive as possible, so that new members who share the same values and believe in the possibility of a digital renaissance could join it. By developing a decentralized system focused on crypto artists, the author of 888 Inner Circle contributes to the creation of a community with high creative potential, capable of transforming the NFT world.
In the long term, 888 Inner Circle plans to become a global brand with a wide network of partnerships to provide even more benefits to its members.
888 Inner Circle Roadmap
As such, the project has no roadmap. From a message on the official Medium page of 888 Inner Circle we can understand that because of the scandalous story with The Orbs tokens and the subsequent FUD-campaign against the community, some of the original plans of 888 have lost their relevance. There were planned partnerships with the famous musician Steve Aoki and the Cool Cats NFT project, which at the moment, apparently, are put on pause.
Steve Aoki X #888innercircle
New Music Coming Soon 🎶 ✨ pic.twitter.com/QnqUomW8so

— Steve Aoki (@steveaoki) October 9, 2021
Nevertheless, representatives of the project express their readiness to move forward and intend to relaunch the project. They're guided by the motto "Promise little and do more".
One of the new initiatives of the project is #888 InnerArtist Initiative. It's aimed at providing comprehensive support for crypto artists.
Dear #NFTCommunity,

It was an incredibly busy month for us at the #888InnerArtist Initiative. With over 130 Verified Artists now, we've made some major changes to give our artists a bigger voice. Read all about it here in our Feb update: https://t.co/WfIQHVvqMX#888InnerCircle

— 888 Inner Circle (@888InnerCircle) February 28, 2023
As part of this initiative, the following activities were carried out:
Launching special channels on the Discord server where artists can communicate and collaborate with each other, showcase their art and learn new creative ideas and tips from each other.
Founding a support fund for emerging artists. The Inner 8, that is, community members who own 888 Inner Circle tokens or more, voted to use the funds in their possession to benefit emerging artists. Each week, The Inner 8 will allocate up to 1 ETH for this purpose.
Partnering with SparklesNFT @SparklesNFT, Flare's leading NFT marketplace.
Weekly Celebrations of Art is an event dedicated to digital art and crypto artists.
In our weekly celebration of art, we have continued to purchase up to 1 ETH of art every week from emerging artists. To date, we have purchased 20 pieces of art, and our latest event has received over 100 submissions, a record for us. Here is the art that we have purchased: pic.twitter.com/bIYidBzUqL

— 888 Inner Circle (@888InnerCircle) December 31, 2022
888 Inner Circle Ecosystem
In February 2022, the Inner Circle team unveiled an ecosystem consisting of 8 Realms, each protected by a Guardian.
The Realms are represented by specific colors, which gives each Realm its own identity. All 8 Realms have private channels on the project's Discord server and offer unique utility and benefits to their communities.
The Guardians of the Realms include:
Flare,
Gala Games,
Jadu,
Origin,
Paris Hilton,
Recur,
Yat,
Instagram.
The team also announced that it is creating an additional 88,888 seats at the 888 Inner Circle NFT club:
🔥The 888 Inner Circle is expanding with 88,888 new memberships released🎱

Flare are proud supporters of the upcoming @888InnerCircle drop and excited to announce that 8,888 membership #NFTs will be available in the #Flare realm! pic.twitter.com/hVkN9Q7T3p

— Flare ☀️ (@FlareNetworks) January 31, 2022
In connection with this expansion, Inner Circle Genesis token holders are now designated as Platinum Level holders. Inner 8 holders are considered Black Level holders, and new members of the "88 888 expansion" are considered Gold Level holders. However, Inner Genesis token holders remain the most privileged category of the project, and Inner 8 members still have the highest level of benefits.
How much do 888 Inner Circle NFTs cost?
The public sale of the project took place in September 2021. Despite the fact that these NFTs are not high artistic works of art, at the initial stage they were sold out in seconds. And how are things in terms of price dynamics?
For clarity, we made a slice of the average price for 1 NFT:
In October 2021: 1.5 ETH;
In March 2022: 0.4 ETH;
In October 2022: 0.1 ETH;
In January 2023: 0.05 ETH.
At the moment (March 22, 2023) the floor price is 0.04 ETH. On average, the latest sales range from 0.03 to 0.1 ETH. And the total volume of secondary sales amounted to more than 20k ETH (about $37 million).
The Most Expensive Sales of 888 Inner Circle
It is impossible to single out the most expensive sales in this collection, as the entire collection is presented as 1 unique image in an edition of 8,888 pieces.
Where to buy 888 Inner Circle NFTs?
Currently, 888 Inner Circle NFTs are only available on the secondary market, on marketplaces such as OpenSea, X2Y2 and LooksRare.
How to buy 888 Inner Circle?
Remember that initially you need to connect your crypto wallet with self-storage to the marketplace of your choice.
Next, find the official collection using the search bar on the marketplace.
Analyze and choose the NFT you want to buy; click on it and then on the "Buy" button.
Or you can bet on the token you like. Make sure you leave enough ETH for gas or transaction fees. If the seller approves your bid, the deal goes through.
Should you invest in 888 Inner Circle?
In the long run, the 888 Inner Circle project can bring a tangible return to a crypto investor. Here are the perks you can count on:
Drawings of places in the whitelists for PFP-projects from the category of "blue chips", as well as early access to the top collections (the official site of the project published a photo teaser hinting that the members of the community can get early access to the NFT collection DGFamily by Dolce&Gabbana and UNXD.
Exclusive drops from The New World Marketplace.
Virtual events and IRL meetings.
Premium merch.
The opportunity to communicate and share creative ideas in private Discord channels.
A chance to win tokens from the 888 Vault collection;
Special privileges for Guardians of the Realms.
In any case, do your own in-depth analysis and research when investing in NFTs, and then make your own decision.
Opinion of NFTmetria
888 Inner Circle project can be surely called a phenomenon in the NFT world. The anonymous crypto maker under the mysterious nickname 888, despite the difficult way and waves of hate, managed to build a friendly community of like-minded people and unite it with the idea of digital art revival. And he didn't stop at promises.
The program initiated by 888 is aimed at providing real financial support to crypto artists and encouraging them to further creative achievements. The 888 Inner Circle project has a huge potential to radically transform the modern NFT space and give it a new impetus.