Optimism is an L2 blockchain built for developers and users using Ethereum. Optimism offers a universal architecture that allows your Ethereum-based applications to run more efficiently and cost-effectively. The beauty of Optimism is that it is a natural extension of the existing Ethereum software and adapted for the NFT industry thanks to lower gas fees.
What is Optimism Blockchain?
Optimism blockchain is a second layer scaling solution for the Ethereum network. Its goal is to increase the speed and reduce the cost of transactions on the underlying blockchain. The network uses Optimistic Rollups, a layer-two scaling technology that allows users to transact and interact with smart contracts cheaply and quickly. This technology has attracted a lot of attention and interest from developers, investors and the general public. It has also been implemented in the Arbitrum second level network.
One of the main benefits of Optimism is that it allows decentralized applications (dApps) to operate at much lower gas fees than on the Ethereum main chain. This is because Optimism takes advantage of batch processing to minimize the number of transactions needed.
The payment for gas on the network is carried out in the ETH token, since this is a second-level blockchain designed to offload the Ethereum network. But there is also a utility token – OP, which is designed to manage DAO Optimism and reward active network users.
How Optimism blockchain works?
Transactions and other requests in Optimism are processed as follows:
Using Optimistic Rollup, transactions are verified on the child chain, and then transferred to the main Ethereum chain for final verification. This process reduces the need for expensive computing and provides greater scalability.
Then the fraud proof mechanism – OVM (Optimistic Virtual Machine) – checks the correctness of transactions and requires that any data provided by smart contracts be deterministic, transparent and can be calculated on the chain. OVM also ensures that any inconsistencies are resolved in favor of the main chain.
In this case, transactions are combined into one package using a summary protocol that uses the consensus mechanism of its parent chain instead of providing its own. In the case of Optimism, the parent blockchain is Ethereum.
Such an algorithm ensures that transactions are carried out immediately, including confirmation of the transaction and approval of assets.
NFT smart contract standards for Optimism blockchain
The NFT smart contract standards for the Optimism blockchain are:
ERC-1155 is a multi-token standard that allows the creation of multiple types of tokens within a single contract, reducing gas fees and increasing scalability.
ERC-721 is a popular standard that is used to create NFTs, such as collectibles, that can be owned by individuals. It provides attribute set protection, guaranteed uniqueness, and the ability to transfer tokens from one user to another.
What consensus mechanism does the Optimism blockchain use?
The Optimism Network uses the Optimistic Rollup consensus mechanism, which works by bundling transactions off-chain, performing off-chain calculations, and providing proof of the result of the calculations on-chain. This greatly reduces the computational resources required to process on-chain transactions.
What are the main applications of Optimism blockchain?
The areas of application of Optimism blockchain are as follows:
Games;
DeFi;
Collectibles;
Gambling;
NFTs;
Social;
Web 3.0.
The list doesn't end there. Above are the most popular uses for Optimism.
Ecosystem Optimism blockchain
The Optimism ecosystem consists of more than 130 dApps of different categories:
Games,
DeFi,
Social,
Casino,
Marketplaces and others.
Popular dApps on Optimism blockchain
The most popular dApps on Optimism are:
UniSwap,
Stargate Finance,
Sonne Finance,
1inch Network,
Celer Network.
What is Optimism NFT?
Optimism NFTs are NFTs created by Optimism. Due to lower gas fees and high transaction speed, this blockchain is most often used for:
Domain Names (Optimism name service, Optimistic Domains, Treasure Domains),
Top Optimism NFT Collections
To date, there are a sufficient number of NFT collections on the market, but only a few of them have managed to break the bar of 100 ETH of secondary sales.
And here are the projects:
Optimism Ape Yacht Club,
Optimism Quest,
Velodrome.
Optimism Ape Yacht Club
Optimism Ape Yacht Club is a collection of 10,000 NFT monkeys that look like a copy of the top project Bored Ape Yacht Club from Yuga Labs. The collection was released in October 2022 and since then has been able to reach over 240 ETH in secondary sales.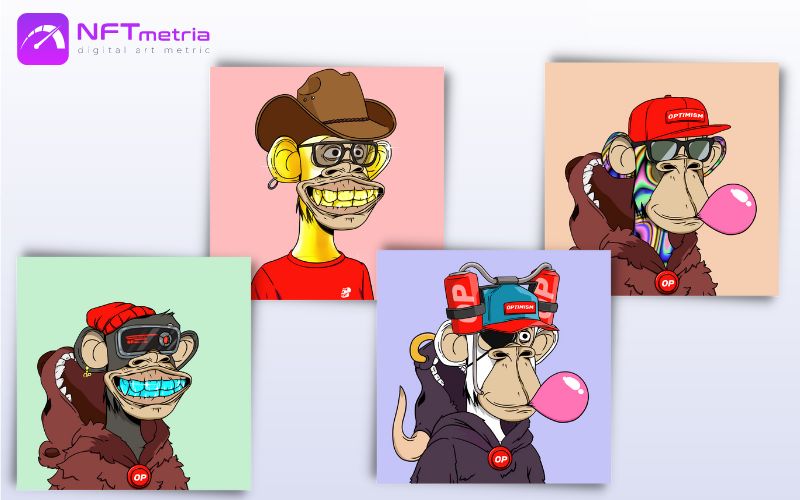 Optimism Quest
Optimism Quest is a collection of NFTs that users have earned for using dApps on the Optimism network. There is a total of 3.4 million NFTs in the collection and a total trading volume of over 215 ETH.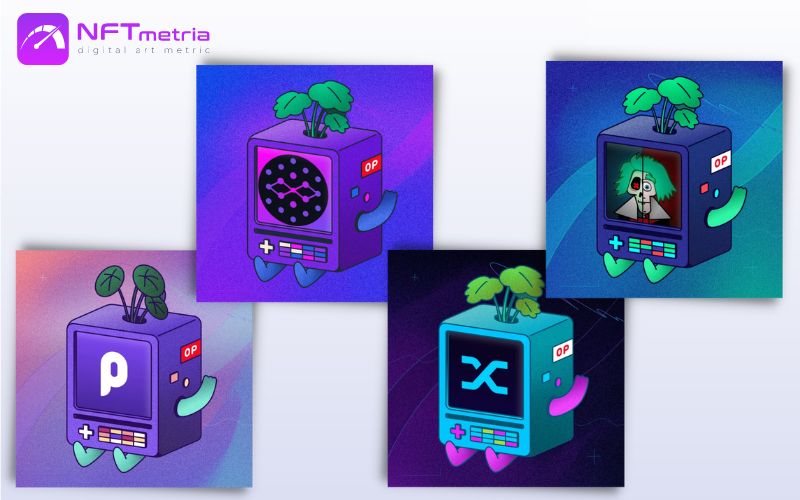 Velodrome
The Velodrome is a collection of 19600 NFTs that give you the right to participate in deciding the fate of the Velodrome. The cost of an NFT is determined by the number of tokens locked in it. The trading volume of this collection is only 188 ETH.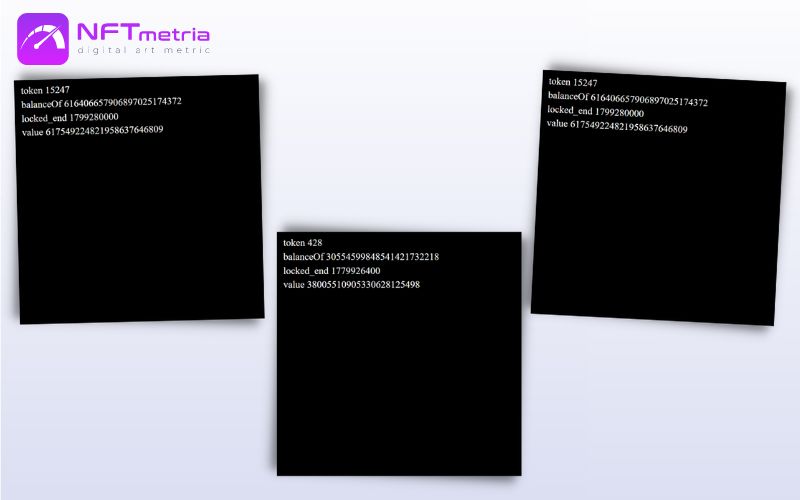 Which wallets are suitable for holding Optimism NFTs?
Almost all wallets that support EVM networks are suitable for storing NFTs of this blockchain. The most popular wallets are:
Metamask,
Trust Wallet,
Zerion Wallet,
Ledger.
How to buy Optimism NFTs?
You can buy Optimism NFTs on NFT marketplaces, as well as on centralized exchanges with their subsequent withdrawal to the wallet. For this you need:
Register and pass identity verification.
Install a wallet that supports Optimism NFTs, such as Metamask. It has the ability to buy cryptocurrency directly from the wallet using a bank card (it is worth considering that not all regions are supported by providers, as well as different commissions depending on the region).
With the help of P2P trading, you buy cryptocurrency and purchase NFTs in a special section of the centralized exchange or on the selected marketplace.
Where to buy Optimism NFTs?
You can buy Optimism NFTs on marketplaces.
The most popular among them: