This time we become a part of high levels of consciousness through the debut collection Parinirvana by Fansack, which is presented by the OrangeHare project as another series, this time about Chinese culture and philosophy. This drop promises to be interesting.
What is Parinirvana by Fansack NFT Collection?
Parinirvana by Fansack is a collection of 528 NFTs on the Ethereum blockchain. The number of 528 pieces, by the way, was not chosen by chance – this is the year when the Buddha achieved enlightenment. Lying Buddha is in the spotlight, surrounded by 12 students from various artistic, creative and technological industries. Each of them is on a personal path to enlightenment.
And here are the students:
Lao Tzu, founder of Daoism
Karl Lagerfield, Creative Director of Chanel
Daft Punk
Daft Punk
Rat Busk w/ Banksy Glasses, Imperial Palace Bronze sculpture
Crayon Shin-Chan
Yayoi Kusama
Tree man, the cosmic pillar between heaven and earth
Astronaut with fetus in visor, the birth of life throughout the universe
Omniscient Eye
Albert Einstein
See no evil Monkey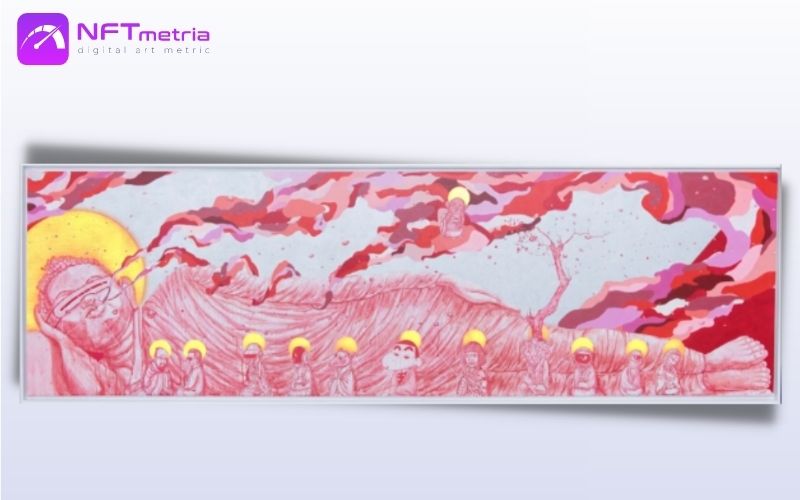 Once all 12 characters have been collected, you can burn them to buy back the full state of Nirvana. This mediated NFT will give you a chance to win an original art print from the creator of the collection.
Traditionally, "Lying Buddha" has become a symbol of the Buddha on his deathbed, enlightened and ready to enter the highest state of nirvana (Sanskrit: parinirvāṇa). And this collection shows us that life is an illusion and death is just a dream. By changing your mind, you will change your reality, no matter who you are (artist, builder, scientist, doctor or manager).
Who is Fansack?
Fansack (Pang Fan) is a contemporary artist; He comes from China and was educated in France. He is one of China's most recognizable urban artists.
His signature style is elements of Eastern religion, science and pop culture. In the early 2000s, he was a professional graffiti artist and was a student of the legendary Parisian artist Cyril Kongo. Over the years of his creative career, he managed to work with such major brands as Adidas, Elle, Absolut, Inxx, Reebok, Bucherer, Anta, KFC, etc.
Now he has been working in his Parisian studio since 2015 and is conquering the vastness of the digital NFT art scene.
🍊OrangeHare is proud to announce our upcoming collaboration with Chinese urban artist Fansack! 🎨

Pang fan (庞凡) aka Fansack is one of China's most prolific and recognizable urban artists. With studios in both Paris and his native Chengdu, his artwork has been featured and… pic.twitter.com/i6fktZDaFM

— OrangeHare (@OrangeHare_io) June 28, 2023
Parinirvana by Fansack Official Links
When and where will Parinirvana by Fansack drop be?
Drop Parinirvana by Fansack NFTs takes place on OpenSea in 3 stages:
Chae Tongyull`s NFT holders: July 10 at 11:00 PM GMT+7. Price: 0 ETH.
OrangeHare zero PFP holders: July 11 at 11:00 AM GMT+7. Price: 0 ETH.
Public Stage: July 11 at 11:00 PM GMT+7. Price: 0 ETH.