Art is amazing because it can be shown in different ways and materials, their combination and interpretation. Mixed media involves the use of several different types of materials at once to create a work. The category includes: collages, sculpture, constructions. Among the materials used by artists there are fabrics, paints, paper, wood and even metals. Such works stand out against the background of classical academic sculpture or painting.
Among digital art, there are the same creators who create their work by combining several types of fine art and different techniques. For example, Archan Nair, who creates his tokens using digital tools and animation.
Who is Archan Nair?
Archan Nair is a visual artist and illustrator based in Germany. Born in 1982 in India, but now lives in Berlin. He is not just an artist; he is a well-known creator who has a great track record in his portfolio:
Worked with famous brands: Sony, Netflix, GQ, Htc, Samsung, Electric Forest, Red Bull, Adobe, Nike;
His work has been published in world editions: VICE, Vogue, Times of India, Computer Arts, Digital Arts, Advanced Photoshop, GQ, BAK, Vanity Fair;
Worked with performers and musicians: Chris Brown, Lindsay Lohan, Justine Bateman and Kanye West;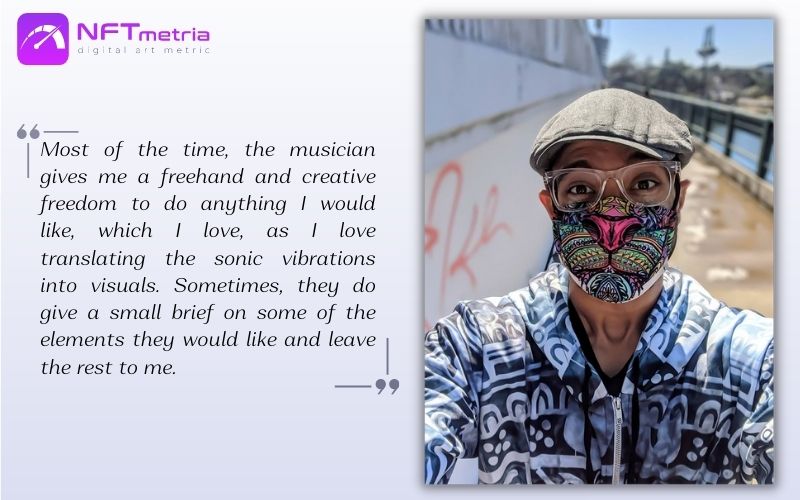 The artist started his career quite late, as for the sphere. Many of his "colleagues" were engaged in creativity from an early age or received a specialized education. Archan Nair, however, only at the age of 24 (2006) is taken to take the first steps. But already in 2007 he positions himself as a freelance artist.
Archan Nair Official Links
The creative path of Archan Nair: from entrepreneurship to NFT
Archan Nair was born in India, moved to Germany and decided to realize himself as an artist as a freelance artist.
Yes, before starting his career, Archan Nair was a successful entrepreneur. His family had a business, and the future creator became part of it. Over time, he got tired of it, and he decided to radically change the profile of his activity.
It was the right decision, because in this way he did not limit himself to the knowledge of academic painting or sculpture. Archan Nair could show his full potential in the form that was convenient and comfortable for him.
Since 2007, his march in the world of art begins. How did it happen? The artist discovered the world of digital art while surfing the net. Yes, it's that simple. He saw the work of the artist Ian Perman and understood what he needed to do. And also came the understanding of how great the potential of digital creativity is, and how important it is. And this acquaintance will later become very important for Archan Nair.
In addition to mastering 2D and 3D imaging technologies, the artist started experimenting with VR technology 5 years ago. And it's really cool!
In recent years, the artist has had many collaborations and works with advertising agencies, brands and companies. According to Archan Nair, he receives proposals for cooperation from companies, he himself is not particularly looking for anyone.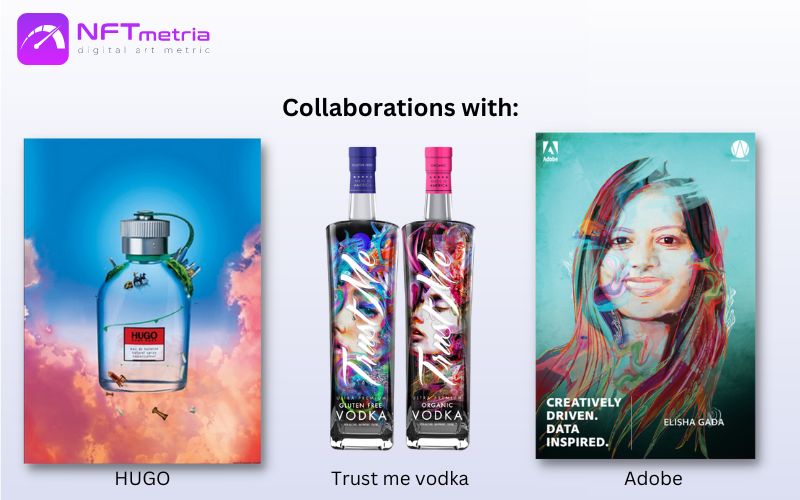 In 2021, the artist was invited to showcase his work at the Festival of Lights 2021, at Berlin Cathedral (Berliner Dom). And it was a truly large-scale, beautiful and impressive sight.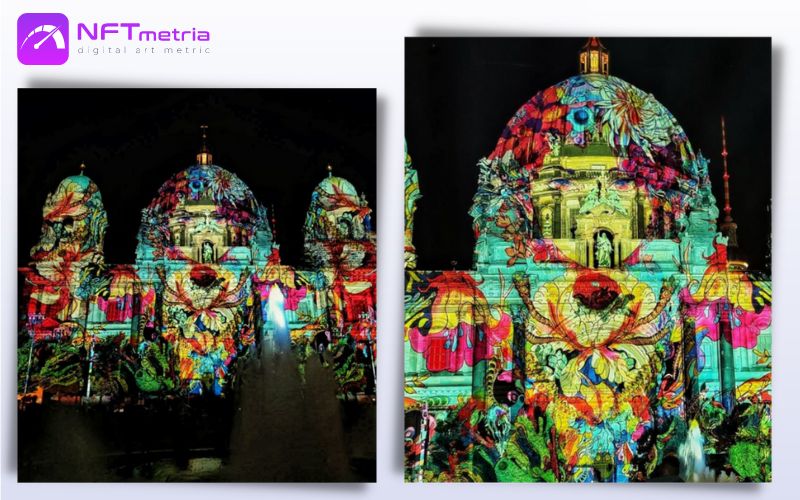 Throughout his career, the artist has created more than 3,000 digital works, and everyone could see some of them even on the famous Times Square in New York.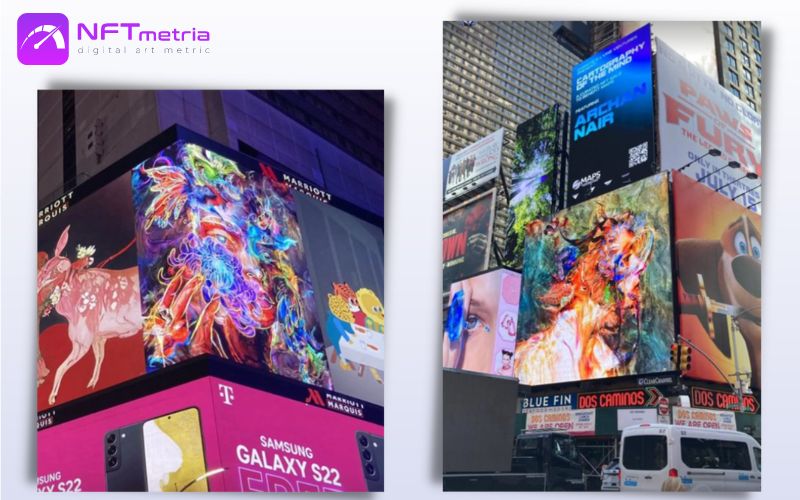 Archan Nair in the NFT world
Due to the fact that Archan Nair already had a certain fan base on the network (social profiles, work with brands and collaborations), his NFTs became in demand and immediately gained popularity.
Archan Nair creates his works not only with paints or classical materials, although he has repeatedly spoken about his love for classical methods of fine art. To create his tokens, he uses AI and machine learning, as well as certain algorithms. All this helps to realize his incredible concepts and ideas.
To date, Archan Nair has minted 22 tokens on the SuperRare marketplace, which have earned him over 1,000 ETH (over $1.5 million) in total. Among the owners of his work, you can meet NFT influencers and collectors, including VincentVanDough. And in June 2022, his painting Precipice sold at Christie's for $22,680.
Features of NFTs by Archan Nair
There is a motive in the artist's works, images and moods are traced, which are enhanced by an incredible riot of colors, overflows, patterns. An important role is played by shaping, which many people study for years. The artist, on the other hand, plays with the form and its variants at the level of inner flair, taste, intuition.
Unlike most psychedelic works, Archan Nair's paintings attract attention with an abundance of detail and compositional elements. The viewer wants to consider and immerse himself in the picture without taking his eyes off the plot.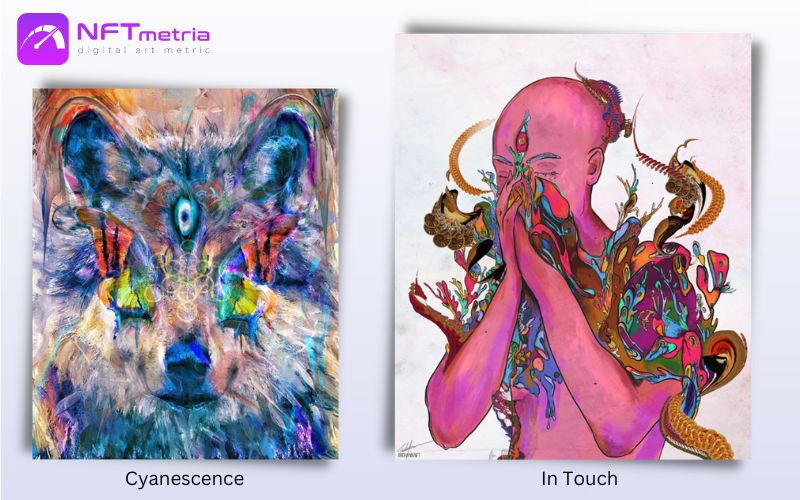 His corporate style combines pop art, abstract art, primitivism, and psychedelics. At the same time, competent work with color makes them bright, saturated, but not tasteless.
All my works are always a part of me, my energy and understanding of reality. Therefore, it is difficult to say that some work stands out. They are all completely different, they are like my children and at the same time I absolutely love them all. The artist's opinion about his art
The most famous NFTs by Archan Nair
NFT paintings by Archan Nair are unique in themselves. His special manner in creativity has already become his feature and distinguishes him from his fellow artists. Once you see his work, you will never confuse him with anyone else.
Synth Garden NFT
Sound is the fundamental vibration: 𝑠(𝑥,𝑡)=𝑠𝑚𝑎𝑥cos(𝑘𝑥∓𝜔𝑡+𝜙). This is how the artist signed his work
The Synth Garden painting is the most expensive and was minted on June 22, 2022. And they bought it at the SuperRare auction for 124.69 ETH (about $138k) in just 16 minutes from the minute.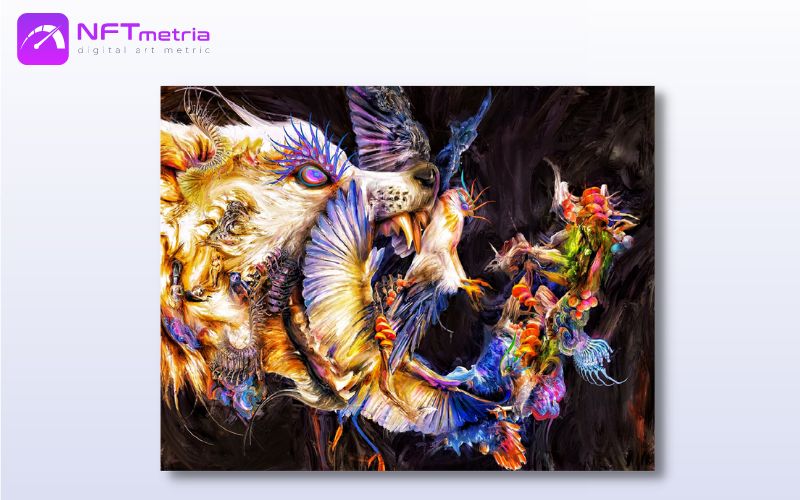 Lokah NFT
Lokah is imbued with Indian motifs that are native to the artist. It is not necessary to talk about what exactly he learned from Indian culture – everything is in front of the viewer: temples, animals, color palette. The NFT was minted on November 8, 2021 and sold at auction 11 minutes later for 36.90 ETH (about $176k).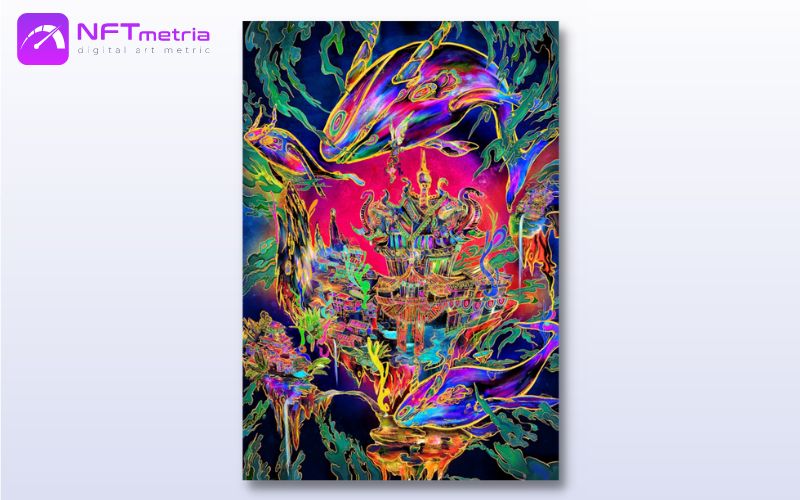 Ahau-Kin NFT
The Ahau-Kin painting is not static and has a unique animation that plays an important role in the perception of the painting and the audience's message. When the artist created his painting depicting a jaguar, he put into it the sacred meaning of the animal, its strength and significance for peoples, and its role in ethnicity. The work was minted on December 8, 2021 and sold 12 minutes later for 40.69 ETH (about $176k).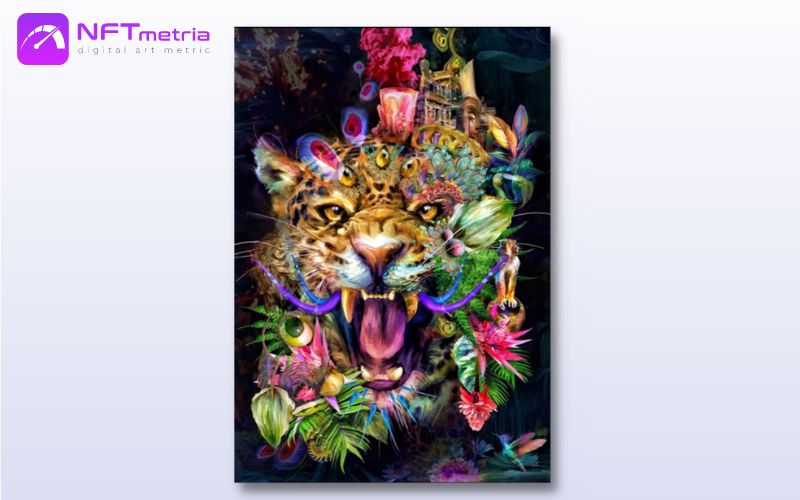 Quarantine NFT
The name Quarantine speaks for itself. Worldwide pandemic, isolation, Covid-19, loneliness, isolation. All this the artist was able to convey on one canvas, depicting a portrait. When creating the work, he thought a lot, experienced and tried to convey with the image everything that people experienced during the period of isolation, quarantine. The painting was minted on December 16, 2021 and sold in 3 minutes for 42,690 ETH (about $174k).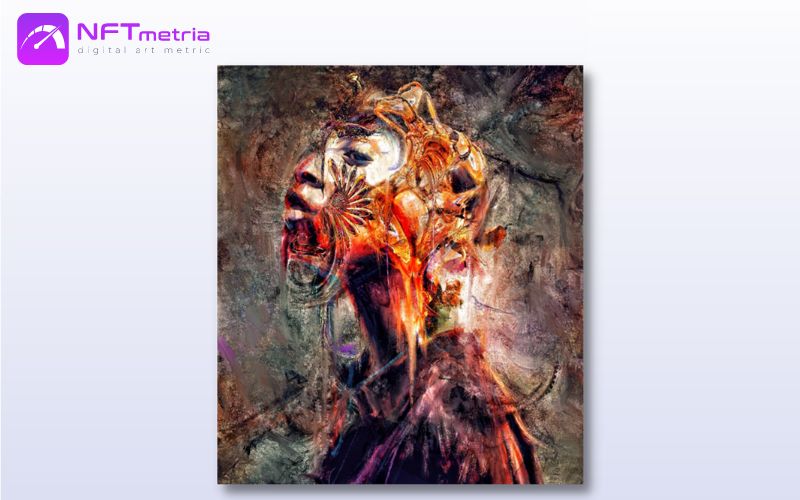 Where can you buy NFTs by Archan Nair?
Now the NFTs of the artist Archan Nair are only available on the secondary market, namely on the SuperRare marketplace. In addition, you can follow the artist's Twitter and Instagram for future updates.
Opinion of NFTMetria
Archan Nair is a unique self-taught artist who has been able to conquer many heights in his creative career and become a world-famous person. He was able to combine psychedelics with pop art, collages, imbued with folk motifs, or rather, with feelings and mood. His Indian origin played a significant role, because the culture of India, its traditions and philosophy surrounded the young man from an early age.
Archan Nair, with his unique style, entered the NFT industry in a timely manner. He took his place, gained thousands of fans, found connoisseurs of his work. His works are gaining popularity, and in the future their value will only increase. This makes investing in his work a profitable investment in the long term.