From industrial designer to respected NFT artist, chief curator of one of the most famous marketplaces SuperRare, and visual director of the Anyma project, it's all about Alessio De Vecchi. A talented artist from Italy creates something attractive and incredible, which is difficult to explain. But nonetheless, his works of art in digital format in the form of NFTs are of great value.
Who is Alessio De Vecchi?
Alessio De Vecchi is an NFT Artist, SuperRare Chief Curator, Anyma Visual Director. He started his career as an industrial designer in Milan, then moved to New York. Worked as an art designer and computer artist with Adidas, HBO, LG, H&M. In addition, he has positive reviews about his work from Vogue, ID Magazine.
The artist specializes in 3D graphics and came to this as an industrial designer. According to the artist himself, he always wanted to work with 3D graphics, but he was able to realize this only after moving to New York.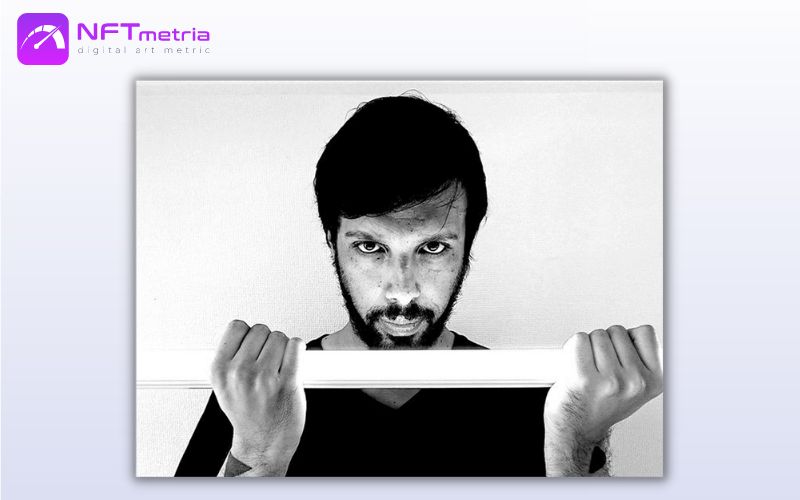 Alessio art not only in the field of design and NFT. In Tokyo, the Italian designer and artist is not only working on new non-fungible tokens, but also filming his short film as a director. In the same place in Tokyo, he held his first exhibition.
Alessio De Vecchi Official Links
The creative path of Alessio De Vecchi: from industrial designer to NFT
Alessio began his creative career back in 2006 at the Fabio Novembre studio in Milan. That same year, he moved to New York to work for renowned American industrial designer Karim Rashid. But Alessio quickly became disillusioned with American product design.
Then Alessio De Vecchi worked as an art director and computer graphics artist in the same place in New York. In Milan and Tokyo, the Italian artist has worked with brands such as Adidas, LG, Samsung, Ford, Citibank, Maison Margiela, HBO, La Prairie and H&M. Alessio also excels in working with Italian designer brands Cappellini, Patricia Urquiola and Driade.
The Italian artist's art has been featured and received positive reviews from Vogue, ID Magazine, The Creators Project.
Alessio De Vecchi in the NFT world
Alessio De Vecchi began his journey in the digital art space in 2020. Then his debut NFT Nobodies became a reflection of the current society and social reflection. And in the same year, this painting was nominated for the NFT Awards in the Best art NFT category. Nobodies came out together with two more paintings "Body of work" and "In arms way".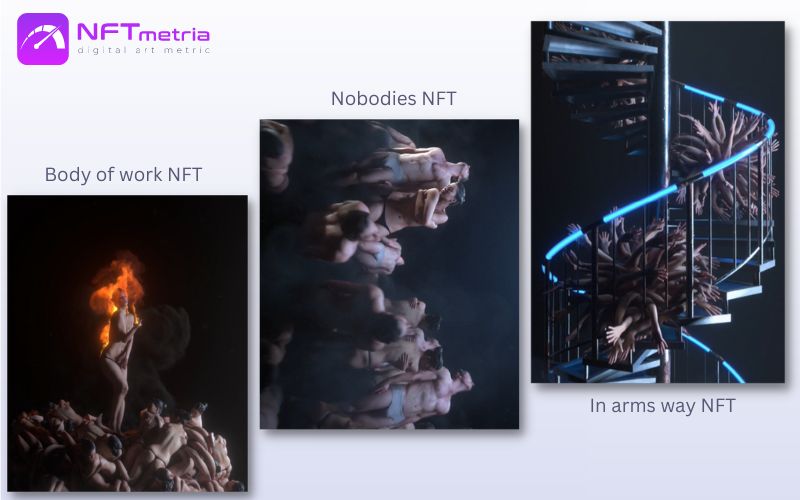 In 2021, Alessio De Vecchi, together with DJ and musician Matteo Milleri, founded the Anyma project. It is the NFT collection, which is also presented on SuperRare. In total, the partners created 9 non-fungible tokens. The first painting of the Anyma project was presented in November 2021.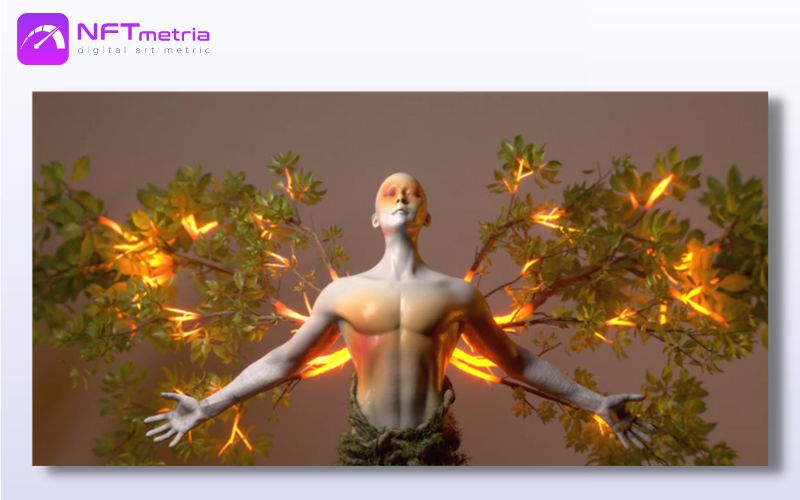 But in fact, the Anyma project is more than just a visual collection. Anyma is a mixed media idea of music and digital art. In reality, this is a large-scale musical project that combines unique DJ tracks and visual 3D graphics that reflect the style of the performance. In this project, Alessio takes the place of the visual director.
Also, the creators of the project have an idea to create DAO Anyma, where the music fees of Matteo Milleri and income from the activities of Alessio De Vecchi will be distributed among DAO token holders.
Currently, Alessio is also the Chief Curator of SuperRare, one of the most famous marketplaces.
Features of NFT art by Alessio De Vecchi
A feature of the non-fungible tokens of the Italian artist is their animation style. All art is animations in three-dimensional graphics. The 3D format of his NFT gives realism to objects. And the fantastic genre gives them a peculiar character. The meaning of his paintings lies in the problems of man, society and the relationship of man in society.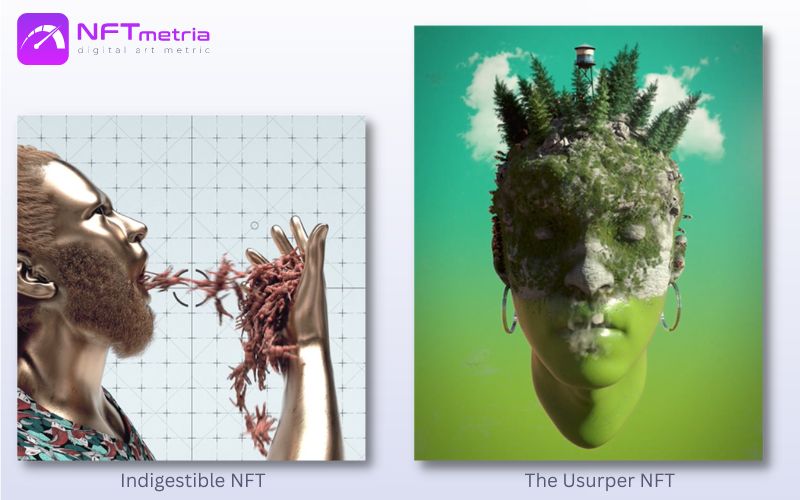 The art of Alessio De Vecchi are highly detailed, rich in vibrant colors, with the exception of a few works. They are easy to perceive through human eyes, but at the same time, it is difficult to explain from the standpoint of their meaning.
Two people who really inspired my aesthetic are David Lynch and David Cronenberg. Also, Blade Runner and Strange Days were the films that changed my vision forever.Artist's opinion
In some tokens of the artist there are human forms. The artist perceives a person as something versatile, fragile and fickle.
The most famous NFTs by Alessio De Vecchi
In total, Alessio De Vecchi has 17 entries on SuperRare and 3 entries on Nifty Gateway. And among the owners of his art, you will meet the famous NFT collector Punk6529.
Don't make waves NFT
Don't make waves shows a person in society and a person outside of society. The fact that problems created by society can put an end to the individual thinking of a person that goes against society.
Don't make waves was minted on September 22, 2020 and auctioned on May 1, 2021 on SuperRare for 35 ETH (about $100k).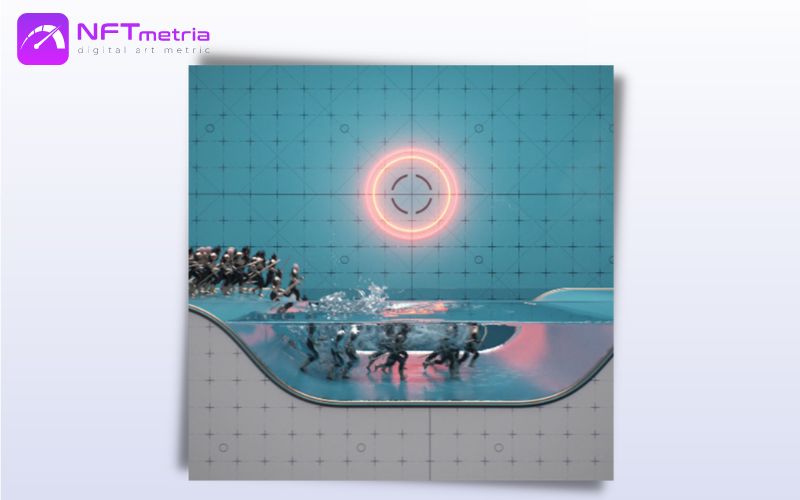 In abandoned places NFT
In abandoned places is a bright animation in the forest with some fluffy creature that looks like a worm. He is looking for something and it is not clear what mood he is in and what exactly he wants. Perhaps he seeks to find the meaning of his existence in this world. In abandoned places was minted on September 8, 2020 and auctioned on SuperRare on September 24 for 15 ETH (about $5k). But it is famous not for the first sale, but for the further price increase – on August 10, 2022, the token was sold for 46,276 ETH (about $84k) to the well-known NFT collector and influencer Punk6529.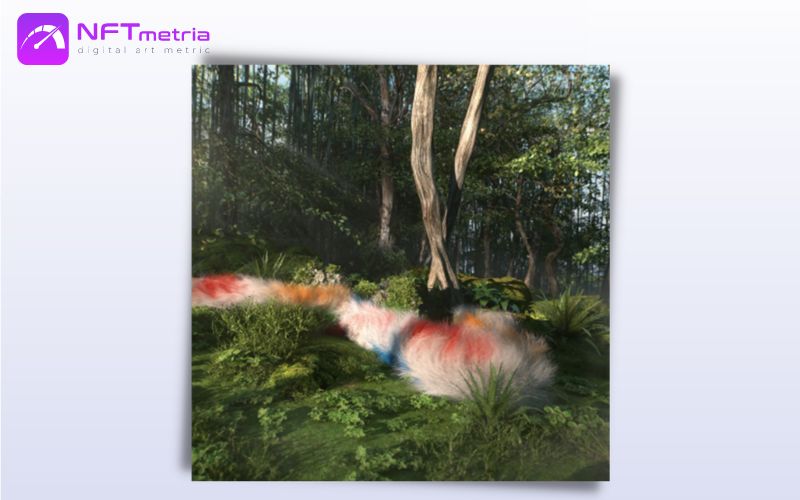 Lurker NFT
Lurker can be associated with "In abandoned places" in terms of meaning and visualization. A worm is depicted here, only unlike the previous work, it is of a solid color and disappears from the frame at the end of the animation. Perhaps this is the end of his existence. Lurker was minted on September 2, 2021 and auctioned on SuperRare on the same day for 15 ETH ($23.7k).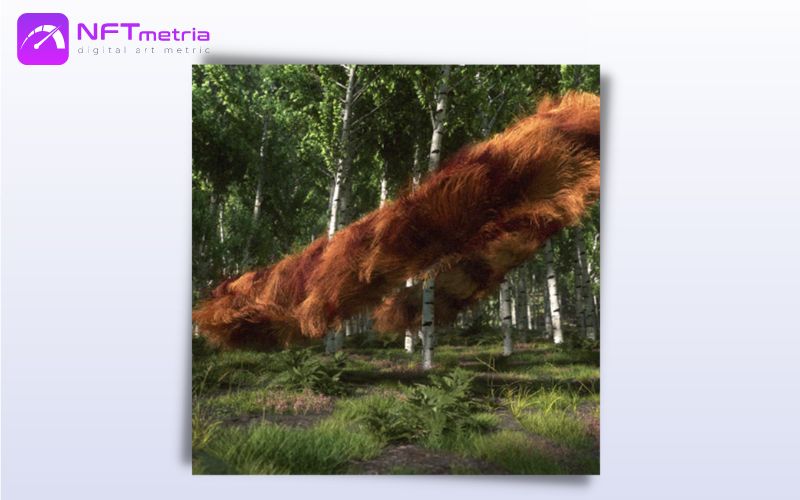 Where can you buy NFTs by Alessio De Vecchi?
Now the NFTs by Alessio De Vecchi are only available on the secondary market, namely on the SuperRare, Nifty Gateway. In addition, you can follow the artist's Twitter and Instagram for future updates.
Opinion of NFTMetria
Alessio De Vecchi is an artist who keeps up with technological progress. His works are 3D and animated. But the real value of the artist's work lies in the uniqueness of the non-fungible tokens, they seem unusual, as if from a science fiction movie or like photographs from the near future. It is this kind of art that finds its connoisseurs in the vastness of the crypto world. In addition to his mesmerizing creativity, he knows how to work in a team and creates bright collaborations. This combination of skills and natural talent makes him a very valuable player in the NFT market, whose work is valued and has over 159k fans on Instagram alone.