In the coming days, you can become part of the community and pioneer the one-of-a-kind NFT ecosystem centered on a powerful 3D engine for the Web3 world in an immersive new world called Oververse by ArkanaLabs.
What is the Overlords Arkana NFT Collection?
Overlords Arkana is a collection of 3333 generative NFTs, each of which is access to the entire infrastructure of Oververse.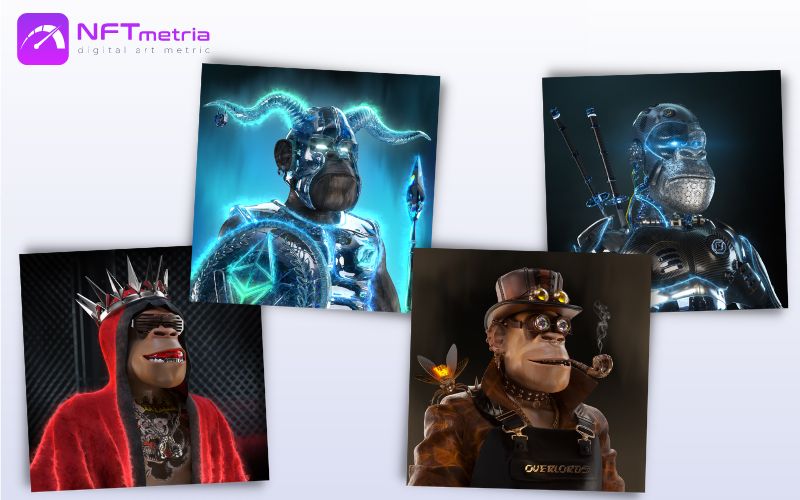 Visually, you can see detailed 3D monkeys, and this is not a random decision. According to the team, the monkeys represent the legacy that the world of the NFT carries. And their 3D image is a high-tech and latest component, which is also a feature of Oververse. Their level confirms the resolution of 8000×8000 pixels and Ultra HD quality.
What are the utilities from owning Overlords Arkana NFTs?
Primary utilities are already worthy of acquiring this digital asset:
Access to a gated community,
Access to Oververse, where exclusive games, contests, sweepstakes and gifts will be available only for owners.
Additional lottery tickets for branded draws.
The share of income from commercial activities, including advertising, engine outsourcing, and so on).
Voice in the DAO and direct participation in the development of the project.
What is Oververse?
Oververse is a user environment at the center of which is a web engine for real-time 3D rendering. Thanks to this, developers can create and display 3D graphics on a web page. The engine is a symbiosis of web technologies such as HTML, CSS and JavaScript, as well as WebGL and WebXR.
Overlords,
The beta version of #Oververse is almost here and you can be part of history in the making!

🟣 Secure your Beta Access now in our Discord

🟣 Interact for a chance to win one of 10 Beta Access prizes!https://t.co/KmQrl9Y3U5#becomeOverlord #ETH #NFTCommunity pic.twitter.com/xlKS8Qh8vC

— Overlords (@OverlordsArkana) April 3, 2023
Oververse is an infinitely scalable solution that can handle large volumes of traffic and serve a large number of users who can interact with built-in voice and text chats. The user authentication is MetaMask. This high-tech product is the result of a strong team of ArkanaLabs professionals over a year and a half. And here are a couple of words from Mr. ₿ @BMB_onNZT48 project founder:
With mint day just around the corner, here are a few words from @BMB_onNZT48, the founder of Overlords!

The official drop page is:https://t.co/W7JE33Vzc4

Who is ready to #becomeOverlord?#ETH #NFTCommunity pic.twitter.com/e6IiqB46Ey

— Overlords (@OverlordsArkana) May 6, 2023
Overlords Arkana Official Links
When and where will the Overlords Arkana drop be?
The Overlords Arkana NFT drop takes place on OpenSea in 3 stages:
Free mint Winners and TeamVault: May 24 at 09:00 PM GMT+7. Price: 0.0 ETH.
Overlist: May 24 at 09:10 PM GMT+7. Price: 0.069 ETH.
Public stage: May 24 at 11:10 PM GMT+7. Price: 0.075 ETH. Limit 1 per wallet.