Creative ideas and innovative technologies of post-apocalyptic virtual space? There are many metaverses, but they are sometimes not so functional. Meet one of the brightest projects of 2022, the CyberBrokers collection and the futuristic world of The Paradigm Lost! Here you will find a superbly-drawn and futuristic world of CyberBrokers who have transferred their consciousness to the metaverse.
CyberBrokers Official Links
What is CyberBrokers?
CyberBrokers is an NFT collection on the Ethereum blockchain consisting of 10,001 items. The token standard is ERC-721.
The minting of NFT CyberBrokers took place in March 2022. Moreover, it was an authorized minting, that is, it was carried out according to pre-prepared whitelists; there was no open public sale.
The story of CyberBrokers, as well as that of the entire collection, takes place on a post-apocalyptic planet Earth, where each character has its own story. Moreover, each character is an individual personality.
Based on the backstory, 5 online quests for the community have been created. The backstory itself also has a continuation in the form of 12 audio legends and 13 story chapters.
The massive legend is not all. The project also granted all NFT owners full commercial rights in the form of a CC0 license.
However, there's more to come. All NFT data, like name, characteristics, token ID, is stored on the Ethereum blockchain. This allows you to work completely in the blockchain space. The character's features can be viewed even on the marketplace or with Ethereum explorer, and not only using the resources of the collection website. Besides, all information is recorded in SVG files, which is an easy-to-read text format. These files specify positions, colors, and shapes to draw. These files are stored on Ethereum as separate layers, having been previously broken down into components. Thus, CyberBrokers are embedded in the chain.
Only a few projects currently store full images and metadata on the chain, and this is called onchain, that is, finding all the data directly on the blockchain.
CyberBrokers in numbers
A collection of 10,001 tokens was launched in March 2022.
At mint, the value of the token was 0.35 ETH (an authorozed minting format).
The project is ranked 48th among the best collections in terms of sales of all time on the largest NFT marketplace OpenSea.
Total secondary sales topped 36k ETH (over $60m at the current exchange rate).
Floor price is 0.63 ETH (about $1,000).
Average sales range from 0.6 ETH to 3 ETH.
The most expensive Gnash was sold on March 31, 2022 for 150 ETH ($492k at the time of sale).
Total 3,239 unique holders (32%).
Only about 4% of the collection (444 pieces out of 10,001) are for sale, among them the offers range from 0.63 ETH to 8 ETH. This shows that almost all holders see the project as a great investment prospect and are not in a hurry to part with their assets at a lower price.
Data (including exchange rates) are given at the time of publication of the article (February 21, 2023)
CyberBrokers types and attributes
Each CyberBroker has its own appearance, name and characteristics. In total, you will find 662 attributes in the collection, divided into 32 categories. Among them are the main ones:
Class (6 types),
Eyes (36 types),
Hair (119 types),
Species (14 types),
Talent (51 types).
Who created CyberBrokers?
Behind CyberBrokers is a team with a quite impressive reputation. Its members have worked with Disney, Magic the Gathering, Marvel and other global companies, and also enjoy authority both among the crypto space and the NFT.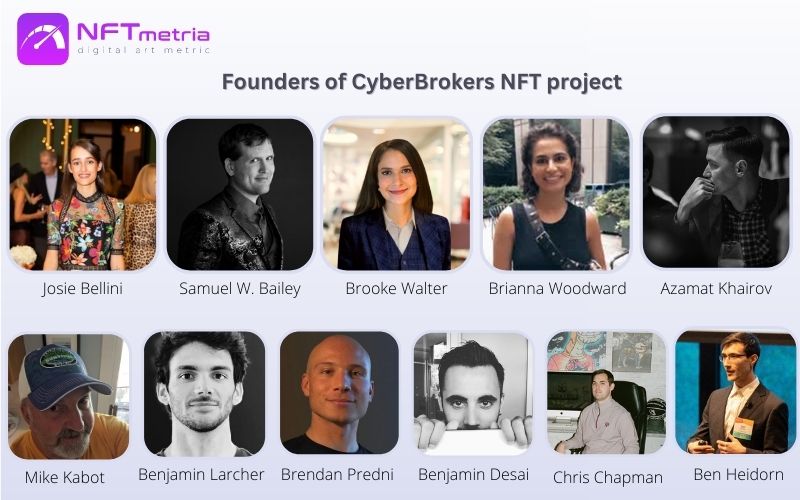 The growing team consists of 11 people:
Josie Bellini, CEO, Founder @josiebellini. Renowned NFT artist and digital art pioneer. In the NFT space, her work is highly valued and you can also find them at Nifty Gateway.
Samuel W. Bailey, Creative Producer @Samuel_W_Bailey. Game designer, developer and part-time writer. He developed games for such companies as 2K, Fantasy Flight Games, Wizard of the Coast.
Brooke Walter, COO @brookemelissa1. A team member with extensive experience in cryptography and blockchain. She started her career in 2018, thanks to startups in 2017.
Brianna Woodward, Marketing/Operations Associate, Writer's Room Lead @ladydiamondhand. Experienced marketer and manager. Brianna has over 15 years of experience in this field.
Azamat Khairov, Founding Member, Artist @mazaratus. Famous digital artist from Russia. He is a pioneer of the NFT space. The artist also has his own collection at the Foundation.
Mike Kabot, Community Manager. He has over 25 years of experience in management and technology. For some time, he worked in senior positions at Xerox Corporation.
Benjamin Larcher, Full Stack Software Engineer @Benjythebee. He holds a master's degree in finance. He held the positions of a leading specialist and developer, as well as a sales manager.
Brendan Prednis, Full Stack Software Engineer. Software engineer. He has experience in the field of cryptography and blockchain.
Benjamin Desai, Head of Creative Innovation. Tech enthusiast. He works with new 3D technologies and specializes in virtual reality.
Chris Chapman, Founding Member, Advisor @m3mnoch. A significant artist in the NFT space and beyond. His work was noted by such organizations as Universal Pictures, Motorola, Disney, etc.
Ben Heidorn, Founding Member, Advisor @cybourgeoisie. Blockchain engineer, game developer, programmer with over 14 years of experience. He held senior positions in various companies. At the moment, he is also a Co-Founder at Blockade Games.
The project also collaborates with Blockade Games and Pixel Mindai. This collaboration allows CyberBrokers to use the services of artificial intelligence. And through collaboration with Deca Art, owners can create their own collection-style NFTs.
CyberBrokers Idea
The idea for CyberBrokers was originally conceived by Josie's CEO. It was to take NFT collectibles to new, epic heights. Josie's brought together like-minded people who made the project what it is now. Today, it's popular, unusual, fantastic and successful.
Moreover, Josie Bellini is a fan of William Gibson, the American science fiction writer. His works feature a futuristic world. So the idea of a post-apocalyptic world with futuristic elements captivated her, and she embodied it in CyberBrokers.
The developers believe that in the future, the culture of the metaverses will become more and more important for people from all over the world. It can become some second reality, but a virtual one.
Instead of a complex video game, developers are focused on releasing community-oriented games. Community games and quests are monthly puzzles that the community solves together. In doing so, the history of CyberBrokers is revealed.
Therefore, each character of the collection has its own characteristics, history, traits and appearance. This has already made it possible to create a kind of post-apocalyptic culture in the metaverse, and voice podcasts are some additions to the virtual world.
The earth is frozen. Locked in modern ice age. The world governments had come together with a plan to save humanity by moving everyone into the metaverse. It had been called 'The Paradigm Shift.' The first ten thousand volunteers, ready to light the way, were called Cyberbrokers. Everything went wrong. Two centuries later, a complacent human race copes with a great awakening. This is the store of The Paradigm Lost. The official legend of the project
Why are CyberBrokers popular?
There are a lot of people in the world who are fans of the post-apocalypse and metaspace. Still, there are several reasons why CyberBrokers are popular:
NFTs are stored entirely onchain, in a lossless compressed format that maintains complete data integrity. What does it mean? If the collection is lost or compromised, the data can be recovered from the data in the blockchain. Being fully connected to the network (onchain method), CyberBrokers ensures the security and decentralized approach of its NFT project.
Knowledge and plot in the metaverse. Developers interact with the community in real time. Therefore, based on the plot, quests are held. And knowledge is regularly released in the form of chapters on a special page of the official website.
CC0 License. Each owner of CyberBrokers NFT has full copyrights, including commercial ones.
Derivative collections in the form of robot spare parts. By completing quests and missions, or buying spare parts, users will gain access to the mechs assembly which serves to move safely through the metaverse.
The creator of the project is Josie Bellini. She's well-known in the NFT space, and her name alone sounds like a brand.
An elaborate atypical official website of the project, the launch and maintenance of which cost the team about $1,000,000.
All this makes the project quite popular. And fans of post-apocalypse, futurism and science fiction will only arrive, given that the project will continue to supplement knowledge about the metaverse, and the plot will become more interesting and exciting.
CyberBrokers Roadmap
The project is developing at an impressive pace. Some goals are already implemented and some are still in future.
What has been done so far:
Collection was launched;
13 chapters of the history of The Paradigm Lost were created;
12 audio versions of legends were released;
5 online quests were launched;
70k TPL Mecha Parts collectibles;
A community fund was created to support community-led projects such as the Lost Paradigms banner project;
The community was encouraged to take advantage of CyberBrokers commercial license.
Past events:
Presentation by Ivona Tau on the use of AI;
Meeting in London between CyberBrokers and Avastars owners, hosted by Arcade Apes;
IRL party in New York during the NFT NYC event.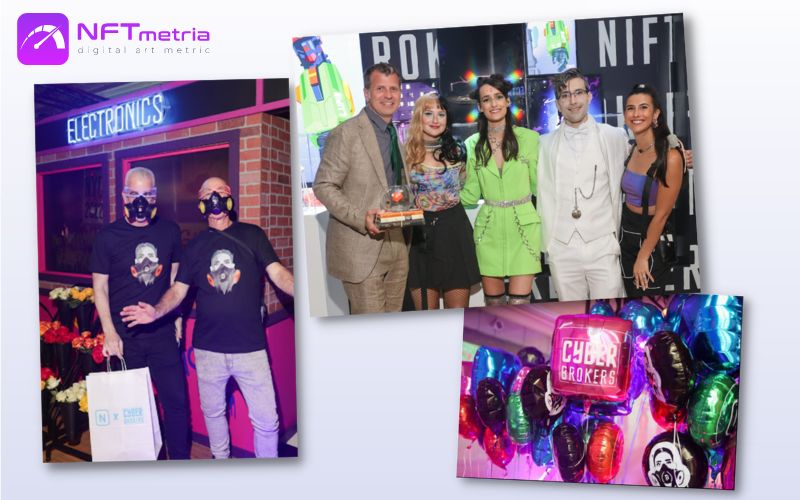 What will be done in the near future by developers:
Website to host the entire CyberBrokers universe;
mechs assembly;
A website for deploying and assembling mechs, as well as setting up 3D mech resources.
Future events involving the team:
NFT Paris Conference
NFT NYC Conference
CyberBrokers Ecosystem
In addition to the main collection, the CyberBrokers ecosystem has three additional ones in the form of components for mechs (manned robots):
TPL Mecha Part,
TPL Revealed Mech Parts,
TPL Mech Afterglow.
Spare parts can be purchased for completing quests on Discord or Twitter, exchanged on a special portal Pretty, or purchased on the secondary market.
Pretty is a mechanical marauder in the history of the metaverse. She can trade parts from the TPL Mecha Part and TPL Revealed Mech Parts collections for more advanced parts. Pretty can also reveal NFT parts from various collections.
You can also see all your NFTs from the metaverse in a special section of the official site. There is also a locations section, of which there are only five:
Moss Falls,
Cold Storage,
The Ethereal Node,
The Strip,
Merkle Tree.
Also, for faster mastering in the space of the metaverse and in CyberBrokers Discord, the developers have created a user guide. With its help, you can learn the necessary information about the draws, missions, and teams on the Discord server.
Besides, the team has launched branded merchandise CyberBrokers in the form of T-shirts and baseball caps. The project is also complemented by quests and story chapters.
TPL Mecha Part NFT collection
TPL Mecha Part is a collection of 39,500 different machine parts. These can be exchanged for deployed parts that will be needed when assembling mechs. The trading volume on OpenSea is over 871 ETH, and the floor price is 0.0055 ETH.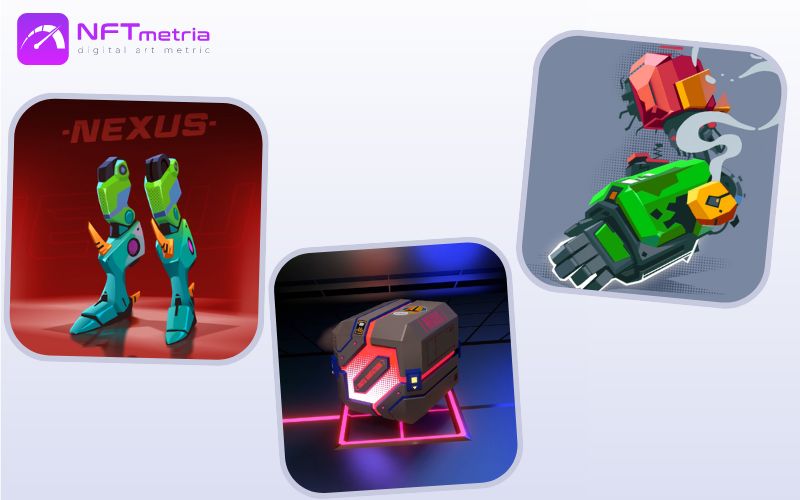 TPL Revealed Mech Parts NFT Collection
TPL Revealed Mech Parts are 39.7k stylized parts for mechs. According to the knowledge and plot, they were discovered after visiting Pretty the marauder. You will need them to assemble fully equipped mechs. The trading volume of the collection is over 288 ETH, and the floor price is 0.0069 ETH.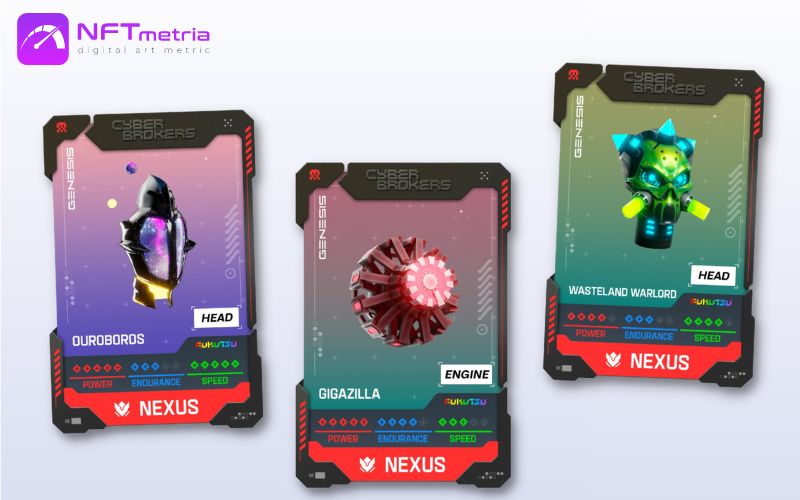 TPL Mech Afterglow NFT Collection
TPL Mech Afterglow is a collection of 38 modules for mechs that are presented as 13.4k NFTs. They are used to customize robots. The secondary sales volume exceeds 29 ETH, and floor price is 0.012 ETH.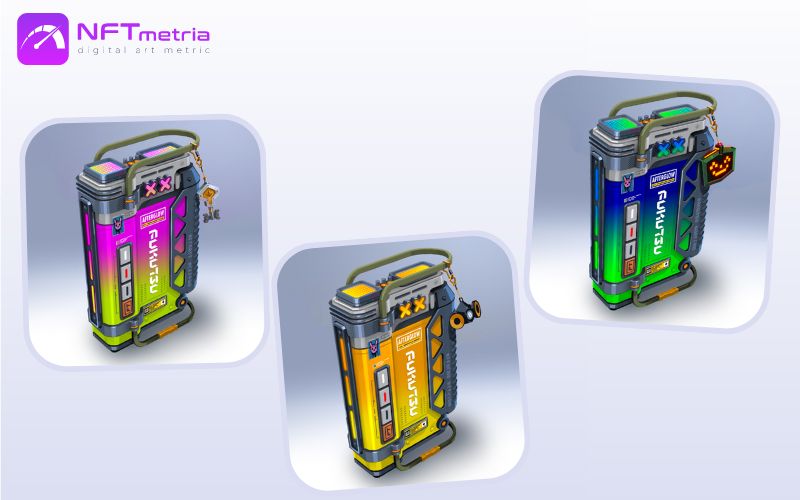 CyberBrokers Merch
The CyberBrokers Limited-Edition Wares collection of clothing includes three baseball caps and two T-shirts. The price of all items is $69.69. They have "CyberBrokers" lettering and elements identifying mechs or CyberBrokers features. And the collection's store is located at MyShopify.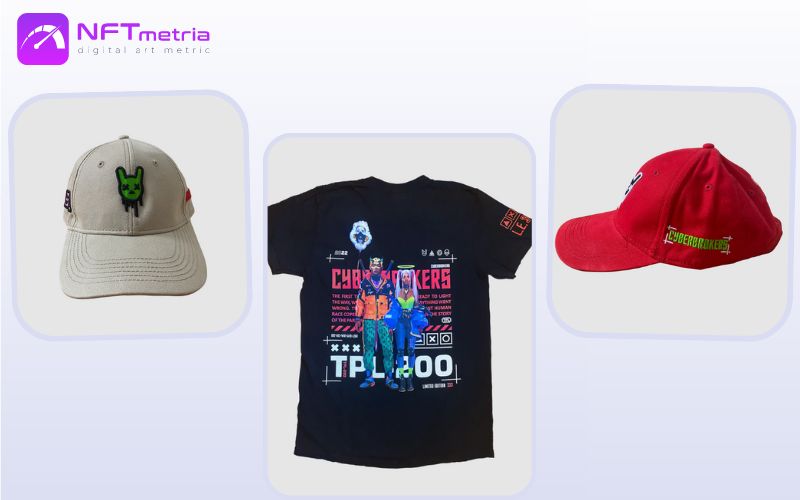 Online quests and story chapters
CyberBrokers story chapters are the story of the post-apocalyptic world, which are constantly supplemented by the completing of the quests. At the moment there are 14 chapters available in Alpha Lore. You can see them on the official website. There is also an abridged version of the stories.
CyberBrokers online quests are created specifically for the project's community. The quest could be completed only through joint efforts. It is almost impossible for one person to complete it. The participants receive rewards for the quests in the form of NFTs of additional collections.
How much do CyberBrokers cost?
At launch in March 2022, a mint was carried out at a price of 0.35 ETH.
Market hype was seen immediately. And how are things now?
To visualize the price dynamics, we made a slice of the average price for 1 NFT:
in June 2022: 2.5 ETH,
in September 2022: 1.1 ETH,
in December 2022: 0.9 ETH.
Now (February 21, 2023) the minimum price is 0.63 ETH. On average, the latest sales range from 0.6 to 3 ETH. And the total volume of secondary sales amounted to more than 36k ETH (about $60 million).
The most expensive CyberBrokers sales
The most expensive sales are led by the following NFTs from the CyberBrokers collection:
Gnash was sold on March 31, 2022 for 150 ETH ($492k at the time of sale),
Fact was sold on March 8, 2022 for 150 ETH ($387k at the time of sale),
Hitus was sold on May 4, 2022 for 128.5 ETH ($218k at the time of sale),
Tempo was sold on April 4, 2022 for 120 ETH ($423k at the time of sale).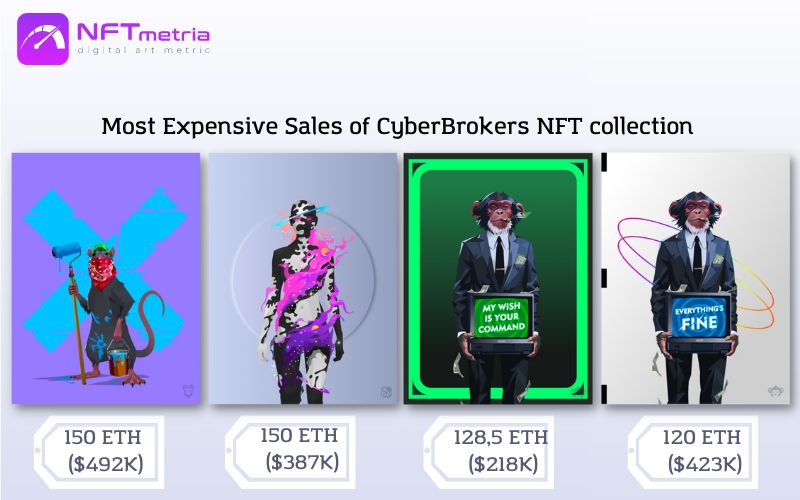 Where to buy CyberBrokers?
Currently, CyberBrokers can only be purchased on the secondary market, on such marketplaces as OpenSea, X2Y2 and LooksRare.
How to buy CyberBrokers?
Remember that initially you need to connect your crypto wallet with self-storage to the marketplace of your choice.
Next, find the official collection using the search bar on the marketplace.
Analyze and choose the NFT you want to buy; click on it and then on the "Buy" button.
Or you can bet on the token you like. Make sure you leave enough ETH for gas or transaction fees. If the seller approves your bid, the deal goes through.
Should you invest in CyberBrokers?
There are several reasons to treat the collection in a positive way:
Floor price is almost twice as high as minting price after 1 year;
Interesting missions and quests for owners of CyberBrokers NFTs;
Opportunity to win in quests or get NFTs from additional official collections for missions;
CC0 license which grants full commercial rights to NFT owners;
The project was launched by an experienced team led by NFT influencer Josie Bellini;
Onchain technology that is rarely seen in practice.
The project is based on storytelling, which makes the journey of each holder exciting and non-standard.
Before investing in NFTs, determine your own risks. For more financial gain it is recommended to participate in quests and missions.
Opinion of NFTMetria
The CyberBrokers collection is not only an immersive post-apocalyptic metaverse, but also a virtual reality backstory, where each character has a unique lore. It's a futuristic world with a compelling plot that is full of missions and quests, as well as additions in the form of mechs and manned robots. Perhaps this will lead to a digital reality that people will share with the real world.
This entire world has been created by a strong and experienced team led by renowned NFT artist Josie Bellini, and fully onchain NFTs ensures the reliable security of the project and the metaverse itself. Together, such factors attract more and more enthusiasts and investors to the CyberBrokers community.